100 bedded Portable Healthcare Unit manufactured inaugurated in Ballia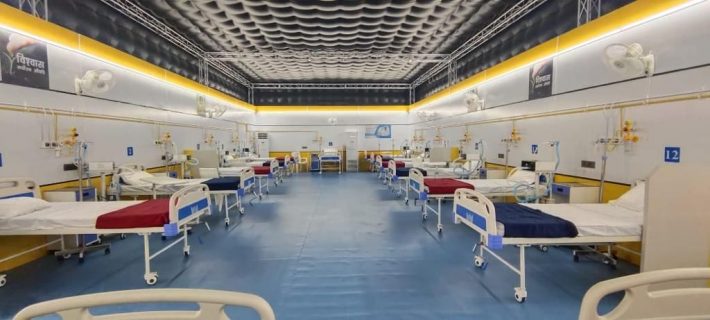 Ballia: PictureTime, a mobile digital movie theater company, which ventured into India early last year during the first wave of COVID crisis and had successfully set up portable rapid COVID field hospitals in Mumbai, Delhi, Madhya Pradesh and Assam, this time in North a similar portable healthcare unit has been set up by the American Indian Foundation in Ballia city of the state. Upendra Tiwari, Minister of State (Member of Uttar Pradesh Legislative Assembly) and  Virendra Singh Mast, Member of Parliament, inaugurated the Portable Healthcare Unit at Ballia. On this occasion he visited it and dedicated it to the common people. This unit has been established in the premises of Community Health Center Phephna, Ballia.
This Portable Healthcare Unit at Ballia is deployed in the premises of … and comprises of 100 beds which includes 16 ICU beds, 30 with oxygen support and 54 regular ward beds. Which includes 10 ventilators and 10 oxygen concentrators. This complete unit has been prepared in 22 days.
Upendra Tiwari, Minister of State (Member of the Uttar Pradesh Legislative Assembly) says, "It is absolutely unbelievable. With the opening of this medical unit, people of Phephna and Ballia will no longer have to travel to Lucknow and Banaras for medical assistance as this portable health unit will be able to provide all facilities here. I congratulate the Government of India and thank PT Medical who set up this incredible portable hospital at the right time in just 22 days.
With the ongoing collaboration with The American Indian Foundation, Picturetime Medical has also set up these portable healthcare units in Jamshedpur, which include Baramulla (Jammu and Kashmir), Delhi, Madhya Pradesh and Gujarat.
On the motive behind setting up more of these portable healthcare units,  Sushil Choudhary, (Founder & CEO, PictureTime Medical) says, "During the peak of the second wave earlier this year, our team worked hard for I am very grateful we can establish these portable field hospitals in different parts of India which are working successfully. This time around, with our strong and constructive collaboration with the American Indian Foundation, we have set up a health unit in Ballia, Uttar Pradesh. By the way, we are in the testing time era and where we talk about health services, there is a greater need for such innovation. Our intention is to support the existing medical infrastructure to provide healthcare to more and more people, not only to COVID patients, but also to those suffering from other health concerns. to save their precious lives.
नोट:
अगर आपको यह खबर पसंद आई तो इसे शेयर करना न भूलें, देश-विदेश से जुड़ी ताजा अपडेट पाने के लिए कृपया The Lucknow Tribune के  

Facebook

 पेज को 

Like

व Twitter पर 

Follow

करना न भूलें...
------------------------- --------------------------------------------------- -------------------------------------------------------------------------------------------------------------------------------------------------