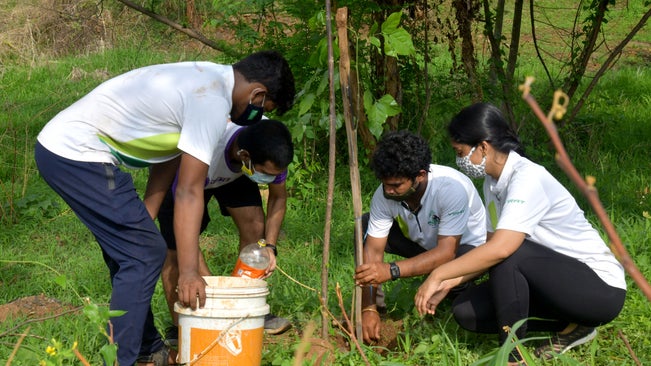 Lucknow: In order to increase greenery in the state, for better climate and environment protection, the Yogi government will once again break its own record of plantation in a day in the upcoming rainy season.
This time the target is to plant 35 crore saplings in a day. Under the supervision of the Forest Department, the nodal agency for plantation, 27 departments of the government together will make this campaign of record plantation a success.
The target of the number of trees to be planted by the concerned departments is already fixed. About 54 crore healthy saplings are ready for plantation in the nurseries of the Agro Climate Zone under the Forest Department and its supervision.
The date on which this record of plantation will be made, this time has not been decided yet. According to the sources of the Forest Department, it will be decided by looking at the trend of monsoon. There is more hope that this campaign will run someday in July.
This is because there is survival of maximum of the planted plants by getting sufficient amount of moisture. It is noteworthy that since its first term, the Yogi government's emphasis has been on maximum plantation in view of increasing greenery in the state and other far-reaching benefits. In order to increase greenery in the state so far in his first term, more than 100 crore saplings were planted every year in order of record plantation, the result of which is also in front.
According to the State of Forest Report 2021, there is forest cover in 9.23 percent of the total geographical area of Uttar Pradesh. In 2013 it was 8.82 percent. According to the report, there has been an increase of 91 square kilometers in total forest cover and tree cover during 2019.
By the year 2030, the government has set a target of increasing this area to 15 percent. To achieve this challenging target, Yogi Sarkar 2.0 has set a target of planting 175 crore saplings in the next five years. In this sequence, last year also 35 crore saplings were planted. There is a target of planting 35-35 crore plants this year and for the next four years as well.
According to the officials of the government, the plantation that takes place during the rainy season should be according to the agroclimate zone (agricultural climate zone) of the concerned area. Plantation campaign will be carried out by keeping 29 species and 943 heritage trees identified for different districts at the centre. In this, preference will be given to national tree banyan and medicinal plants like Peepal, Pakad, Neem, Bael, Amla, Mango, Jackfruit and Drumstick.
Environmental fighters will play an important role in making this campaign successful. Farmers and beneficiaries of Prime Minister's honor in environment fighter, Ganga guard, strong force, women, disabled, low income group, blind, MNREGA job card holders, self-help groups, village level and city development workers, forest workers, tribal-forest dwellers, Chief Minister Abhyudaya Yojana beneficiaries, teacher-students and women.
नोट:
अगर आपको यह खबर पसंद आई तो इसे शेयर करना न भूलें, देश-विदेश से जुड़ी ताजा अपडेट पाने के लिए कृपया The Lucknow Tribune के  

Facebook

 पेज को 

Like

व Twitter पर 

Follow

करना न भूलें...
-------------------------