Abid Surti created many famous characters from pictures and words – Bhupendra Asthana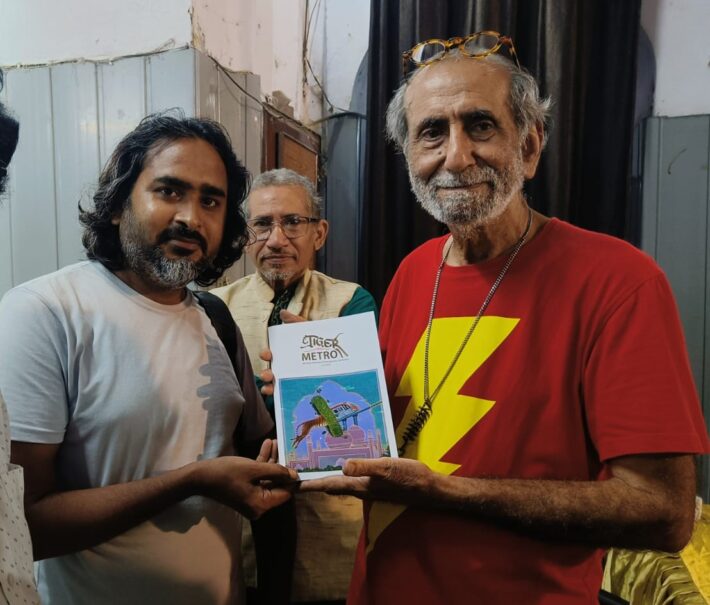 – In the cartoon world, Surti sahab is the creator of the best cartoon characters like "Dabbuji" and "Bahadur", these characters are discussed in the country and abroad.
Mumbai: In June 2018, someone from Banaras tagged us in a post that "If an old man rings the doorbell of your house and asks if your tap is dripping, tell him the truth with all politeness. If the tap is faulty, let them enter the house." He'll get it fixed by the plumber he came with." It was a great surprise to know this. Then there was curiosity to know and study that person. When he started investigating, he came to know that the great person is famous cartoonist Abid Surti. The wish of meeting for years, which was fulfilled at Uttar Pradesh Press Club Lucknow.
Experienced writer-painter-environmentalist Abid Surti, rich in many genres and possibilities, with unique talent and rare qualities, versatile initiator, wanderer by nature, and a person with a simple nature, Hindi-Gujarati language writer, child writer, writer-satirist, He is the creator of 'Dhabbu Ji', novelist-story writer, painter-cartoonist and social worker. Surti is above all this a true human being who while living the character of a human being himself taught the same to his family.
Writer of more than 80 books, many characters in comics genre, famous cartoon Dhabbuji, Bahadur Wale (you will find his fabricated character in all newspapers, magazines) 88 year old famous cartoonist "Abid Surti" was at Lucknow-based UP Press Club and participated in the program "Lucknow Ki Ek Sham, Abid Surti Ke Naam" organized by Sahitya Sabha.
In this program, many people associated with literature, journalism, art field expressed their feelings and thoughts about Surti Saheb one by one. His contemporary creative journey was also highlighted in detail. In the end, Surti himself shared many memoirs on his personality and creativity, in which he described in detail the aspects of family, social, political, literary and creativity. A large number of people associated with the fields of art, literature, journalism and social work were present on this occasion.
Cartoonist Surti also talked about all the ups and downs in his life which he has lived. He also made a sarcastic attack on all religious and political evils. He pointed out that there was also a time when cartoonists were highly respected and encouraged, people took the genre in a positive light. People were eager to get their own cartoons made. There used to be a cartoon corner in all the newspapers and magazines. People were directly connected to comic books through this medium.
Surti is a conscious creator. His keen eye can be seen in his creations. Surti first started with a character named 'Batuk Bhai' (a man of dwarf stature) in the Gujarati magazine Chet Machhandar, which was also published but had to stop publication because people did not like it.
After that, in the weekly magazine 'Dharmyug' under the editorship of Dharamveer Bharti, the writings of Surti started being published again. Dharambir Bharti himself was interested in this. The composition of Surti which was disliked by the people in the Gujarati magazine, the same composition was liked and appreciated by the people of Hindi language through Dharmayuga. Surti transformed the Gujarati magazine character into a new form and made 'Dhabbu ji'. And this character started growing in popularity as it was published continuously. In this way, he became famous in the country and abroad for his satirical picture and today even at the age of 88, a young man is full of enthusiasm. He is still playing the role of an active creator.
In his statement, he said that it is very important to know something better than to believe it. Don't believe in anything blindly. This darkness is the biggest problem today. People put us in all sorts of distractions, but we have to go on doing our work with our wisdom and discretion. Whatever I am today, I am because of my fans. The love and affection I got from him is the biggest asset of my life. I would like to specially thank and thank senior cartoonist, poet Harimohan Vajpayee Madhav and smile man humorist poet Dr. Sarvesh Asthana for organizing this beautiful program in Lucknow.
Abid Surti (born 5 May 1935) is an Indian painter, writer, cartoonist, journalist, environmentalist, dramatist and screenwriter. He was also awarded the National Award by the Government of India in 1993 for writing a series of short stories titled "Teesri Aankh". received. Surti says that with the dream of becoming a big painter, I joined JJ School of Art in 1954 and obtained Diploma in Art.
He has been deeply influenced by the writings of 20th century Bengali novelist Sarat Chandra Chatterjee. Apart from being a writer in Hindi and Gujarati, he is also an expert in Urdu. He started his career as a freelancer. In the field of literature, Surti Saheb Dhabbuji has written short stories, novels, plays, children's books and travelogues.
Many of his books have also been translated into regional languages. He has also been writing for Hindi and Gujarati newspapers and magazines for a long time. In 2007, he was also awarded the Hindi Sahitya Sansthan Award by the Government of Uttar Pradesh. painterSurti Sahib has been acclaimed as a painter, credited with using creative and original techniques for painting with oil and water colours. His use of acrylic colors on Italian art paper is also considered out of this world.
Also an accomplished painter, he has held about 16 exhibitions in India and abroad. In his early years, he invented an innovative technique called "mirror collage", which also received critical acclaim in Japan. In the field of cartoonist and comic, Surti Saheb made the first cartoon character for Ramkadu, a Gujarati magazine in 1952-53. This included a four-page comic feature in color, titled Rang Lakhudi, with three lead characters – a boy, a girl and a monkey.
As a cartoonist, he later created Dhabbuji, the lovable simpleton. The original and popular cartoon strip has been one of the longest running comic strips in India, running non-stop for over 30 years. It was a weekly comic strip that first appeared in the Hindi magazine Dharmayug. He also created another comic book character, Bahadur, who gained a large number of fans when Indrajal Comics began publication from 1978. He also created other comic book characters like Inspector Azad, Inspector Vikram and a female character.
The Shuja cartoons Dhabbuji and Bahadur, Inspector Azad, Inspector Vikram and Shuja's comics were also published in English. Raj Kapoor once wanted to make a film based on Inspector Azad, which shows that the popularity of his comic strips was immense. In addition, his famous comic strips Doctor Chinchhu Ke Chamatkar, which was published in the Hindi magazine Parag from 1963 to 1965, is known as Dr. Chinchhu Ke Karnaame by the National Book Trust. Abid Surti has been featured as Indian Comics Legend Creative in the Legends Calendar 2019 released by Comix Theory for the month of January. He has been awarded the National Award 1993, Hindi Sahitya Sanstha Award, Gujarat Gaurav.
नोट:
अगर आपको यह खबर पसंद आई तो इसे शेयर करना न भूलें, देश-विदेश से जुड़ी ताजा अपडेट पाने के लिए कृपया The Lucknow Tribune के  

Facebook

 पेज को 

Like

व Twitter पर 

Follow

करना न भूलें...
-------------------------