Actor Ashish Vidyarthi gets hitched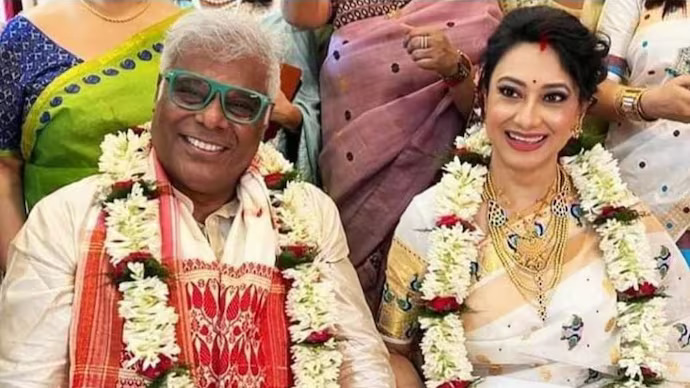 Mumbai: Motivational speaker, travel and food vlogger and National Award winning actor Ashish Vidyarthi is in limelight these days for his second marriage. Actor Ashish Vidyarthi, at the age of 60, married Rupali Baruah, who is originally from Assam but lives in Kolkata, where she is associated with a fashion store, in a simple ceremony.
The special thing is that Ashish's first wife Rajoshi Barua is also from Assam. She is the daughter of yesteryear Assamese actress Shakuntala Baruah. Ashish Vidyarthi and his first wife also have a 23 year old son, whose name is Artha Vidyarthi.
As soon as the news of Ashish and Rupali's marriage surfaced, it went viral on social media. Along with this, as soon as the news came out, a cryptic post of his first wife Rajoshi Baruah i.e. Pilu Vidyarthi has come to the fore. Rajoshi has posted some emotional posts on Instagram, which shopws she is very sad about Ashish Vidyarti's second marriage. Rajoshi has shared two stories on Instagram.
Posting the story on Instagram, Rajoshi wrote that the right person will not ask you what you mean to them. He would never do something that he knew would hurt you. Remember this. Apart from this, actor's Rajoshi has also posted another story on Insta, in which she has expressed sorrow.
Rajoshi wrote in another post that overthinking and doubt may have gone out of your mind. Clarity may have replaced confusion. May peace and patience fill your life. You have been strong for a long time and now it is time to be blessed. Because you deserve it.
Rajoshi also shared a picture on her Instagram wall. In whose caption she wrote that don't get entangled in the puzzle of life, this is life.  Ashish, a graduate of the National School of Drama, was famous for his villainous role. He first played the role of VP Menon in the biographical drama film 'Sardar' (1993). He has acted in over 300 films in 11 languages and has won several awards. In recent times, he has appeared in many television and web series.
नोट:
अगर आपको यह खबर पसंद आई तो इसे शेयर करना न भूलें, देश-विदेश से जुड़ी ताजा अपडेट पाने के लिए कृपया The Lucknow Tribune के  

Facebook

 पेज को 

Like

व Twitter पर 

Follow

करना न भूलें...
-------------------------