Aim to turn cities into one with a global appeal – AK Sharma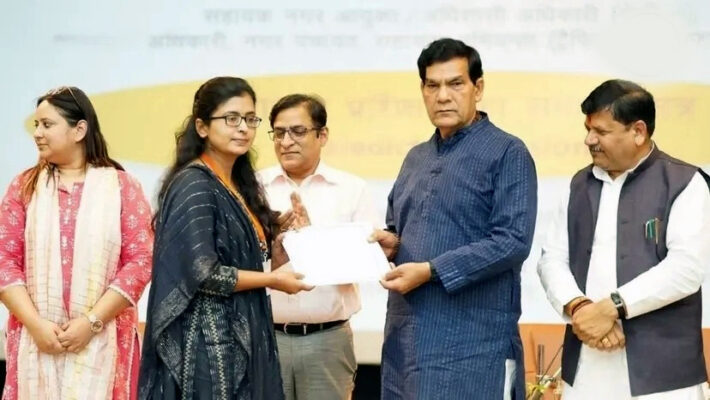 Lucknow: Urban Development and Energy Minister A.K. Sharma said that in order to improve the urban management, special attention has to be paid to the management. Problems arise due to lack of management. To make the new Uttar Pradesh of New India, make the cities excellent.
Works will have to be done in all bodies by better coordination between machine and man, so that the cities can be equipped with arrangements, maintenance, cleanliness, greenery and beautification similar to global cities.
He said that the fight for cleanliness is bigger than the fight for freedom. Taking forward the cleanliness message of the Father of the Nation, Mahatma Gandhi, Prime Minister Modi launched a cleanliness program across the country. In the state, which is being operated under the leadership of the Chief Minister.
Appointment of newly appointed 97 officers of the body
Received 45 days basic training from the Urban Training and Research Institute, newly appointed 97 officers of the body have been given posting letters along with training letters and for the first time they have been posted in the desired bodies of the officers. In this, 24 female officers and 73 male officers were trainees, out of which 5 are Assistant Municipal Commissioners, 81 Executive Officers, 9 Revenue Inspectors and 2 Assistant Engineers.
City Development Minister warned
The Urban Development Minister warned all the newly appointed officers to fulfill their responsibilities with full devotion and honesty. It is said that as soon as you start working in the field, the time for scrutiny and examination of your work will begin. Soon you will also meet the newly elected office bearers of the body. You yourself will be the surveyor of the cities. Take responsibility for your cities and make the city better with your good deeds.
Rule changed for the first time, got posting in their districts
For the first time, this has happened in the department that on the basis of the option of officers, postings have been provided in their districts. Secretary Urban Development Ranjan Kumar said that technical sessions of experts were organized to make all the trainees efficient. If you work by creating dialogue with people, then you will be successful in your work while doing good.
Officers encouraged
Director Urban Bodies Neha Sharma said that all the trainee officers have been given complete management and technical training to deal with the challenges, which will benefit the cities.
नोट:
अगर आपको यह खबर पसंद आई तो इसे शेयर करना न भूलें, देश-विदेश से जुड़ी ताजा अपडेट पाने के लिए कृपया The Lucknow Tribune के  

Facebook

 पेज को 

Like

व Twitter पर 

Follow

करना न भूलें...
-------------------------