Alarmbells sounded as Europe's largest nuclear power plant is targeted by Russia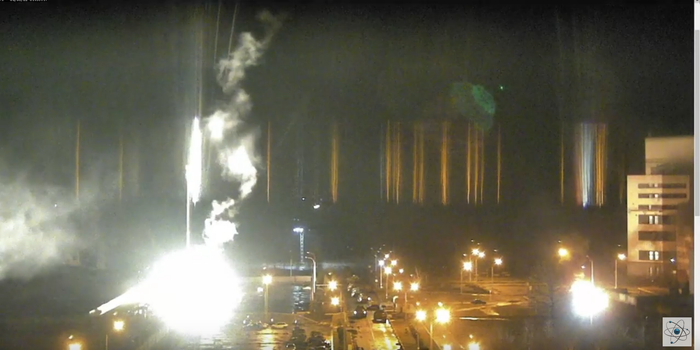 Kyiv: Friday is the 9th day of Russia's attack on Ukraine. The situation in Ukraine continues to worsen. Mighty Russia continues to bring destruction to Ukraine. Along with Ukraine, the Russian army is also suffering heavy loss of life and property.
Meanwhile, there is news that Russia has launched a major attack in Enerhodar city of Zaporizhia Oblast province in Ukraine.
Ukrainian officials claim that plumes of smoke can be seen rising from Europe's largest nuclear power station in Zaporizhia after the attack. Smoke is seen rising from Europe's largest nuclear power station. Ukraine's Foreign Minister Dmitry Kuleba called on Russian troops to call off attacks on Europe's largest nuclear power plant after the fire.
Kuleba tweeted that if it blew up, it would be 10 times bigger than Chornobyl! The Russians should immediately stop the fire. Russia has attacked the city of Enerhodar in Ukraine. Enerhodar is a town and municipality in the northwestern part of Zaporizhia in Ukraine. Enerhodar is located at a short distance from Zaporizhia. Located on the left bank of the Dnieper River near the Kakhovka reservoir. According to Andrey Tuz, spokesman for the press service of the nuclear power plant, there is no danger of radiation spreading. This is Russia's biggest attack.
Reportedly the Zaporizhia Nuclear Power Plant in Ukraine has 6 reactors. Which is considered to be the largest reactor in the whole of Europe and the 9th largest reactor on Earth. Russia is currently attacking it with mortars and RPGs. Parts of the power station are currently on fire. The Russians also opened fire on firefighters. Due to which continuous flames of fire are visible.
The fight between Russia and Ukraine does not seem to be over. No progress has been seen even after two phases of talks. The risk of nuclear war has increased again in this war. Ukraine's nuclear power stations have been the target of Russia since its invasion of Ukraine. Earlier, on 24 February 2022, Russian troops captured the Chernobyl nuclear plant.
Western countries including America are helping Ukraine. With this help, Russian President Vladimir Putin has already warned that if any outsider comes in the middle, then there will be a result which has never been seen before. This threat of Putin is being linked to the nuclear war. According to the International Campaign to Abolish Nuclear Weapons, if a nuclear war breaks out between the US and Russia, the death toll will cross the 100 million mark.
नोट:
अगर आपको यह खबर पसंद आई तो इसे शेयर करना न भूलें, देश-विदेश से जुड़ी ताजा अपडेट पाने के लिए कृपया The Lucknow Tribune के  

Facebook

 पेज को 

Like

व Twitter पर 

Follow

करना न भूलें...
------------------------- --------------------------------------------------- -------------------------------------------------------------------------------------------------------------------------------------------------