Aparna Yadav could very well challenge Akhilesh Yadav from Karhal seat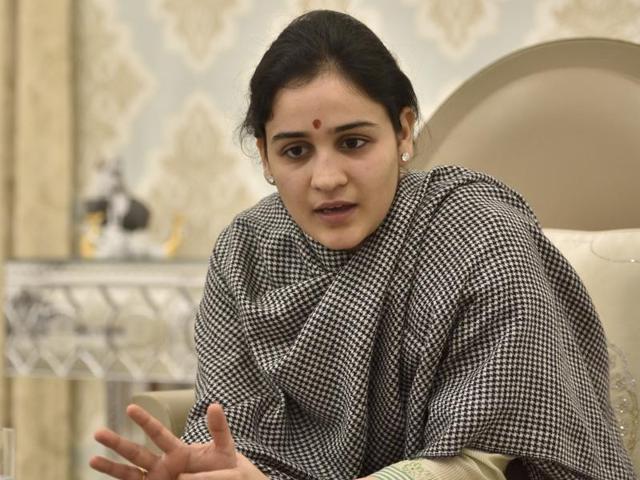 Lucknow: Aparna Yadav, the younger daughter-in-law of Mulayam Singh, who recently joined the Bharatiya Janata Party (BJP), may contest against Samajwadi Party President Akhilesh Yadav from the Karhal seat of Mainpuri. Actually, BJP leader Aparna Yadav has said that if the party asks, she will also contest from Karhal seat of Mainpuri. I am serving people in Lucknow Cantt. If the party says so, I will contest against Akhilesh Bhaiya also. The party will decide what to do. Significantly, SP chief Akhilesh Yadav is contesting from Karhal seat.
At the same time, BJP has not yet announced any candidate for this seat. While Congress has fielded Gyanvati Yadav while BSP has fielded Kuldeep Narayan. In such a situation, there is a discussion now that BJP can give ticket to Aparna against Akhilesh. In a program of a private TV news channel on Saturday, Aparna has indicated that she may contest from Karhal seat.
During this, Aparna said that my father-in-law Mulayam Singh Yadav is not angry after leaving SP and joining BJP and he also blessed me. BJP leader Aparna Yadav said about uncle Shivpal that he has always taken me forward. Uncle is giving advice today, then why did he form a separate party, if uncle himself had followed the advice, he would not have formed a new party. BJP does not do caste politics. Regarding the temple in Mathura, Aparna Yadav said that Krishna temple is the center of faith. In the program, Aparna Yadav said that 'we (BJP) will fight like Hanuman and win like Ram'.
नोट:
अगर आपको यह खबर पसंद आई तो इसे शेयर करना न भूलें, देश-विदेश से जुड़ी ताजा अपडेट पाने के लिए कृपया The Lucknow Tribune के  

Facebook

 पेज को 

Like

व Twitter पर 

Follow

करना न भूलें...
------------------------- --------------------------------------------------- -------------------------------------------------------------------------------------------------------------------------------------------------