Appreciate the city folk for their consistent eforts to keep city clean – AK Sharma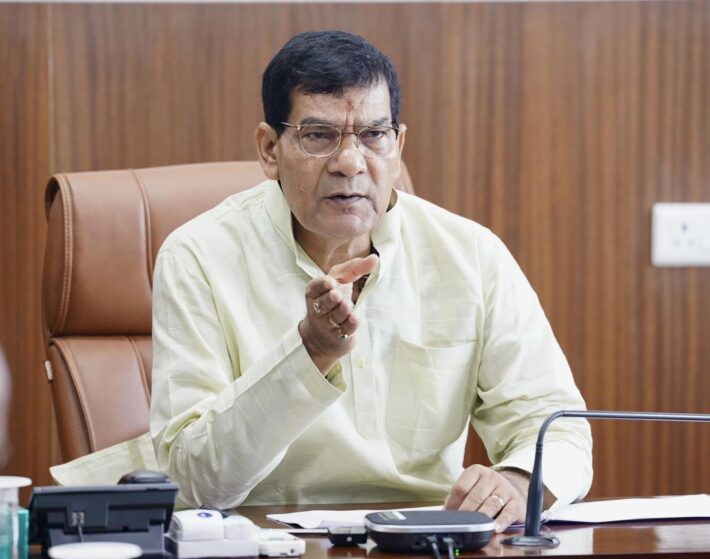 Lucknow: Cleaning is a continuous process, everyone's cooperation is always requested in this. Urban Development and Energy Minister AK Sharma has thanked the Safai Mitras, city workers, officers and office bearers working with their energy and ability to make the city cleanliness campaign a success.
Urban Development Minister, AK Sharma said that from mayor, MLA, partyworker, municipal worker to municipal commissioner, society and all the people of the government themselves have contributed and done shramdaan in the 'City Cleanliness Campaign', it is highly commendable. I thank them for their contribution. Along with this, the Urban Development Minister has thanked everyone on behalf of the urban people.
Urban Development and Energy Minister AK Sharma started the grand campaign of city cleanliness on July 14 at 08 am by cleaning the drain in front of Mansarovar Gurdwara Sahib located in Sector-D of Hind Nagar Ward of Ashiana with a shovel and doing shramdan himself.
On the call of AK Sharma, mayors of municipal corporations, chairmen of municipal councils, chairpersons of town panchayats and councilors of all wards in all 762 urban bodies made significant contributions in their respective areas. During this, Safai Mitras have also cooperated with full energy in the city cleaning campaign.
Urban Development Minister AK Sharma has also praised the local residents for their cooperation in keeping their houses, roads, parks, drains and drains clean and tidy. He said that the more clean and beautiful the environment is, the more there will be happiness in life and we will get rid of diseases.
Urban Development Minister AK Sharma has also urged the people of the area to plant saplings in vacant places.
नोट:
अगर आपको यह खबर पसंद आई तो इसे शेयर करना न भूलें, देश-विदेश से जुड़ी ताजा अपडेट पाने के लिए कृपया The Lucknow Tribune के  

Facebook

 पेज को 

Like

व Twitter पर 

Follow

करना न भूलें...
-------------------------