Art camp Samanvay lets the creative juices flow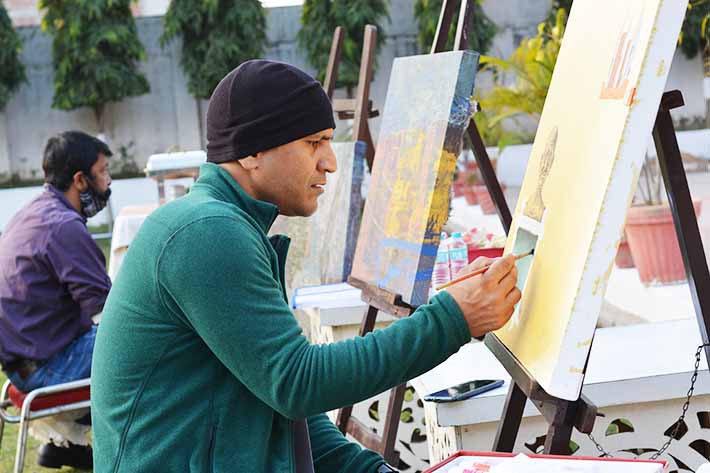 Lucknow: Organized by the name of Samanvay, this camp is a wonderful experiment, which has been started by taking contemporary arts together with ancient Indian traditions and tribal arts. Certainly some new dimensions will be established in this art camp which can be able to give new direction to contemporary art because in art the artist takes the look and the dots or other symbols from nature itself. Nature is a huge school. From which no artist is untouched.
The participating artists have also acknowledged this in their statement. A certain perception will be established only after seeing the works which will be composed through this camp. The above statement was expressed by the Chief Guest Akhilesh Nigam of the state, who came to the All India Painting Camp at Genesis Club, Grand Rose Cottages, Genesis Club Compound Near Atal Club, Kursi Road, Lucknow on Thursday.
While conducting the program, coordinator of the camp Bhupendra Kumar Asthana said that Padma Shri and national artists from many states of the country were welcomed by the chief guest at the inauguration ceremony of the camp. Simultaneously, the camp was inaugurated by the artists signing on a canvas. It may be mentioned that such an art camp was organized for the first time in the state, in which Padma Shri and national awardees participated together.
On this occasion, all the artists gave their introduction and praised this camp. The main objective of this camp is to promote Indian folk arts and contemporary arts together on one platform. The curator of the camp is Dr. Vandana Sehgal.
Padma Shri Vijay Sharma, who came from Himachal Pradesh in Kangra style, said that such type of events should be organized so that along with contemporary art, folk art of India can be encouraged. Padmashree Bhajju Shyam, a Gond-style painter from Madhya Pradesh, said that he had come for the first time through such an event being held in Lucknow.
Along with this, Padmashree Bhuri Bai, who had come from Madhya Pradesh in Pithora painting style, told about  art journey and said that today due to the devotion towards art, respect has been received in the field of art. And got the opportunity to come to this camp today. Contemporary painter Prashant Kalita – Assam, Printmaker Srinivas Govindrao Mhetre – Maharashtra, Painter Dheeraj Yadav – Uttar Pradesh, Painter Akhil Mohan – Kerala, Painter Anil Bodwal – New Delhi have also expressed their own expressions of words and their colors and lines.
Started this camp through Bhupendra Asthana told that this camp will be held till January 16. Artifacts created during this period will be exhibited at Saraka Art Gallery, Lucknow on January 16. All the art lovers of the city will be cordially invited. You can also visit this exhibition as per the rules of Covid.
नोट:
अगर आपको यह खबर पसंद आई तो इसे शेयर करना न भूलें, देश-विदेश से जुड़ी ताजा अपडेट पाने के लिए कृपया The Lucknow Tribune के  

Facebook

 पेज को 

Like

व Twitter पर 

Follow

करना न भूलें...
------------------------- --------------------------------------------------- -------------------------------------------------------------------------------------------------------------------------------------------------