Artistic women bring creative expression alive in Florescence Art Gallery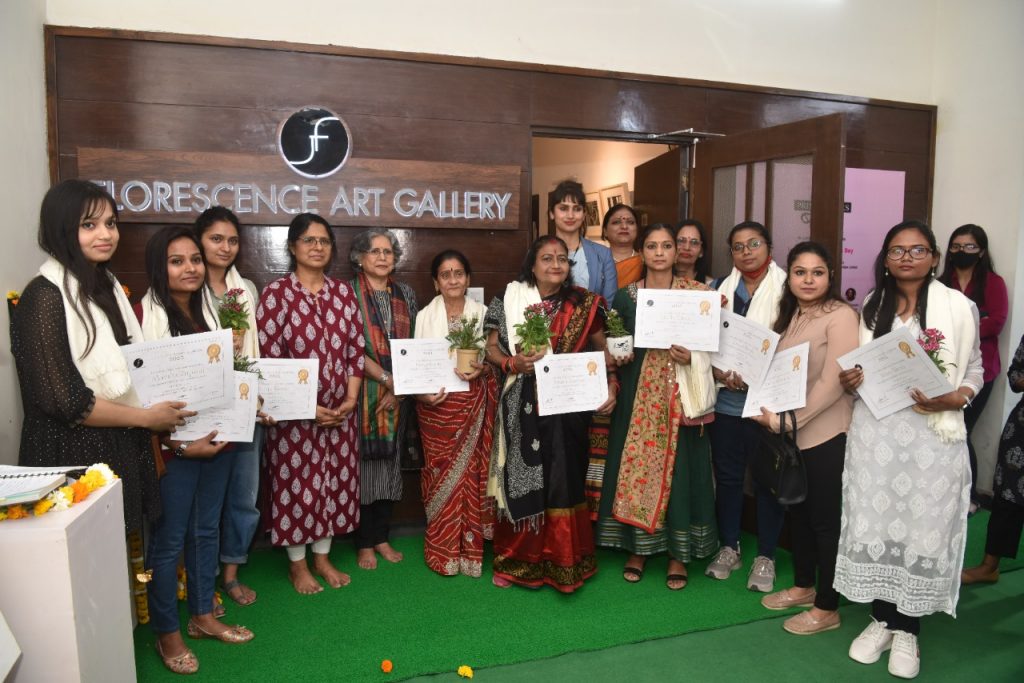 Lucknow: On the occasion of International Women's Day, a special exhibition of 19 artworks by 12 women artists from five states was inaugurated at the Floresence Art Gallery. 16 women who made important contributions in different disciplines were honored. A special exhibition of print art paintings named "Printmaker Barah" was organized in the Florescence Art Gallery, M 005, Rohtas Plumeria, Vibhutikhand, Gomtinagar, Lucknow.
The exhibition was inaugurated by the chief guest Pushpa Bellani (Company Secretary/Chief Public Relations Officer of Uttar Pradesh Metro Rail Corporation Limited) and Poornima Varman (Eminent poet, Hindi writer). On this occasion, Director of the gallery Neha Singh welcomed and thanked the chief guest and all the artists and all the art lovers who came. On this occasion, while speaking on women's empowerment, she appreciated the spirit of women artists working in this medium of art like Chhapakala and wished everyone on Women's Day.
Many artists and art lovers of the city were present on this occasion. The curator of the gallery Bhupendra Kumar Asthana told that in this special exhibition there are women artists from five states of the country, Uttar Pradesh, Uttarakhand, Jammu Kashmir, New Delhi and West Bengal, the special thing of the exhibition is that all the artworks are printed in all mediums of art.
Etching, lithography, woodcut, linocut, emboss, dry point, serigraphy have been included. In which there are senior, youth and student artists. In this exhibition, all the women artists have composed their grammar very beautifully, we have no shortage of painters working on women, since time immemorial, women can be made in many forms like mother goddess and sometimes girlfriend. If we look at Harappa, Konark, Khajuraho, Ellora, etc., various forms of women are remembered in the pictures.
Women have always faced so many issues, women have created a new world for themselves in the art world Women in the field have proved that they are not just a subject, but much more than that. Artists have the gift of expressing themselves. Artists have a completely different way of feeling, a different point of view, their own thoughts. They become the medium, in which the thoughts of all the women artists are being seen in the exhibition, the description of women is found in different forms in society, literature, religion, philosophy and spirituality. If we consider these forms as part of history, then even in today's modern times, women are seen in clothes from rank to king.
The creativity of some such women, some parts of their struggle are being seen in this exhibition. In this way, in many art history, the name comes in the art contribution and even today women artists are not lagging behind in any form. But Amrita Shergill's name is very important among women artists in India.
The painters featured in this exhibition are Akanksha Tripathi, Gipti Katiyar, Kiran Singh Rathore, Kavita Mahrotra, Madhu Tiwari, Manu Verma, Ranjana Pal, Prachi Verma, Pinky Goyal from New Delhi, Piyali Paul from West Bengal, Ranju Kumari from Jammu and Kashmir. Shalini from Uttarakhand participated.
नोट:
अगर आपको यह खबर पसंद आई तो इसे शेयर करना न भूलें, देश-विदेश से जुड़ी ताजा अपडेट पाने के लिए कृपया The Lucknow Tribune के  

Facebook

 पेज को 

Like

व Twitter पर 

Follow

करना न भूलें...
------------------------- --------------------------------------------------- -------------------------------------------------------------------------------------------------------------------------------------------------