Ashes of Pt. Birju Maharaj immersed in river Gomti amidst sounds of Bhajans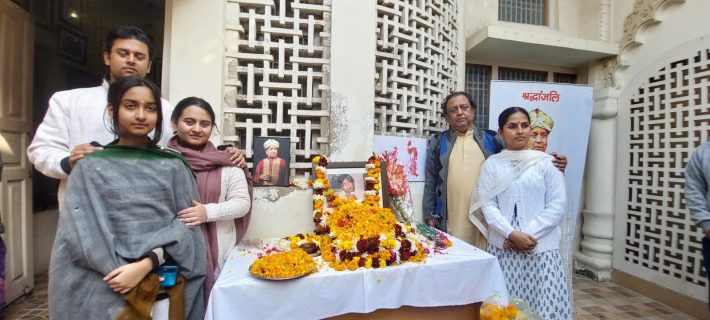 Lucknow: The ashes of Padmavibhushan Pandit Birju Maharaj ji were brought to his place of birth. Maharaj ji died of heart attack on 17th January in Delhi. In Delhi itself, his younger son Pandit Deepak Maharaj  performed the last rites. He was admitted to the hospital for dialysis a few days ago, when he told his younger daughter-in-law Aarti that if anything happens to him, then his ashes must be taken to his home at his birthplace, after that, immerse them in the feet of Mother Gomti and Mother Ganga in Banaras.
According to his last wish, two ashes were brought to Lucknow. Jai Kishan Maharaj, the eldest son of Padmavibhushan Pandit Birju Maharaj, reached Deodhi, the birthplace of Maharaj with the urn in his hands, along with Maharaj's grandson Tribhuvan Maharaj, daughter-in-law Rajni Maharaj, granddaughter Ragini Maharaj, Kanu Maharaj and prominent disciple Saraswati Sen also came along. This is where Munni Devi lives, Bhai Kishan Maharaj had come from Banaras. First Maharaj Ji's Deodhi was placed at Pandit Kalkaji Maharaj Deodhi located on Gwinn Road, where all the artists associated with Kathak dance music paid their last respects to the Nritya Maharaj.
Malini Awasthi, Surbhi Singh, Poornima Pandey, Meera Dixit, Isha Ratna, Misha, Ratan, Anuj Mishra Himashu, President of Alpika, the organization that organizes Maharaj ji's programs in Lucknow, Renu Sharma, Uma Trigunayak, Bina Singh, Ravinath Mishra, Manisha Mishra. Jyoti Kiran paid homage with flowers. Everyone also demanded from Deodhi, both the Government of India and the Government of Uttar Pradesh, to give Bharat Ratna award to Maharaj ji through the media. After leaving Deodhi, Maharaj ji's Kalash was taken to Kudiyaghat located at Yatra Chowk. Where after ritualistic worship, an urn was immersed in river Gomti.
नोट:
अगर आपको यह खबर पसंद आई तो इसे शेयर करना न भूलें, देश-विदेश से जुड़ी ताजा अपडेट पाने के लिए कृपया The Lucknow Tribune के  

Facebook

 पेज को 

Like

व Twitter पर 

Follow

करना न भूलें...
------------------------- --------------------------------------------------- -------------------------------------------------------------------------------------------------------------------------------------------------