Beautification efforts in Ayodhya continue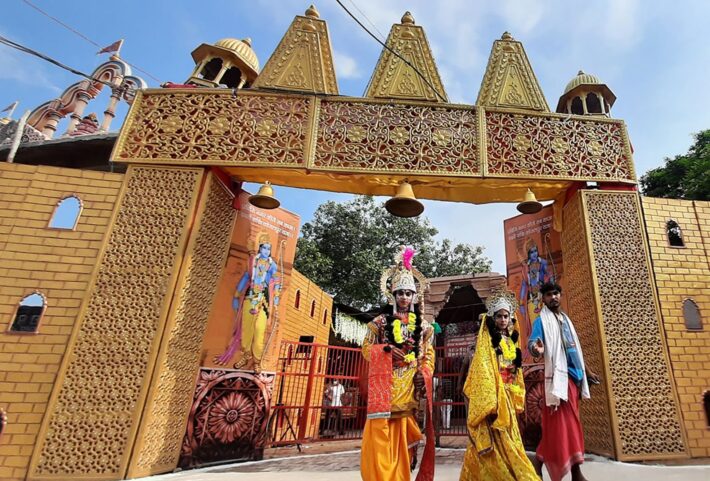 Ayodhya: While on one hand a grand temple is being constructed at a rapid pace in the city of Lord Shri Ram, on the other hand the Yogi government is busy making Ayodhya the most beautiful city in the world.
The construction of the first floor is almost complete. In such a situation, now the consecration program of Ramlala is to be organized in the grand Ram temple on 22nd January.
Before this, the monasteries, temples of Ayodhya and all the wards of Ayodhya Dham will be illuminated with solar street lights. Yogi government has allocated a budget of Rs 2.5 crore to UP NEDA for this work.
Before the consecration of the idol of Ram Lala in the Ram temple being built in Ayodhya, the plan to illuminate Ayodhya Dham with solar street lights is going to take shape. 1500 solar street lights will be installed in 131 monasteries, temples and all the wards of Ayodhya. UP NEDA Project Officer Praveen Nath Pandey said that Delhi based company KLK has been entrusted with the responsibility of installing solar street lights. He told that this project will be inaugurated on November 7. All 1500 solar street lights will be installed in a month.
Solar street lights will be installed here
Ayodhya Dham's Ramsevak Puram, Bharat Ashram, Ram Dham Ashram, 11 Mukhi Hanuman Temple, Shyam Sadan, Mauni Majha Ashram, Jagannath Temple, Ram Kachari Temple, Karuna Nidhan Bhawan, Kanak Bhawan, Veda Mandir, Sadguru Sadan, Hanumant Niwas, Badhaai Bhawan. , Badi Kuti Pramod Van, Viahuti Bhavan, Ramayani Ji Kutiya, Pagal Das Ji Mridang Ashram, Sita Niwas Pramodvan, Hanumangarh, Kanak Mahal, Janaki Ghat, Paramhans Ashram, Lotni Bhawani Mandir Tulsi Nagar, Bati Baba Ashram, Shri Ram Dut Ashram, Ram Solar street lights will be installed in 131 math temples and wards including Vallabha Kunj Janaki Ghat.
On this occasion, the program was worshiped under the leadership of Pandit Durga Prasad ji, with Area Organization Minister Gajendra ji as the host along with Champat Rai, Anil Mishra, Mayor Girish Pati Tripathi, Professor VN Arora, Additional Municipal Commissioner Shashi Shekhar, Gopal ji, Councilor Vinay Jaiswal. There was respectable presence of people like Anuj Das, Srinivas Shastri, Ramesh Rana, Ajay Azad, Aniket Yadav, Ramprakash Maurya, Organization Minister Ankur, Sultan Ansari etc.
नोट:
अगर आपको यह खबर पसंद आई तो इसे शेयर करना न भूलें, देश-विदेश से जुड़ी ताजा अपडेट पाने के लिए कृपया The Lucknow Tribune के  

Facebook

 पेज को 

Like

व Twitter पर 

Follow

करना न भूलें...
-------------------------