Benefits for the disabled should reach the last man standing – Narendra Kashyap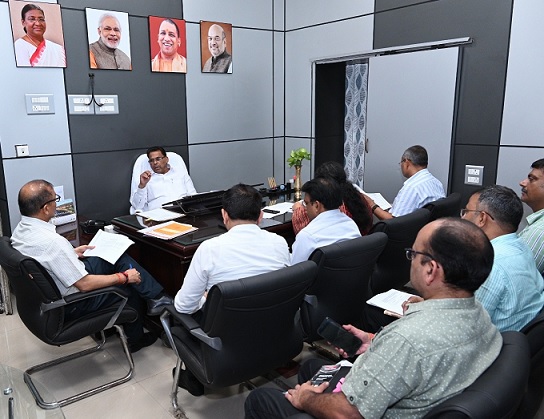 Lucknow: More and more backward and disabled people should be provided the benefits of the schemes run by the state government. Efforts should be made to provide scholarship to backward class students on time. Special care should be taken for the comfort and facilities of the students getting O-level training.
State Minister of State for Backward Class Welfare and Empowerment of Disabled Persons (Independent Charge) Narendra Kashyap said these things to the officials during the departmental review meeting in his assembly chamber. He said that the Yogi government is continuously working for the interests of the backward and disabled people, the benefits of which should be extended to the last eligible person.
The Backward Class Welfare Minister directed that the centers imparting O level training should be inspected by the district officials. Feedback of the training should be taken from the students during the inspection. He directed that the funds allocated for the maintenance of the hostel should be properly utilised.
If you see any hesitation or laxity in the construction work, then take action. He said that whether the work is being done properly or not should be regularly monitored through the executing agencies. He directed that to avail the benefits of marriage grant scheme, one can apply only three months before the marriage, information about this should be spread to the backward class people through various mediums.
The applications under marriage grant should be disposed of in a timely manner and benefits should be provided to the eligible couples.
The Empowerment of Persons with Disabilities Minister instructed the officials to work on how to get more benefits to the disabled. He directed that integrated schools should be opened in the state, so that the education and overall development of disabled students can be taken care of.
Apart from this, skill training should also be provided to the disabled to make them self-reliant. He directed that the benefits of Divyangjan Pension Yojana should be extended to maximum number of eligible Divyangjans by running a campaign. He directed that motorized tricycles should be made available through state funds or department-run schemes to facilitate the journey of the disabled.
He reviewed the Artificial Limbs and Accessories Scheme for the disabled, Award Scheme for marrying a disabled person, Shop Construction Operation Scheme and Surgery Grant Scheme for prevention of disability.
Principal Secretary Backward Class Welfare Subhash Chandra Sharma, Special Secretary Divyangjan Empowerment Sunil Chaudhary, Director Backward Class Welfare Vandana Verma, Commissioner Divyangjan Ajit Kumar, Joint Director Divyangjan Empowerment Jaynath Yadav and other departmental officers were present in the meeting.
नोट:
अगर आपको यह खबर पसंद आई तो इसे शेयर करना न भूलें, देश-विदेश से जुड़ी ताजा अपडेट पाने के लिए कृपया The Lucknow Tribune के  

Facebook

 पेज को 

Like

व Twitter पर 

Follow

करना न भूलें...
-------------------------