Best Practices for Naturopathy discussed at L.U. event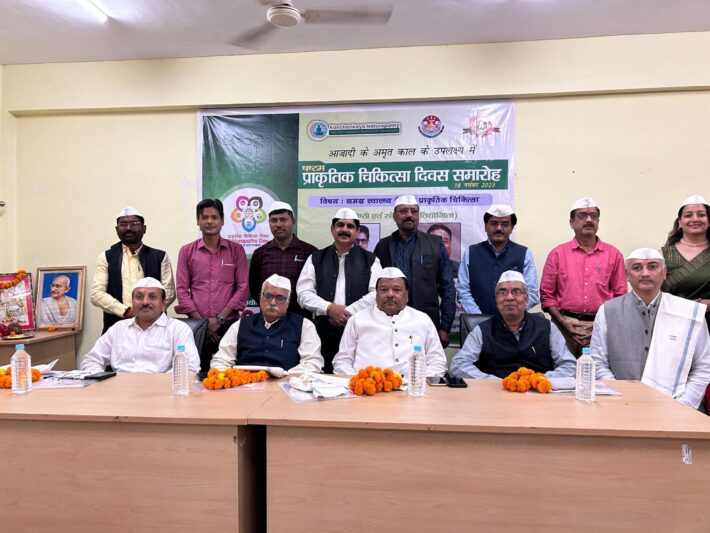 Lucknow: The sixth National Naturopathy Day celebration was jointly organized by the Faculty of Yoga and Alternative Medicine and Kanchanakaya Naturopathy Yoga and Acupressure Institute at Patanjali Hall Yoga Department, Lucknow University.
On the occasion of the event, a one-day seminar and elocution competition was organized on the topic "Role of Naturopathy in Overall Health". On this occasion, Chief Guest Professor Balraj Chauhan, former Vice Chancellor of National Law University, Lucknow, Bhopal and Jabalpur played the role of Chief Guest.
Emphasizing the universal and scientific development of naturopathy, Chauhan talked about emphasis on evidence-based, legal studies. Expressing the uniqueness of naturopathy in his own words, he said that every person is unique and has his own unique biological system, hence the needs of each person may be different, accordingly the person will need treatment and hence study on individual treatment.
The main speaker of the program, Dr. Madan Mohan Pandey (Senior Naturopathy Doctor) and former District Youth Welfare Officer, in his original speech, threw light on the origin, development and usefulness of Naturopathy and emphasized that instead of living by heart, a person should live to his heart's content. We should try to live a natural life i.e. to live an autonomous, free and carefree life.
As a special guest in the programme, Professor Ramesh Sharma (Outgoing Lokpal) Lucknow University gave his views on the importance of naturopathy and how naturopathy should be used authentically in children, youth, adults and the elderly. Assured to provide every kind of support and guidance on scientific studies. Professor Ashok Kumar Sonkar, Dean of the Faculty of Yoga, who was presiding over the program, welcomed all the honored guests, participants, students, researchers and while inaugurating the topic of celebrating Naturopathy Day today, said that on 18th November itself, Dr. Dinsa Mehta and Mahatma Gandhi had signed a resolution for the National Institute of Naturopathy, hence November 18 has been celebrated as Naturopathy Day.
While presenting his views in the program, Dr. Amarjeet Yadav threw light on the role of naturopathy in overall health. The program was organized by Dr. Satyendra Mishra. Having a background in studying and teaching naturopathy, he published Development of Naturopathy in Lucknow University and Upgradation of Naturopathy in its sister institute Kanchanakaya. The program was conducted by Dr. Ishita Arora.
During this, teachers of the department Mr. Shobhit Singh, Dr. Sudhir Mishra,  Akash Mishra,  Ram Yadav,  Ramkishore, Dr. Ramnaresh etc. provided their full support in running all the arrangements. A declamation competition was organized during the program. In this competition, children presented their views on the role of naturopathy in overall health.  Sarita Tiwari got the first place,  Sushma Pal got the third place,  Archana Verma got the third place. The three winners were honored with Gold Medal, Silver Medal and Raj Medal and Certificate respectively. And finally the program was concluded after natural refreshments.
नोट:
अगर आपको यह खबर पसंद आई तो इसे शेयर करना न भूलें, देश-विदेश से जुड़ी ताजा अपडेट पाने के लिए कृपया The Lucknow Tribune के  

Facebook

 पेज को 

Like

व Twitter पर 

Follow

करना न भूलें...
-------------------------