Blue Sapphire Fitness Set to Revolutionize healthy living in Lucknow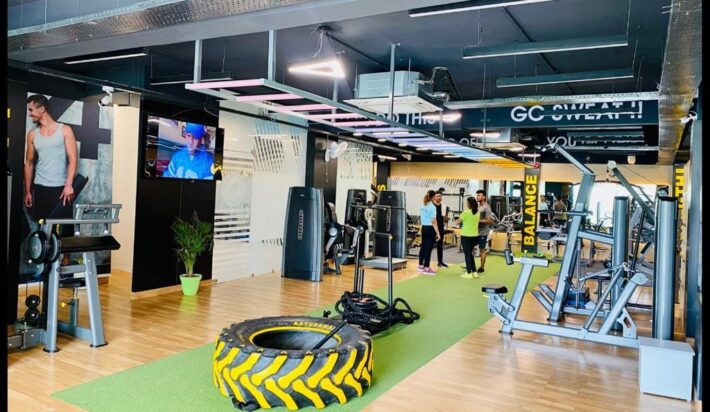 Lucknow: Blue Sapphire Fitness gym, a leading fitness brand is committed to promoting wellness, health, and a holistic approach to fitness. Blue Sapphire Fitness aims to revolutionize the fitness landscape by providing an environment friendly cardio zone through natural plants and decent sunlight.
Located in a prime location at Gomtinagar Vijay Khand 2, Blue Sapphire Fitness spans an impressive area of 6000 square foot. The gym is equipped with cutting-edge fitness equipment, green cardio zone, kick-boxing, power yoga, sports art machines, and many more. Along with the state-of-the-art equipment, the gym also provides de-tox snacks and juice bars and maintains complete hygiene.
Members will have access to the latest technology and fitness innovations, ensuring an exceptional workout experience, along with 24*7 service.
The main aim is to provide clients with natural environment during work out even in rainy season at the time when people avoid walking outdoors due to mosquitos and wet parks this place will surely give you the best possible experience with all glass around the cardio area as one can witness the rainfall and sun rays falling on you through glass in presence of safe and healthy environment.
Yoga classes during weekdays will provide clients with the much needed break though hectic schedule and meditate making their routine good and balanced one.
Till date, there were hardly any options for the city folks where they can get green zone cardio, plants based glass chamber, yoga, zumba, strength training under one roof that too in presence of trained experts, this unique concept gym will provide them with all these facilities.
Setting Blue Sapphire Fitness gym apart is its exceptional team of highly skilled and certified fitness professionals. The gym boasts a diverse lineup of accomplished personal trainers who will craft individualized training programs tailored to meet specific needs and objectives.
"We are thrilled to introduce Blue Sapphire Fitness gym to Lucknow and present our unique approach to fitness," expressed Mridul, the visionary driving the gym's success.
"Our goal is to foster a fitness community that embraces a balanced lifestyle and supports one another's wellness goals. We are dedicated to providing an inclusive environment where individuals of all fitness levels feel comfortable and inspired to realize their full potential," says Founder.
Members of the gym will also enjoy access to amenities such as locker rooms, showers, and a juice bar, ensuring a seamless and convenient fitness experience.
नोट:
अगर आपको यह खबर पसंद आई तो इसे शेयर करना न भूलें, देश-विदेश से जुड़ी ताजा अपडेट पाने के लिए कृपया The Lucknow Tribune के  

Facebook

 पेज को 

Like

व Twitter पर 

Follow

करना न भूलें...
-------------------------