Bone marrow transplant at SGPGIMS helps ease discomfort in Blood Cancer patient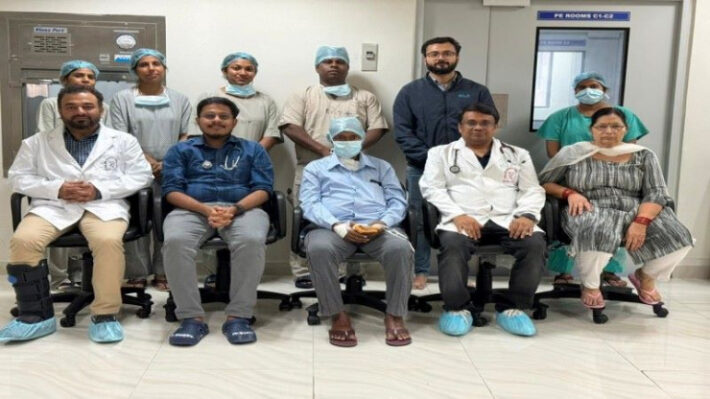 Lucknow: Doctors of the capital's Sanjay Gandhi Postgraduate Institute of Medical Sciences have succeeded in saving the life of an elderly person suffering from rare blood cancer by doing a bone marrow transplant. The elderly patient was suffering from a rare blood cancer called plasma cell leukemia. Associate Professor of Hematology Department at SGPGI who performed the transplant. Sanjeev told that the patient is completely fine.
Actually, Ram Babu Mehrotra (67) was suffering from a rare blood cancer named Plasma Cell Leukemia. The doctor came to know about his disease in March this year. After which his chemotherapy started at SGPGI. It is being told that pneumonia also occurred during this period. Not only this, Ram Babu Mehrotra already had paralysis and Parkinson's disease. Due to which his health was being seriously affected. Keeping in view the health of the patient, Associate Professor of Hematology Department. Sanjeev and his team decided to do a bone marrow transplant.
Prof. Sanjeev told that plasma cell leukemia is the last stage of multiple myeloma. This is a rare cancer. Every year four to five patients reach SGPGI for treatment. He told that when Ram Babu Mehrotra was diagnosed with this disease, the decision for bone marrow transplant was taken. After that, preparations for transplant were started after talking to the patient's family.
He told that the patient already had health problems, but transplantation was the best way to save the patient's life. The patient is now fine after the transplant. He told that only the patient's bone marrow has been used in this transplant. This was the second transplant at SGPGI. Even before this, a patient suffering from plasma cell leukemia has undergone a transplant. He is completely healthy. 200 transplants have taken place in the BMT unit of SGPGI. Out of which 50 plasma cell transplants are included.
Transplant team
Head of the Department of Hematology, Prof. Rajesh Kashyap, Dr. Sanjeev.
Resident Doctors- Dr. Harshal, Dr. Ishita.
(Lab) Prof. Ruchi Gupta, Dr. K Rahman, Dr. Dinesh Chandra, Dr. Manish Kumar Singh.
Sister Incharge Madhuri Smith, BMT Nurse Aradhana Tripathi, Nikunj Tigga, Alka Singh, Minimol Abraham, Sheelamani Xalxo, Deepshikha Sachan, Sindhu George, Robbins Mathew, Shaili, Sweta Maurya, Ajit, Shalini.
Stem Cell Harvesting Team: Manoj Kumar Singh, Ashish Kumar Mishra, Pankaj Yadav.
Transfusion Medicine: Dr. Atul Sonkar, Dr. Dheeraj Khaitan
Radiology: Prof. Hira Lal
Nephrology: Professor Narayan Prasad, Dr. Manas Patel
Microbiology: Dr. Atul Garg, Dr. Chinmay Sahu
Nuclear Medicine: Dr. Manish Ora, Dr. Aftab Nazar
नोट:
अगर आपको यह खबर पसंद आई तो इसे शेयर करना न भूलें, देश-विदेश से जुड़ी ताजा अपडेट पाने के लिए कृपया The Lucknow Tribune के  

Facebook

 पेज को 

Like

व Twitter पर 

Follow

करना न भूलें...
-------------------------