BrahMos Production in Lucknow is most likely to start in March: Rajnath Singh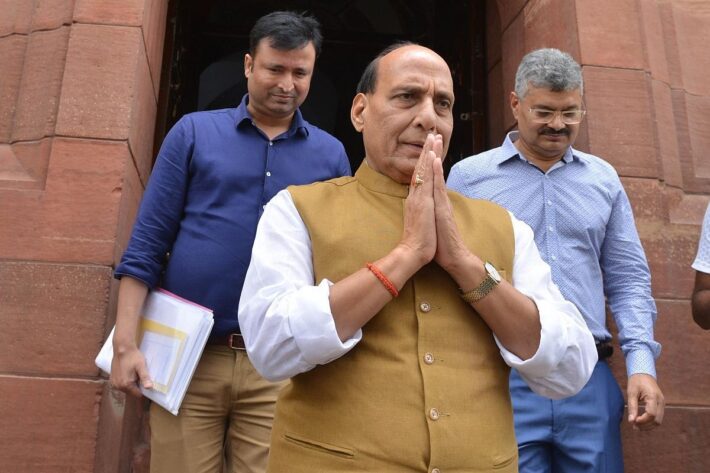 Lucknow: The construction on the BrahMos missile production facility in Lucknow is anticipated to be finished by March of next year, according to Defence Minister Rajnath Singh. On the second day of his visit of his parliamentary seat, Singh was addressing in Gomti Nagar.
The BJP leader stated, "The BrahMos missile project is also moving along at a rapid clip and after next February or March, the missile manufacturing will start on the soil of Lucknow."
The BrahMos supersonic cruise missile was created by an India-Russia joint venture and may be deployed from land, sea, or air platforms.
According to Singh, the work on the Defence Research and Development Organization (DRDO) facility would also soon be finished. He said that 11 further projects had been started in Lucknow.
Though they would take some time to finish, the minister predicted that in a few years, Lucknow will look entirely different.
Singh claimed that "everything from nuts and bolts to BrahMos missiles would be manufactured in the Uttar Pradesh Defence Industrial Corridor (UPDIC)" during his visit in June.
Through the defense corridors in Tamil Nadu and Uttar Pradesh, we have established a favorable climate for defense industry. Over 95% of the property needed for this corridor has already been bought, according to UPDIC, which informed me there was a proposal to purchase roughly 1,700 hectares of land for it.
Regarding the "Sanatan Dharma" controversy, Singh said, "Sanatan Dharma conveys the idea of vasudhaiva kutumbakam. It doesn't have a start or finish. It cannot be ended by anything in the world. If Sanatan Dharma is threatened, it will be a very serious danger. Sanatan Dharma, according to recent claims made by DMK leaders Udhayanidhi Stalin and A Raja, has sowed social divides and must be exterminated along the lines of illnesses like dengue, malaria, and coronavirus.
On the second day of his visit to his Lok Sabha district of Lucknow, the defense minister inspected the ongoing construction of the Munshi Pulia Over Bridge at the Khurram Nagar and Polytechnic intersection in Indira Nagar Sector 25, according to a statement released by the Bharatiya Janata Party on Saturday.
Additionally, he looked over the construction being done at Gomti Nagar Railway Station.
"I am happy with how the work is progressing at Gomti Nagar Railway Station," Singh said. By December, it will be done.
नोट:
अगर आपको यह खबर पसंद आई तो इसे शेयर करना न भूलें, देश-विदेश से जुड़ी ताजा अपडेट पाने के लिए कृपया The Lucknow Tribune के  

Facebook

 पेज को 

Like

व Twitter पर 

Follow

करना न भूलें...
-------------------------