Bundelkhand welcomes you with Open Arms – R.P. Singh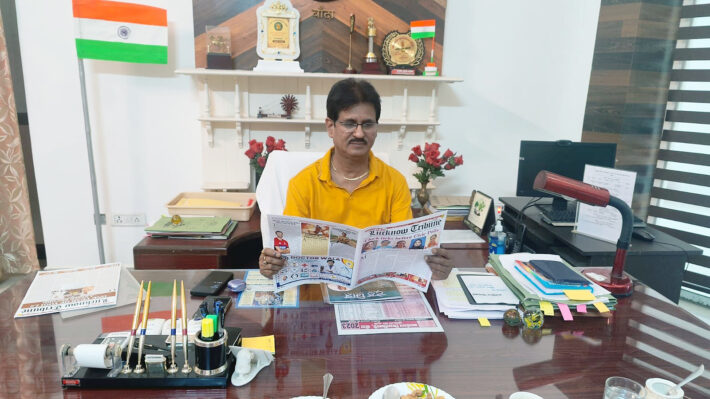 K.P Singh / Arijit Bose
Chitrakoot: Religious tourism has been one of the key drivers for the Uttar Pradesh economy. Not only is Bundelkhand as a region being developed from that lens, it is also witnessing new – age innovation that have started bearing fruit in the post GIS times.
In an exclusive conversation with The Lucknow Tribune, Divisional Commissioner, Chitrakoot Dham, R.P. Singh said, "Bundelkhand has always been a place which is rich from the tourism point of view. A lot of pristine places are located in this region and we are trying to revive this circuit as a heritage rich zone. The idea is to attract more and more tourists so that the wheels of the economy gets moving for the region."
Talking of crowd pullers, Singh said, "Among the major attractions are the Kalinjar fort, Neelkanth Mahadev temple, a string of historic places associated with the Bundela dynasty among others. Work is also going on to set up a tent city along with offerings like paragliding, light and sound show, a special showcase of the Bundela dynasty for which a proposal has already been sent. Even Bhuragarh which is located nearby will be witness to small activities which will keep the incoming tourist in mind. Mahoba similarly is known for a unique Sun Temple which has intrigued scientists for generations. It is said that the sun rays directly fall in the garbhgriha of the temple."
Underscoring the revamp agenda, he said, "Under the DM Mahoba new initiatives are being taken so that the region can once again spring back to Life with immediate steps. As a part of the constant efforts not only will the roads be done up, there will be lighting, a light and sound show will add to the experience in this region. A wetland is also being developed with proper flow of water so that it can house a safe and secure birds haven. Other attractions in the region include Gorakhnath Giri mountains, several remains of ancient ages and the truly unique blue lotus. Chitrakoot is a major attraction for places like Hanuman Dhara, Gupt Godavari and special Ramcharit Manas related places."
Talking of the runup to the Groundbreaking scheduled for August, he underlines – "Talking of the investor Summit he said that with big ticket investment coming in there will be a boom in terms of Solar energy, EV and over all development. Chitrakoot is the 11th top district in terms of investment. Talking of Banda there will be progress in terms of niche hotels, good schools, important engineering and medical colleges along with a green gas revolution. Well laid roads will boost the connectivity of Chitrakoot and other regions with most important cities including Kanpur. The Bundelkhand Expressway will help in improving business and will also help in making land rates better."
So has life for the public changed, he says Yes. Singh said, "  Known to be a drought prone region, with good schemes Bundelkhand with a corpus of 15000 crore will ensure better water reach in 374 villages under the Har ghar jal Har Ghar Nal Yojana. 90% of the connections have been made and by May almost all houses connected will start getting the water. The PM at a personal level is taking note of the progress in this region and he will inaugurate the two major schemes that will add more muscle to water distribution. Pejal Khatan Pipe Pe Jal Yojana aims at 160 MLD or 16 crore liter per day of water  supply. Under the scheme there has been a record 1,43,217 connections. The project is worth 12,74 crores. Notably 76% of the work is complete. By May 31 the project will be launched by PM Narendra Modi.  On similar lines, the Amali Kaur Yojana, is a 737 crore scheme which will impact 245 villages. With 74,217 connections, 95% of the work is complete and by May 31, the targets will be met and a suitable inauguration around June will be scheduled."
Carrying the point forward, he said,  "The government has taken up the need to promote coarse grains very seriously. It is because of this that the focus on millets has been worth noting. Understandably there is tremendous focus on irrigation and as a consequence this is the reason why arhar, rice, ODOP related products the Kathia wheat, daliya, roti and other related nutritious food is being produced.  Similarly on fruit production front, with a focus on Mausambi, Kinu, Anar, Santra are all being seen as prospective cultivable fruits for a brighter future for the farmfolk. "
"Power generation, Green gas, more drinking water, better tourism and cheap CNG are indicators that the Bundelkhand region is headed for better times," he adds.
Sitting in the lap of Ramayana folklore, he said, "As India witnesses run up to the finalization of the Ram Janmabhoomi temple, it is indeed a good feeling that one gets in this very region where stories of Ram are aplenty. It is a region where there is big scope for religious tourism as part of the broader Ramayana circuit. The young from schools and the public at large will get a deeper understanding of the real ideals of Lord Rama."
Among the top  priority areas are a Tourist Facilitation Center and other tourism development works near Balmiki Ashram in Lalapur of Chitrakoot.  Overall tourism development of Tulsidas ji's birth place Rajapur. Establishment work of Ganeshbagh Ramswaroop Vatika near Bagrehi village of Chitrakoot. Construction of parking and tourist facility center in front of food plaza of Sitapur. External electrification at Ramghat. Beautification of the main road Bedi Pulia crossing on the Banda-Chitrakoot road among other works.
In Banda, Construction of Tourist Facilitation Center for the pilgrims coming to Kalinjar Fort. Establishment of musical fountain in Nawab Tank Banda.Establishment of accessible toilet in district Banda. Tourism development work of Karu Baba Temple, Village Chandaur, Tehsil Atarra, District Banda among other works.
Facade and tourism facility development work of Rangarh fort, Bhuragarh fort in Bundelkhand circuit. Construction of glass bridge on Gorakhgiri hill in district Mahoba. Establishment of Taposthali rope-way of Shri Gorakhnath located on Gorakhgiri mountain among other works.
Tourism in Maudaha dam near Bundela village of district Hamirpur, Development work and water sports facility of Marhi Mata Temple located at Oira Road, Rath Nagar, Hamirpur. Tourism development work of ancient Kamakhya Devi Temple in village Devgaon of Hamirpur Sadar Development Block Sumerpur among other works.
Signing off, he said, " As a broader call I would appeal to people to come to Bundelkhand and witness from close quarters the magnificence of this region. It is not surprising that people from abroad also turn up at our place. I also appeal to the Industry that you must make full use of the full potential of the region, which will not only give you a safe space industrially, but will also help give the local population a better employment opportunity. "
In a Nutshell
Pejal Khatan Pipe Pe Jal Yojana / Amali Kaur Yojana important
Schemes to be launched by PM Modi
Better water reach in 374 villages under the Har ghar jal Har Ghar Nal Yojana
Big boost for Religious tourism
Promotion of Coarse Grains a stress area
Attractions of the region
 Badi Chandrika Devi Mandir, Keerat Sagar Lake, Mangalgarh Fort, Mastani Mahal Belatal, Srinagar Fort, Saalat fort, Kalpvriksha, Sujanpur Tirha, Sinh Maheshwari Mandir, Kalinjar Fort, Bhuragarh fort, Vindhyavasini Mata Mandir, Sun temple, Shri Banke Bihari temple, Madfa Fort, Ganesh Bagh, Balmiki Ashram, Ganesh Pahadi, Tulsi Mandir Rajapur Chitrakoot, Shabri Jal Prapat, Ramayana Darshan, Ramcharit Manas Laser Show, Chaura Devi Mandir, Bharat Koop, Bharat Milap temple, Ramghat, Kamdagiri Parvat parikrama marg, Kamdagiri parvat, among others.
नोट:
अगर आपको यह खबर पसंद आई तो इसे शेयर करना न भूलें, देश-विदेश से जुड़ी ताजा अपडेट पाने के लिए कृपया The Lucknow Tribune के  

Facebook

 पेज को 

Like

व Twitter पर 

Follow

करना न भूलें...
-------------------------