Calligraphy webinar brings out the best in colourful expression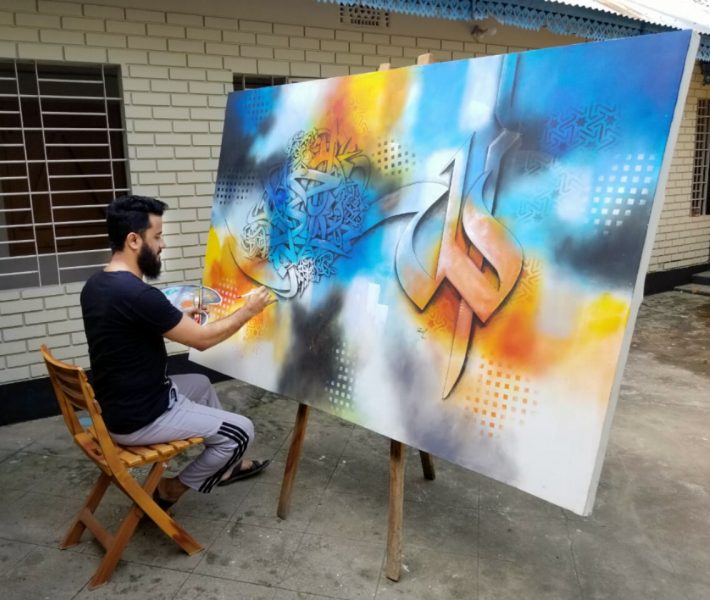 Lucknow: Calligraphy is not just a font but an artistic style which we present according to our feelings. It is an art of writing. These things were shared by calligrapher Jameel Ahmed from Bangladesh and Inku Kumar from India in a happily titled Calligraphy online webinar on Sunday in Lucknow, the state capital. Ratnapriya Kant from Lucknow was present to  talk to these two artists in detail.
Bhupendra Kumar Asthana told that this online webinar was organized by the Florescence Art Gallery. In view of the pandemic, this event was done online through Zoom. In which a large number of students, artists, and general public who wanted to know calligraphy participated and also put their questions and were satisfied.
Inku Kumar from New Delhi while introducing the nuances of calligraphy said that my favorite in calligraphy is Devanagari script. I have worked a lot in this. Inku Kumar while discussing in detail on his calligraphy art journey said that Hindi language is my first priority. Basic knowledge of calligraphy is very important to become a calligrapher. He said I do experimental calligraphy. You need to be dedicated towards your art. Lettering is a distinctive style of calligraphy. Which can be done from handmade to today's digital medium. For this, it is most important that we expand our artistic outlook and artistic thinking, only then it is possible. This is a visual style. Which is given not just letters or words but an artistic shape.
Calligrapher Jameel Ahmed, who joined from Bangladesh, uses calligraphy in his paintings. And according to their thoughts, they use colors and words in them. Jameel Ahmed, through his demonstration, wrote calligraphy on canvas using double pencil and composed an artwork using colors, textures and also made people aware of its nuances.
Both the artists also gave information about the equipment used for calligraphy, ink, paper, canvas. Wide, thin, fine, etc. tools such as brushes and pens are also described. The diverse range of calligraphy from a traditional to contemporary and modern and its functional, design, symbol etc. has also been explained in detail.
Inku described how certificates first began as a calligraphy and later changed and expanded the way it was used. Calligraphy is used in many ceremonies, letters, original handmade materials, buildings, souvenirs, etc. Aesthetics are also very important in calligraphy. Along with the word, it is also necessary to have a feeling. Tools can also be used according to your feelings and thoughts. Jameel Ahmed uses Bengali and Arabic language in his calligraphy. Mostly used as paintings.
On the other hand, Inku Kumar only gives great importance to the calligraphy style. Hindi gives maximum importance to Devanagari script. Inku Kumar uses torn cloth, paper, brush, bamboo pen etc. as tools as well as uses modern technology through pen pad. Describing the pen, both the calligraphers said that with the help of bamboo pen, croquel, rotoring, brush, fountain pen and nib, this distinctive style of writing, design process can be easily learned.
In fact, calligraphy is the art of giving a meaningful look to signs and expressions and shaping them in a systematic and skillful manner. In the end a large number of participants asked their many questions to both the calligraphers and the people were satisfied knowing the details. Calligraphy career, prospects, importance, tools, material, special thing, writing speed, vision, expression, communication, medium, language, profession, stroke, time, steps, angle, style etc. Questions were raised through this webinar. To which Jameel Ahmed and Inku Kumar, both calligraphers from Bangladesh and India, answered with great decency and detail.
As a part of this effort of the Florescence Art Gallery, the people appreciated the special program and also asked the participants to organize a physical workshop on calligraphy in future when the time is good, which will be very meaningful. Bhupendra Kumar Asthana, Curator of Florence Art Gallery thanked everyone. A large number of students, artists and art lovers including gallery directors Neha Singh, Amin Bano, Shubham Yadav, Lavkush, Rajesh Kumar joined this webinar and got benefited through this special webinar.
नोट:
अगर आपको यह खबर पसंद आई तो इसे शेयर करना न भूलें, देश-विदेश से जुड़ी ताजा अपडेट पाने के लिए कृपया The Lucknow Tribune के  

Facebook

 पेज को 

Like

व Twitter पर 

Follow

करना न भूलें...
------------------------- --------------------------------------------------- -------------------------------------------------------------------------------------------------------------------------------------------------