CCTV monitoring of hospitals to make healthcare more foolproof in Lucknow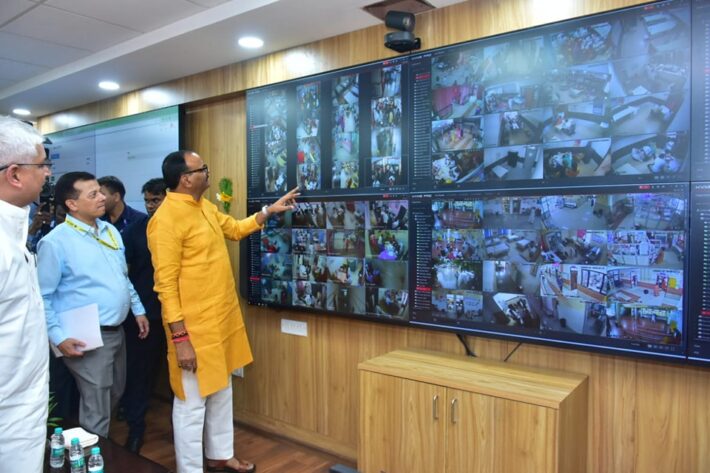 Lucknow: 107 district hospitals of the state have been equipped with CCTV cameras. Hospitals will be monitored for 24 hours through these cameras. On Thursday, Deputy Chief Minister Brajesh Pathak inaugurated the HOPE (Health Online Parameter Evaluation) command center set up at Swasthya Bhavan.
The center has been set up on the fourth floor of the building in collaboration with the Bill & Melinda Gates Foundation under a tripartite agreement between Piramal Foundation and UPTSU. The main task of the command center is to monitor and resolve calls related to infectious diseases coming from the state daily.
Deputy Chief Minister Brajesh Pathak said that the Hope Center would help in providing better health facilities to the patients in these hospitals. Presently this network has been established in district hospitals.
Very soon CHC-PHC will also be connected to this network. Hope has real time dashboard for all health portals and mobile apps.
Like E-Sushrut, E-Kavach, E-Aushadhi, E-Sanjeevani etc.
National Digital Health Mission (NDHM) has also been included in this network. The Deputy CM said that the problems faced by the hospitals every day due to the operation of Hope would be solved by real time management.
The main function of Hope Center is monitoring, analysis of data and providing high level health facilities to remote centres. The integrated dashboard included in the HOPE network will serve to capture the health data. Information such as health indicators, patient inflow and treatment in hospitals, analysis of calls received on health help lines, performance review of frontline workers (ASHA and ANM), capacity building and availability and utilization of essential medicines in the state will be uploaded.
Minister of State for Medical Mayankeshwar Sharan Singh, Principal Secretary Parthasarathy Sen Sharma, Secretary Ranjan Kumar, Director General (Medical and Health Services) Dr. Deepa Tyagi, Mission Director Dr. Pinky Jowell, Dr. Raja Ganapathy R, Deputy Director (Bill & Melinda Gates Foundation) Dr. Devendra Khandait etc. were present.
नोट:
अगर आपको यह खबर पसंद आई तो इसे शेयर करना न भूलें, देश-विदेश से जुड़ी ताजा अपडेट पाने के लिए कृपया The Lucknow Tribune के  

Facebook

 पेज को 

Like

व Twitter पर 

Follow

करना न भूलें...
-------------------------