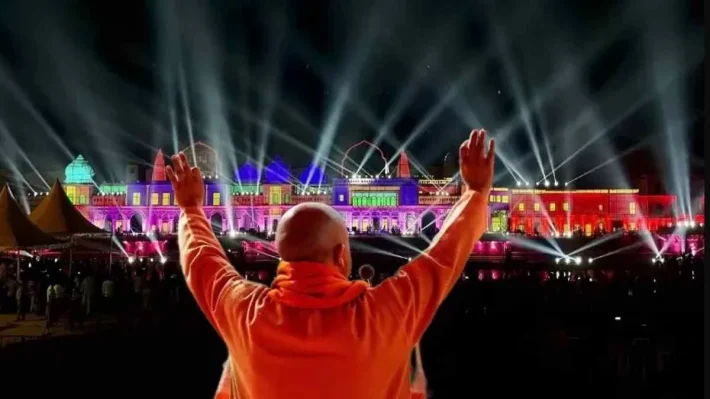 Ayodhya: The city of Ayodhya situated on the banks of Saryu has been decorated according to its mythological aura. Under the guidance of Prime Minister Narendra Modi and the direction of Chief Minister Yogi Adityanath, Ayodhya is creating new paradigms of city development every day. Ayodhya's Deepotsav is today becoming a unique identity of the new India. Today grandeur and divinity can be experienced everywhere here in real form.
Deepotsav became the identity of new India
'Ayodhya Deepotsav', the identity of the new India, is getting registered in the Guinness Book of World Records with new records every year. Not only this, after centuries of waiting, the construction work of Shri Rajjanmabhoomi temple is in progress, which is going to be inaugurated on 22 January 2024. Apart from this, the construction of Maryada Purushottam Shriram International Airport is also in the final stage. This fourth international airport of Uttar Pradesh is ready to become operational soon. Not only this, with the aim of establishing 'Navya Ayodhya', the process of development of a new Greenfield Vedic City with modern urban facilities on approximately 1893 acres is also in progress.
Ayodhya is developing as model solar city
Yogi Adityanath's government has already taken the decision to develop Ayodhya city as a model solar city. Be it the decision to develop a 40 MW solar power generation project on the banks of Saryu or the development of Ayodhya as a smart city, the development of Intelligent Traffic Management System is a sign of a changing Ayodhya. Apart from this, Wi-Fi facility has also been provided at four major places namely Hanumangarhi, Nayaghat, Ayodhya Railway Station and Guptarghat.
Common building code will enhance the beauty of the city
For the convenience of the devotees coming to Ayodhya, the construction work of about 13 km long 'Rampath' from Sahadatganj to Naya Ghat is in progress. Common Building Code is implemented in the areas near Shri Ram Janmabhoomi Temple, through which the beauty of the city is going to get a new dimension. That is why 'Jatayu Cruise Service' has been operated to provide the pleasure of boat trip to the tourists/devotees.
Illustration from Ramayana on Parikrama Marg
For the convenience of the devotees, the Panchkosi and Chaudah Kosi circumambulation routes of Ayodhya Dham are being beautified and widened. Apart from this, a wonderful work of carving "Ramayana era" illustrations is going on on the parikrama route. 208 places of mythological importance falling on the Parikrama route are being researched and equipped with necessary facilities.
Queen's Memorial Park adds a new dimension to ancient friendships
Queen Memorial Park is being developed in an area of about two thousand square meters. This will give a new dimension to the ancient friendly relations between South Korea and India. The construction of Meditation Hall, Queen Pavilion, King Pavilion, Path-way, Fountain, Mural, Audio-Video etc. is going on at a fast pace in the park. Apart from this, establishment of temple museum, construction of grand entrance gate of Ayodhya inspired by the design of Shri Ram temple. The sacred 84 Kosi Parikrama route was declared as 'National Highway'. Under the concept of grand Ayodhya, widening of thirteen kilometer main road of the city, shade of Ramayana period trees on both sides of the road, development and beautification work from Guptar Ghat to Janaki Ghat, grand tourism near Naya Ghat for development of tourist facilities. The facility center is being constructed.
Revitalization of more than 108 ponds
That is why a contract has been signed with Shri Ram Janmabhoomi Teerth Kshetra Trust for the operation of Shri Ram Katha Museum. The concept of Ram Aranya has been completed through PPP in Jamtara located on the banks of Saryu, where the stories of Shri Ram's 14 years of exile will be brought to life through various mediums. Revival of more than 108 ponds of Ayodhya, which is called the 'city of ponds', has started. Along with this, the light and sound show at the mythological Surya Kund has also started being conducted under the Yogi government. Apart from this, when the 67 hectare lake 'Samada Wetland' was ecologically conserved, it became a rich bio-diversity hotspot for nature loving tourists.
Connectivity increased, five star hotels will open
Ayodhya Dham railway station is being rejuvenated by the Yogi government. It is being equipped with modern facilities. Ayodhya's 4 or 6 lane road connectivity with various cities of India is surprising to the people. The resumption of Ramlila in Ayodhya, which had been closed for years, is a matter of immense joy for Ram devotees. The most unique thing is that proposals have started being received in Ayodhya from various states, religious seats, monasteries and temples for construction of guest houses and for construction of 5-7 star hotels by world class hotel chain companies.
नोट:
अगर आपको यह खबर पसंद आई तो इसे शेयर करना न भूलें, देश-विदेश से जुड़ी ताजा अपडेट पाने के लिए कृपया The Lucknow Tribune के  

Facebook

 पेज को 

Like

व Twitter पर 

Follow

करना न भूलें...
-------------------------