Chief Secretary  DS Mishra applauds the pace of Agra Metro Project; says it is the best example of Make in India initiative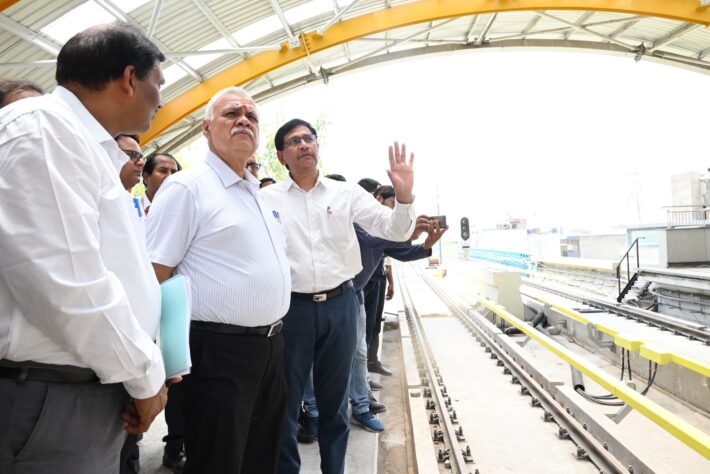 Committed to give the people of Agra a world class metro before the set timeline: MD UPMRC  Sushil Kumar
Agra: Uttar Pradesh's Chief Secretary  Durga Shankar Mishra visited Agra Metro Rail Project today and inspected the ongoing metro project in the city.
He visited Taj East Gate station and inspected the finishing works, design and track work on the concourse and platform area and praised the team of UPMRC officials for completing the project with timeliness and accuracy.  Sushil Kumar, MD UPMRC,  Atul Kumar Garg, Director Rolling Stock and Arvind Rai, Project Director Agra were also present in the visit and guided the team of engineers throughout the visit.
Speaking on the same,  Durga Shankar Mishra said, "Agra, being a bustling tourist destination for both national and international visitors is about to get a world class metro rail system very soon. The team of UPMRC is working diligently towards timely completion of the project. Agra Metro Rail Project is being executed in line with Govt. Of India's 'Atmanirbhar Bharat' mission. The trains for Agra Metro Project have been manufactured in Savli, Gujarat under Govt. of India's Make in India initiative."
"The metro stations of Agra Metro Project are designed and built with beautiful designs and aesthetics. The artwork done during G20 delegation visit to Agra was commendable," he added.
MD UPMRC  Sushil Kumar said "Today, Chief Secretary Govt. of UP inspected Agra Metro Rail Project and he was happy to see that three elevated stations on the first corridor are ready, and the finishing works are almost complete. The electrical works have also reached advanced stage."
"The the civil works for underground stations have reached completion. It is worth noting that usually an underground metro station takes 4 to 4.5 years to be completed; but in Agra Metro, the civil construction for 3 underground stations which began in March 2022, are targeted to be completed in a record time of less than two years ie by Feb 2024".
He further added," Low speed trials inside the depot have already started and are being done successfully. High speed train trials on the mainline (viaduct) will also commence very soon."
Currently, the execution is being carried out on the first corridor which runs from Taj East Gate to Sikandara. The project is being constructed at a rapid pace and team UPMRC achieved many milestones since the inauguration.
Team UPMRC has finished the civil construction on the 3 km long elevated section of the priority stretch (Marked between Taj East Gate to Jama Masjid) and the finishing works are in advanced stage. The ramp area is also ready and work at cut and cover area (Third site where TBM will be launched) is also going on at a rapid pace.
In the Underground section, civil works at all 7 underground stations from Taj Mahal to RBS College are on. TBM 'Ganga' and 'Yamuna' are currently operating on the 3 km underground section of the priority corridor for up and down line and tunnelling work is also rapidly progressing towards completion.
TBM 'Yamuna' was launched by Hon'ble Chief Minister of Uttar Pradesh Yogi Adityanath on 6th February 2023. In a record time of 72 days it achieved its first breakthrough at Agra Fort Metro Station. TBM Ganga has also achieved its first breakthrough and both TBM's will be now retrieved near Taj Mahal Metro Station.
The track and third rail system in depot as well as all the stations is going on simultaneously. First Metro Trial was also successfully conducted in May on the test track, where braking, train systems and third rail power was tested.
UPMRC is fully committed to deliver the project 6 months ahead of its set timeline which earlier was August 2024, but now the project is set to be completed by February 2024.
नोट:
अगर आपको यह खबर पसंद आई तो इसे शेयर करना न भूलें, देश-विदेश से जुड़ी ताजा अपडेट पाने के लिए कृपया The Lucknow Tribune के  

Facebook

 पेज को 

Like

व Twitter पर 

Follow

करना न भूलें...
-------------------------