City Showers Pride on Republic in style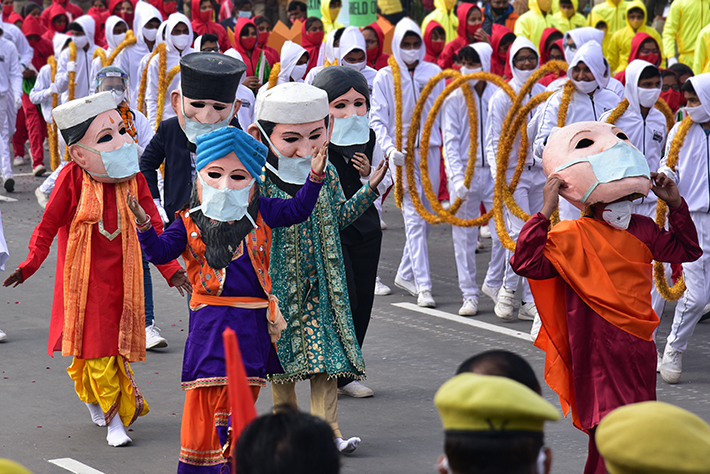 Lucknow: As soon as the flag was hoisted by Governor Anandiben Patel, the national anthem started playing. Parade Commander Lt. Colonel Siddhana Munnauli gave the salute. The army demonstrated its strength through T-90 Bhishma tank and the BMP infantry vehicle. When scenes of death of the country's first CDS General Bipin Rawat and his army soldier in a helicopter crash came alive people broke down. The voice of announcer Premkant Tiwari captured the hearts of the public. Anita Sehgal Vasudha also supported him well. In the parade, modern war planes like Rafale made India's growing strategic power in defense known. For the first time armed women's team of Home Guards showcased the empowerment of women. The rumble of T-90 Bhishma tank, BMP Infantry Vehicle, 105/37 mm Indian Field Gun of 906 Field Regiment, the Igla Missile System with 23 mm Light Air Defense Gun, an Integrated Communication Vehicle and 7.62 mm Medium Machine Gun showed strength of army. The military brass band of the Sikh Light Infantry Regimental Center enthralled people. While the infantry contingent of 9 Kumaon Regiment was followed by the Military Band of 11 GRRC.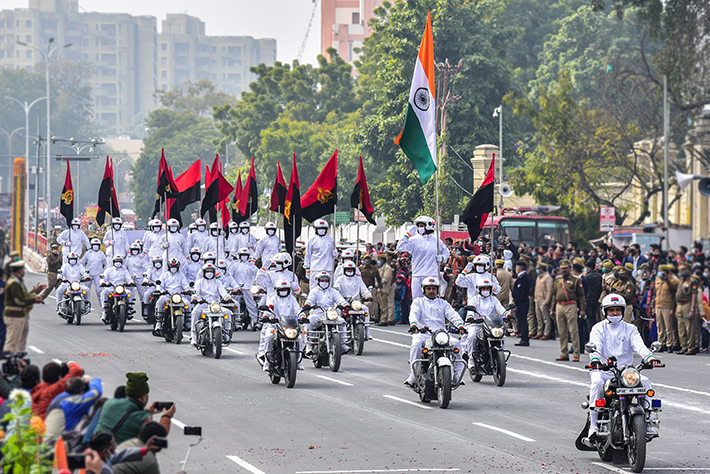 When the foot contingent of Param Vir Chakra winner Captain Manoj Pandey's 1/11 Gorkha Rifle marched past, the atmosphere reverberated with the sound of applause. CRPF, ITBP, SSB, UP Police, PAC along with Bihar Armed Police personnel registered their presence. The performance of Home Guard's Thunder Bolt was also excellent. Apart from NCC, CMS Gomtinagar I Campus, Kanpur Road, Aliganj I, Gomtinagar Extension Campus, RDSO Branch, Boys Anglo Bengali School, St Joseph's College, Rajajipuram and Sitapur Road, Lucknow International Public School, Bal Vidya Mandir Charbagh, LPS Children of Vrindavan Yojna, A Block Rajajipuram, Sahara Estate enthralled everyone with a spectacular performance of march past and band. CMS Anand Nagar, Bal Vidya Mandir Charbagh, CMS Rajendra Nagar, Eram Convent College, Kursi Road, Maharani Laxmi Bai, CMS Station Road, Bal Nikunj Girls School Beligarad branch, St. Joseph's College, CMS Mahanagar and CMS Kanpur Road put up a stellar performance. Artists from Maharashtra gave a splendid performance in the Republic Day Parade.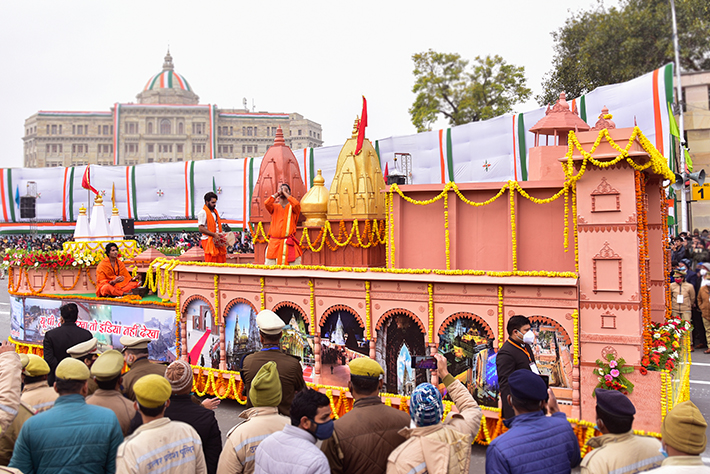 The tableau of UP Information and Public Relations Department in the parade depicted the grandeur of Kashi Vishwanath Corridor. Chief Electoral Officer's Office included a tableau on the theme of Assembly Election 2022. Helicopter with more than a hundred years old firefighting vehicle MerryWeather made the Republic Day celebrations more unforgettable.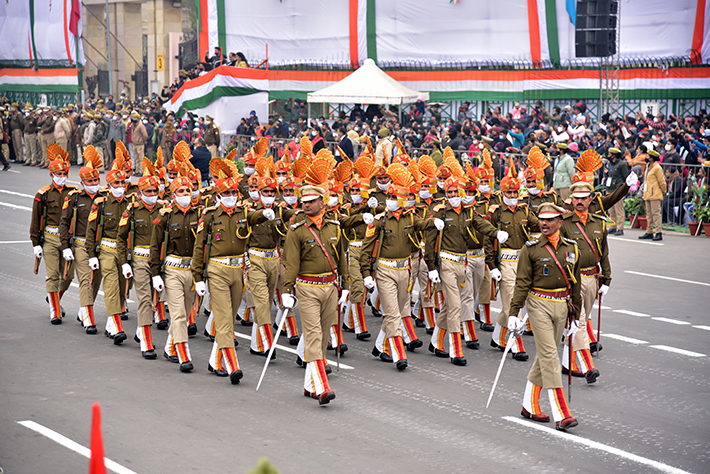 नोट:
अगर आपको यह खबर पसंद आई तो इसे शेयर करना न भूलें, देश-विदेश से जुड़ी ताजा अपडेट पाने के लिए कृपया The Lucknow Tribune के  

Facebook

 पेज को 

Like

व Twitter पर 

Follow

करना न भूलें...
------------------------- -------------------------------------------------------------------------------------------------------------------------------------------------