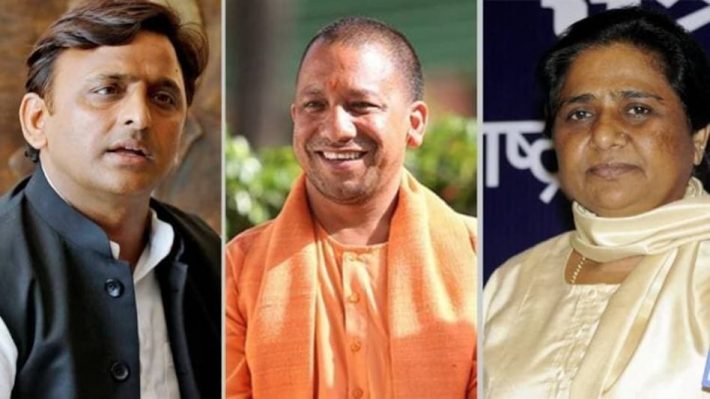 Lucknow: The elections being held for the 18th Vidhan Sabha in the state are also unique in the sense that for the first time, three such faces, who have been chief ministers for the entire five years, are facing each other while leading their respective parties. It is also interesting that all three were the Chief Ministers in a row and all three led the government of absolute majority.
In this way, voters have the option to choose the candidates of their party by evaluating the tenure of the three.
BSP supremo Mayawati became the Chief Minister for the fourth time in the year 2007. Then her party came to power with an absolute majority by getting 206 seats on its own. For the first time since its inception in the year 1984, the BSP had succeeded in reaching the highest peak of power on its own. There was a huge increase in the vote bank of BSP too. In this election, the main rival SP had to be satisfied with only 97 seats and the third-ranked BJP with 51 seats. After this success, the social engineering of the BSP became a subject of research for political pundits.
In the 2012 elections, the SP won a clear majority by winning 224 seats on its own, defeating the social engineering of the BSP. Election analysts were predicting that the SP would emerge as the single largest party. No one was able to predict that she would go ahead of BSP's victory last time. The BSP, which came second in the election, got 80 seats and the third-ranked BJP got 47 seats. In this way, for the first time, 38-year-old Akhilesh Yadav got the opportunity to lead the SP government formed on his own. Akhilesh, who was sworn in as the youngest Chief Minister, took over the reins of the state for a full five years.
In the 2017 elections, both the SP-BSP got upset in front of the electoral math of the BJP. BJP, which has become the number three party in the state, took such a leap that it converted a clear majority into a thumping majority. The BJP, along with its two allies, won 325 seats, of which 312 were its own. The BJP had got three-fourth majority from its own seats. Yogi Adityanath got the opportunity to lead this government of thumping majority. He is also the first Chief Minister of the BJP state, who is completing his term. In the year 1991 also, BJP came to power by winning 221 seats with a clear majority, but the then Chief Minister Kalyan Singh could not complete his term.
नोट:
अगर आपको यह खबर पसंद आई तो इसे शेयर करना न भूलें, देश-विदेश से जुड़ी ताजा अपडेट पाने के लिए कृपया The Lucknow Tribune के  

Facebook

 पेज को 

Like

व Twitter पर 

Follow

करना न भूलें...
------------------------- -------------------------------------------------------------------------------------------------------------------------------------------------