CM Yogi extends his best wishes with Bhojpuri community during Chhath festivities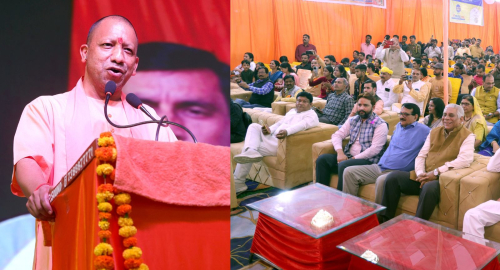 Lucknow: Chief Minister Yogi Adityanath reached Laxman Mela Ground  on the occasion of Chhath Puja, the festival of  faith. Where he participated in Chhath Puja with Bhojpuri society. During this, National President of All India Bhojpuri Samaj, Prabhunath Rai honored Chief Minister Yogi Adityanath by giving him a bouquet, a shawl and a memento. Chief Minister Yogi Adityanath, while addressing the Bhojpuri society, said that we are feeling very happy in Chhath Puja. CM Yogi addressed Bhojpuri society in his own style – Chief Minister Yogi Adityanath reached Laxman Mela Maidan to attend Chhath Puja.
Best wishes for the festival of Chhath. CM Yogi said that many congratulations and best wishes to all of you on the great festival of folk faith, Chhath. May Chhathi Maiya's blessings be upon all of you, may everyone's life be happy, may there be joy and enthusiasm in all of your lives, special wishes from our mother and sister who observe a difficult fast for the sake of the family.
He said that our country is a country of faith. This faith connects all of us in the thread of unity, from North to South, East to West. It is this faith that has kept the whole of India united in adverse circumstances. He said that during the medieval period, foreign invaders had defiled and damaged religious places, but our faith has preserved our tradition and heritage. There are many countries in the world which have made their material development but have forgotten their tradition and heritage. Today they are facing an existential crisis. Our country is considered a country of festivals and festivals. There are different types of traditions in different areas across the country, which connect the common people with the local faith through special events and bind the entire country in the thread of unity. The result of this public faith was that there was movement and struggle for Ram Janmabhoomi for 500 years. Ultimately Vijayashree was achieved and in January, with the help of Prime Minister Narendra Modi, the program of construction of a grand temple of Lord Shri Ram at Shri Ram Janmabhoomi in Ayodhya is going to be completed.
Chief Minister Yogi Adityanath said that Chhath is a festival to express gratitude towards nature and God because on this festival all the fasting women along with offering water to the Sun, also offer milk in the rivers. CM Yogi said that water is the symbol of our life. It is our responsibility to keep this water pure and clean. In such a situation, after the event, it is the responsibility of the organizers to get themselves involved in the cleanliness program of the rivers of the Ghats with the help of the administration. We should not forget that if there is water there is life. The efforts we all make to maintain the purity and beauty of water and nature will be good for our human life. We should continue to be associated with all these programs. In the end, CM Yogi said that the blessings of Chhathi Maiya be upon all of you. Deputy CM Brajesh Pathak, Mayor Sushma Kharkwal, Chief Secretary Durga Shankar Mishra, Principal Secretary Home Sanjay Prasad, MLA Yogesh Shukla, BJP leader Arpana Yadav etc. were present in the program.
नोट:
अगर आपको यह खबर पसंद आई तो इसे शेयर करना न भूलें, देश-विदेश से जुड़ी ताजा अपडेट पाने के लिए कृपया The Lucknow Tribune के  

Facebook

 पेज को 

Like

व Twitter पर 

Follow

करना न भूलें...
-------------------------