CM Yogi hears out nearly 200 persons at Janata darshan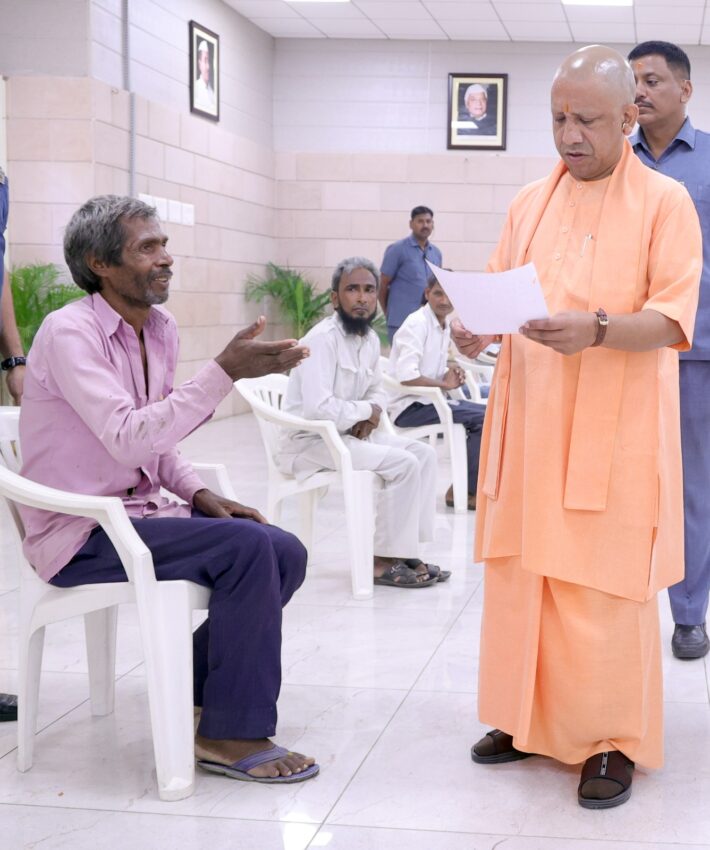 Lucknow: Every problem will be resolved in a timely, transparent and satisfactory manner. You don't need to worry. Feel free to let me know if the officials are hesitant in resolving your issue.
Strictest action will be taken against them. Chief Minister Yogi Adityanath said these things during the Janata Darshan program at his official residence on Tuesday. In Janata Darshan, the Chief Minister met more than 200 people. CM Yogi, after listening to his every talk leisurely, gave necessary guidelines to the officials to solve the problem.
Instructions to the officers for quick and quality redressal of the problem
Chief Minister Yogi Adityanath directed the officials that the needy, who have not yet got a permanent house, should be brought under the ambit of Pradhan Mantri Awas Yojana or Chief Minister's Awas Yojana and provided with a permanent housing facility. Effective action should be taken in matters related to revenue and police. Along with this, the illegal encroachers of the land should be taught a strict legal lesson. Officers should always keep the works of public welfare on priority and make sure to solve the problem of every victim immediately. Taking note of the applications received in Janata Darshan, CM Yogi directed the concerned officials for quick, quality and satisfactory disposal of cases and also directed strict legal action on complaints of forcible possession of property.
Protecting the health of the general public is our priority
Chief Minister Yogi Adityanath instructed the officers to listen carefully and sensitively to the problems of the public and get them resolved quickly, so that no one has to suffer. The needy should be given the benefit of the welfare schemes of the government. Those who need financial assistance from the government for their treatment, the process of estimation should be completed quickly. Protecting the health of the general public is the priority of the government. It should be ensured that every victim's problem is resolved impartially according to his satisfaction.
नोट:
अगर आपको यह खबर पसंद आई तो इसे शेयर करना न भूलें, देश-विदेश से जुड़ी ताजा अपडेट पाने के लिए कृपया The Lucknow Tribune के  

Facebook

 पेज को 

Like

व Twitter पर 

Follow

करना न भूलें...
-------------------------