CM Yogi launches free LPG cylinder refill distribution campaign for eligible families under Pradhan Mantri Ujjwala Yojana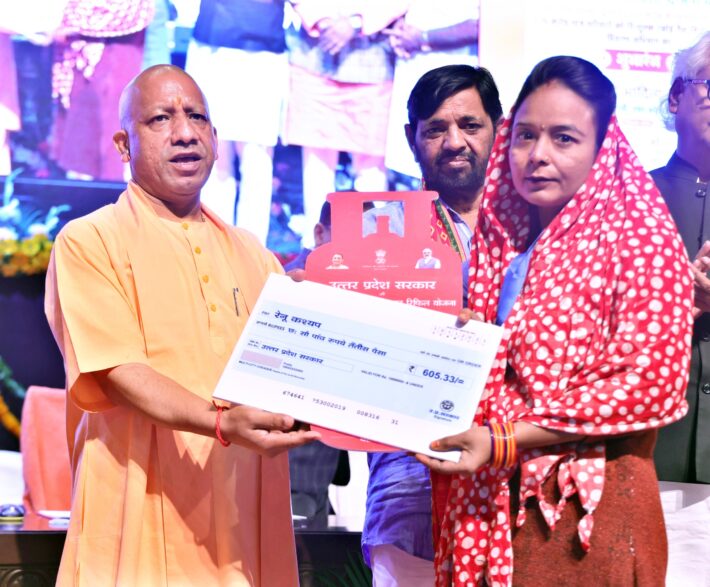 Lucknow: Chief Minister Yogi Adityanath said on Friday that on the occasion of Holi in March, the state government will once again provide free gas cylinders. For this, beneficiaries of the Pradhan Mantri Ujjwala Yojana need to link their bank accounts with Aadhaar.
On the occasion of Dhanteras, the Chief Minister inaugurated the distribution campaign for free refills of cooking gas cylinders under the Pradhan Mantri Ujjwala Yojana for 1.75 crore eligible families in the state from Lok Bhavan on Friday. Notably, the state government will spend Rs 2,312 crore on this campaign.
CM Yogi said, "Our government is fulfilling another announcement made in the 'Lok Kalyan Sankalp Patra' during the Assembly elections-2022. Before 2014, people were not able to get gas connections. Even if a connection was available, they had to stand in long lines for cylinders."
He stated that there were numerous occasions when police were forced to use lathi charges. Poor and disadvantaged individuals couldn't even think about getting a gas connection. Women had to face various illnesses due to the smoke.
CM Yogi highlighted that the Ujjwala scheme, initiated by Prime Minister Narendra Modi in 2016, successfully addressed the gas shortage issue in the country. Almost 9.60 crore families in the country received their first free gas connection, benefiting around 50 crore people.
"Recently, Prime Minister Modi provided an additional subsidy of Rs 300 to LPG beneficiaries. Today, beneficiaries are receiving the subsidy directly in their accounts without any fraud or theft. Due to being linked to Aadhaar, the subsidy money is reaching their account directly", he added.
CM Yogi stated that through the Ujjwala scheme, Prime Minister Modi has not only provided clean fuel in the form of LPG to the poor and marginalized but has also contributed to saving eyes as well as their lungs. CM Yogi noted that, with the subsidy provided by Prime Minister Modi, LPG has become the most economical fuel compared to kerosene, coal, and wood.
Moreover, CM Yogi symbolically handed over the subsidy amount to 10 female beneficiaries of the Prime Minister Ujjwala Yojana during the program.
During this program, Union Minister Kaushal Kishore, Mayor Sushma Kharkwal, MLAs Neeraj Bora, Yogesh Shukla, MLCs Mukesh Sharma, Bukkal Nawab, Chief Secretary Durga Shankar Mishra, and representatives from three government companies – Indian Oil, Hindustan Petroleum, and Bharat Petroleum were present.
नोट:
अगर आपको यह खबर पसंद आई तो इसे शेयर करना न भूलें, देश-विदेश से जुड़ी ताजा अपडेट पाने के लिए कृपया The Lucknow Tribune के  

Facebook

 पेज को 

Like

व Twitter पर 

Follow

करना न भूलें...
-------------------------