CM Yogi meets students who returned safely from Ukraine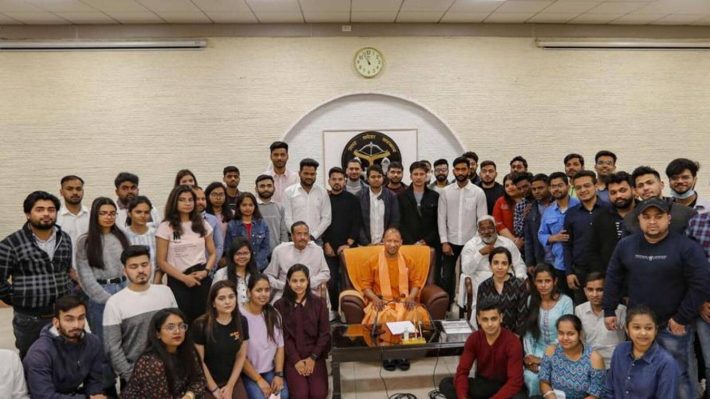 Lucknow: In the midst of the ongoing war between Ukraine and Russia for the 11th day, the Central Government has achieved great success in bringing the children of India along with other people safely out of there. Under the Narendra Modi government's Operation Ganga, the work of bringing back the people of India is going on fast. Citizens and students of India are being brought through Hungary, Romania and Poland. So far, more than 13000 Indians have returned home.
50 medical students of Uttar Pradesh visiting India met CM Yogi Adityanath at his official residence in Lucknow. All of them with one voice praised the efforts of Prime Minister Narendra Modi. Chief Minister Yogi Adityanath met 50 medical students of Uttar Pradesh who returned from Ukraine at his official residence in Lucknow. During this, he also learned from all the children the experience of their safe return home. During this, along with Chief Minister Yogi Adityanath, BJP State President Swatantra Dev Singh and Deputy Chief Minister Dinesh Sharma were also there.
Four students of Gorakhpur who returned from Ukraine also met Chief Minister Yogi Adityanath. Among them were Abishta Pandey, son of Ramesh Kumar Pandey, resident of Basantpur, Shivanjali Gupta, daughter of Dr. KV Gupta, resident of Geeta Vatika, Pooja Gupta, daughter of Suresh Gupta, resident of Pipraich, Anurag Kumar Singh, son of Rajnath Singh, resident of Kusmhi Bazar. Out of 50 students who met the Chief Minister, maximum 24 students were from Lucknow, while five students from Kanpur also met him.
After meeting the students, the Chief Minister said that due to the untiring efforts of the Prime Minister, the students who came back from Ukraine safely came to know about their experience. We are committed to the safe return of all our people trapped in Ukraine. The Chief Minister said that the Government of India campaign was successful. Thanks also to the patience of the parents. Till yesterday evening, 1400 citizens have returned to UP. 1400 citizens have been brought safely.jagran
So far, about 13,300 Indians have safely returned after Russia's attack on the UK. Ukraine's airspace has been closed since the start of Russia's military operation on February 24. In such a situation, India is evacuating its citizens from Ukraine's neighboring countries like Romania, Hungary, Slovakia and Poland by special flights. Apart from the evacuation flights of Air India, Air India Express, Indigo, GoFirst, SpiceJet and Air Asia India, the Indian Air Force is also helping the government in bringing back stranded Indians from Ukraine.
नोट:
अगर आपको यह खबर पसंद आई तो इसे शेयर करना न भूलें, देश-विदेश से जुड़ी ताजा अपडेट पाने के लिए कृपया The Lucknow Tribune के  

Facebook

 पेज को 

Like

व Twitter पर 

Follow

करना न भूलें...
------------------------- --------------------------------------------------- -------------------------------------------------------------------------------------------------------------------------------------------------