CM Yogi reviews steps taken to prevent lumpy disease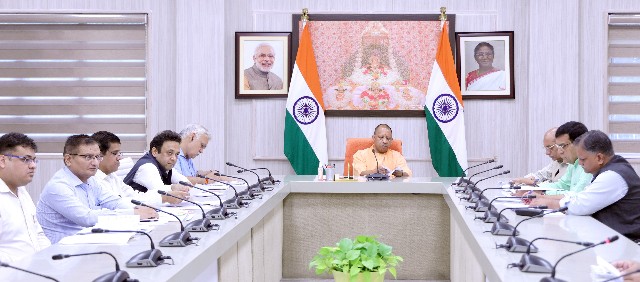 Lucknow: Chief Minister Yogi Adityanath, in a high-level meeting held at his official residence, reviewed the management of prevention of Lumpy disease in animals and gave necessary directions to the officials. He said that in recent times the ill effects of Lumpy virus have been seen on cattle.
The infection has caused widespread livestock losses in many states. To stop its spread in the state, we will have to work in mission mode. The organization of cattle fairs in the state should be postponed until the situation becomes normal. Interstate animal transport should be banned. Animal husbandry experts should be given complete information about the symptoms and treatment of infection. Entry of unnecessary people into cow shelters should be banned.
The Chief Minister said that it is necessary to run a special campaign for animal vaccination to protect them from Lumpy virus. This is a virus spread by mosquitoes etc., in such a situation, a special cleanliness campaign should be run in villages and cities in mutual coordination by the Rural Development, Urban Development and Animal Husbandry Departments. There should be no spread of infection under any circumstances. Separate enclosures should be arranged for lumpy virus infected cows, recovered cows and non-infected cows. Along with destitute cattle breeding sites/Kanha groves, common cattle herders should also be made aware about this disease.
The Chief Minister said that continuous efforts towards protection of destitute cattle are yielding satisfactory results. The state government is continuously making efforts for animal husbandry and conservation with a spirit of service. Many schemes are being run by the government to encourage all the cattle rearers including cattle. It should be ensured that eligible people get its benefits.
The Chief Minister said that at present 11.89 lakh cows are protected in 6,889 destitute cattle breeding sites. Along with these, the Chief Minister Partnership Scheme run for cow protection has also yielded promising results. Till now, more than 1 lakh 85 thousand cows have been handed over to cow servants under this scheme. At present, food is being provided at the rate of Rs 30 per cow per day for the maintenance of the cows to the destitute cattle sites and all the families serving the cows. Now it should be increased to Rs 50 per cow per day. There should not be any outstanding balance in this regard.
On this occasion, Livestock and Dairy Development Minister Dharampal Singh, Urban Development Minister Arvind Kumar Sharma, Chief Secretary Durga Shankar Mishra, Agriculture Production Commissioner Manoj Kumar Singh, Additional Chief Secretary Animal Husbandry and Dairy Development Dr. Rajneesh Dubey, Principal Secretary to the Chief Minister, Home and Information Sanjay Prasad, Information Director Shishir and senior officials were present.
नोट:
अगर आपको यह खबर पसंद आई तो इसे शेयर करना न भूलें, देश-विदेश से जुड़ी ताजा अपडेट पाने के लिए कृपया The Lucknow Tribune के  

Facebook

 पेज को 

Like

व Twitter पर 

Follow

करना न भूलें...
-------------------------