CM Yogi shares educational kits to underprivileged students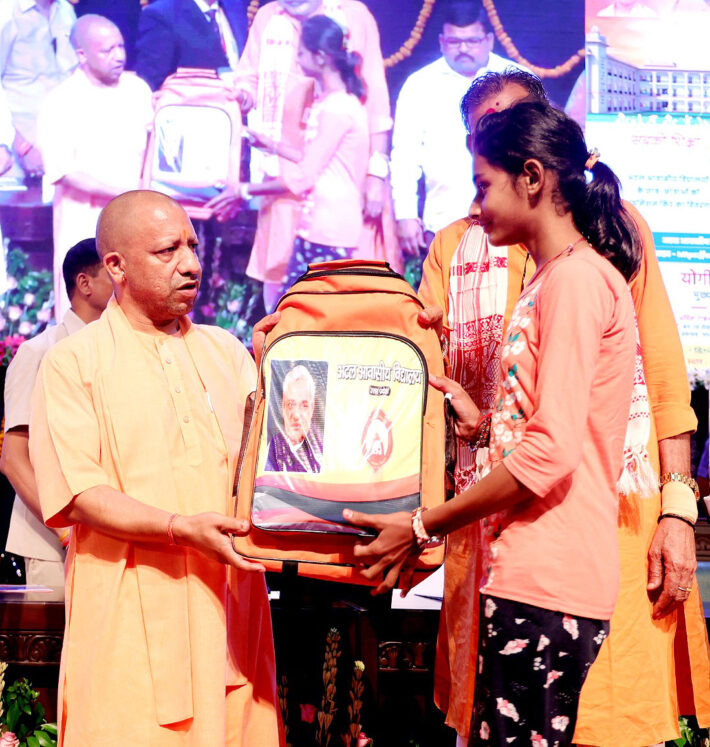 Lucknow: CM Yogi Adityanath (CM Yogi) distributed admission kits to the students of Atal Residential School running in 18 divisions in Lucknow, the capital of UP. Among them were children. Whose parents died during Corona. CM took information about the family members from the children.
'Child Seva Scheme started'
CM Yogi said that Atal Residential School is being started in 18 commissionerates in the first phase. Children who have lost their parents during the Corona period. Child service scheme started for them. They will also be given entry into it.
Atal ji used to say that a man is neither big nor small.
CM Yogi said that Atal ji used to say, a man is neither big nor small, a man is just a man. The laborer is the creator of the nation, he helps in the building of the nation with his hard work and sweat, but his life is nomadic. Today here will be somewhere else tomorrow. His children also travel like this behind him. For their children, it will be Atal Residential School.
He (CM Yogi) said that the student who left the school will come out after 6 years. He emerged as a self-reliant and independent person. This is the goal. We don't want to be blind to the lines. The biggest problem is that each person becomes dependent on the other. The government gets the institute constructed, provides facilities, but those who consume it do not close the water tap.
Must be released before the academic calendar year
CM (CM Yogi) said that the building should be very grand, but there should be responsibility for its care and maintenance. Trees grow on buildings. Buildings like this become ruins. If you do good then you will set an example for the people. The academic calendar should be released before the year.
Students should be encouraged to go to the library
Sometimes there should be sports essay and other competitions. Only then you will be able to give new… It should be necessary to know what is happening in the country and society, and what are the new plans of the government. Students should be motivated towards the library. On national religious festivals in the residential campus, the principal teacher should inform the children by giving a speech.
He said that different competitions should be organized in the Vidyalaya (Atal Residential School). When this thing works together then you will be able to do something new. Something is going on, what is going on inside the society, how the activities of the government are being regularised. Giving information to everyone, making children insist on library.
Invest with your wife in this post office scheme, you will get interest of Rs 9250 every month
Tell the children about the tradition, before any religious and spiritual event, the principal or any teacher should prepare a speech of 5 to 10 minutes and tell the practical thing to the children, tell the children why the program is held on 15th August. Pathan-reading work will remain closed on Diwali. But let us tell you about its eve.
Residential schools will open in 57 districts (Atal Residential School)
CM (CM Yogi) said that in the next phase, residential schools will be constructed in 57 districts. Normal children will also be admitted in this. Your selection has been done in a fair manner. You will also have to provide your service with this expectation.
Admission kit given to 1440 children
Admission kits were given to 1440 children during the admission session in Atal Residential Schools. There will be two sections in each school to give admission to a total of 80 students. The aim of this school is to provide quality education to the underprivileged and poor children for their overall development. So that better education can be provided in boarding schools, so that their future is strong.
नोट:
अगर आपको यह खबर पसंद आई तो इसे शेयर करना न भूलें, देश-विदेश से जुड़ी ताजा अपडेट पाने के लिए कृपया The Lucknow Tribune के  

Facebook

 पेज को 

Like

व Twitter पर 

Follow

करना न भूलें...
-------------------------