CM Yogi underscores U.P. story through seven points at Niti Aayog meet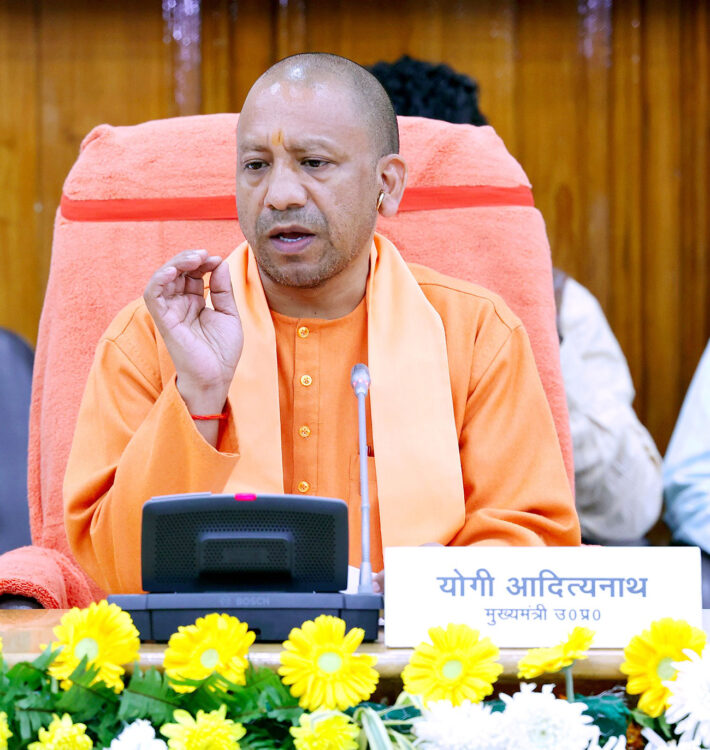 Lucknow: Chief Minister Yogi Adityanath addressed the eighth meeting of the Governing Council of NITI Aayog . In a meeting held at Pragati Maidan in the capital New Delhi, Chief Minister Yogi Adityanath presented the achievements of Uttar Pradesh in front of NITI Aayog through seven points.
In his address, the Chief Minister said that adopting the mantra of Prime Minister Narendra Modi to reform, perform and transform, Uttar Pradesh has emerged as the 'dream destination' of industrial investment in the country. He enumerated UP's achievements on MSME, women's safety, infrastructure development, PM Gati Shakti, health and nutrition step by step.
Zero tolerance policy towards crime and corruption by the Uttar Pradesh government
The Chief Minister said that today on the call of the Prime Minister, the countrymen are working dedicatedly for building a developed India with Panchpran. The Chief Minister said that Uttar Pradesh, a state of about 25 crore population, is not only India's largest consumer and labor market, but is also rich in natural resources with fertile plains of ever-flowing rivers like Ganga, Yamuna and Saryu. The Uttar Pradesh government has a policy of zero tolerance towards crime and corruption. He said that the contribution of Uttar Pradesh in the country's GDP is more than 8 percent. Uttar Pradesh has resolved to contribute one trillion dollars in the next five years in order to achieve the Prime Minister's target of making the country's economy five trillion dollars. More than 22,000 MoUs worth about Rs 35 lakh crore were signed in the UP Global Investors Summit-2023 in February in state capital Lucknow, in which more than 1 crore employment opportunities are likely to be created.
Uttar Pradesh has made remarkable progress in developing world class infrastructure
The Chief Minister said that Uttar Pradesh has the maximum number of MSME units in the country with 96 lakh units. The state government is constantly striving and committed for the development of this sector. Each district of the state has a unique identity of its traditional product. The state government has done the work of providing it new heights in the form of ODOP. CM Yogi said that Uttar Pradesh has made remarkable progress in developing world-class infrastructure. The part of National Waterway-1 from Prayagraj to Haldia port is operated from Varanasi to Haldia. With 13 existing and proposed expressways, Uttar Pradesh is developing as an 'expressway state'. Three international airports are operational in the state, two new international airports are under construction in Ayodhya and Noida. Similarly Uttar Pradesh Warehousing and Logistics Policy, City Development Plan, State Capital Region (SCR) were discussed.
Ayushman cards distributed to more than 1 crore families
Referring to the minimization of compliances, the Chief Minister said that 4,094 compliances of about 40 departments were minimised. Also, 577 compliances were reduced under decriminalization category. Apart from this, 947 unnecessary acts/regulations/rules etc. have been abolished. Talking about women empowerment, he said that in the last 6 years, extensive efforts have been made in the state to provide safe environment to women. Uttar Pradesh has been awarded the first prize in the implementation of ICIS for prosecution for two consecutive years (2021 and 2022) by the Government of India. Talking about health and nutrition, the Chief Minister said that in the last six years, there was unprecedented success in the control of communicable diseases, especially JE and AES in Eastern Uttar Pradesh. About 21.40 lakh poor beneficiaries have been treated under the Ayushman Bharat scheme. Along with this, Ayushman cards have been distributed to more than 1 crore families.
CM discusses the achievements of skill development
Mentioning the work done on skill development in the state, the Chief Minister said that under this, about 15 lakh youth have been trained and more than 6 lakh youth have been employed by the year 2022-23. Training in drone technology has been started in selected ITIs of the state. Along with this, training of students and trainers has been started on robotics, artificial intelligence and advanced computing. While discussing the use of PM Gati Shakti for area development and social infrastructure, the Chief Minister said that in the first phase of PM Gati Shakti, 30 mandatory layers are fully integrated and certified in the PM Gati Shakti National Master Plan Portal (NMP).
नोट:
अगर आपको यह खबर पसंद आई तो इसे शेयर करना न भूलें, देश-विदेश से जुड़ी ताजा अपडेट पाने के लिए कृपया The Lucknow Tribune के  

Facebook

 पेज को 

Like

व Twitter पर 

Follow

करना न भूलें...
-------------------------