CMS felicitates teachers with cash prizes and gifts worth Rs 1.5 crore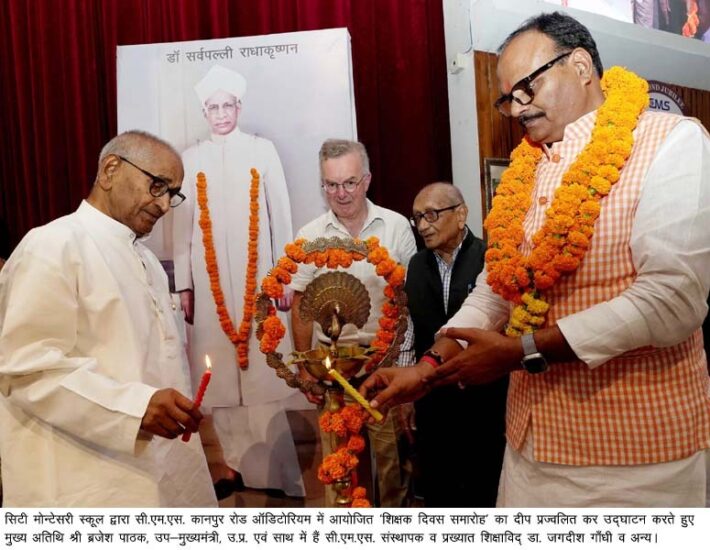 Lucknow: City Montessori School organized a grand 'Teacher Honor Ceremony' on the auspicious occasion of Teacher's Day at CMS. Held at Kanpur Road Auditorium. The function started with lighting of the lamp and garlanding the portrait of former President Dr. Sarvepalli Radhakrishnan. The dignified presence of State Deputy Chief Minister Brajesh Pathak as the chief guest added charm to the function. On this occasion all the CMS teachers and workers were honored with cash prizes and gifts worth Rs 1.5 crore.
On this occasion, chief guest Brajesh Pathak said that purposeful and quality education is the great need of the present time and teachers have an important role in it. CMS  teachers have brought glory to the school as well as to Lucknow with their hard work, dedication and devotion. CMS Founder Dr. Jagdish Gandhi expressed his gratitude towards the teachers of the school. The credit for the position at which it stands undoubtedly goes to all of you teachers and principals.
Teachers are preparing students for tomorrow and developing life values and character building in them. On this occasion CMS Founder-Director Dr. Bharti Gandhi and CMS. President and MD Pro. Geeta Gandhi Kingdon expressed her heartfelt gratitude to the teachers of the school. Earlier,  Susmita Ghosh, Head of Quality Assurance and Innovation Department and Superior Principal, warmly welcomed the chief guest and other dignitaries and teachers.
The special attraction of the teacher's felicitation ceremony was the felicitation ceremony of the parents of the best teachers of the school. On this occasion I.S.C. (Class-12) CMS in the section. Swapneet Katiyar, a teacher at Rajajipuram (Campus I) and CMS in the ICSE (Class-X) section. Ms. Kakul Mittal, a teacher of Gomti Nagar (Campus I) was declared the best teacher for the year 2023-23 however the parents of both the teachers were felicitated publicly. Apart from this, the best teachers of various subjects at the campus level were also felicitated.
CMS in the function The mothers of Saurabh Mohan and Abdullah Suhail, alumni of ISRO and ISRO, were publicly honored by weighing them with fruits and flowers and presenting shawls to their father. CMS Both these students have made Lucknow proud by contributing to the success of Chandrayaan-3.
Apart from this, this year PCS (J) Four students Anju Yadav, Adil Ansari, Vyadisha Yadav and Richa Chowdhary, who hoisted the flag of success, were specially honored, along with the mother and father of these four students were also honored. On this occasion CMS Colorful educational-cultural programs presented by the teachers added glamor to the function.  CMS Chief Public Relations Officer  Hari Om Sharma said that on the occasion of Teacher's Day, CMS. Teachers and workers took out a huge 'character building march' and gave a strong message of character building for the future generation.
नोट:
अगर आपको यह खबर पसंद आई तो इसे शेयर करना न भूलें, देश-विदेश से जुड़ी ताजा अपडेट पाने के लिए कृपया The Lucknow Tribune के  

Facebook

 पेज को 

Like

व Twitter पर 

Follow

करना न भूलें...
-------------------------