Collective Effort to turn the World Greener
Lucknow: Uttar Pradesh New and Renewable Energy Development Agency (UPNEDA) & Krishi Udyami Krishak  Vikas Chamber organized the Renewable Energy Conclave-2023 titled "Renewable Energy – Opportunities in Uttar Pradesh".  The event discussed and deliberated the importance of Renewable Energy And Sustainable Practices. The Renewable Energy Conclave was organized with a view to bring together industry experts, policymakers, innovators, and thought leaders to discuss the latest developments, challenges, and opportunities in the renewable energy sector.
The event was organized in collaboration with Indian Investors Federation, UPNEDA, the UP Government, Krishi Udyami Krishak Vikas Chamber, Noida Power Company Limited, Avaada, the knowledge partner for the event was Grant Thornton and the media partner was The Lucknow Tribune. Others supporting the event were Gyan and 9 Thursdays Entertainment Limited.
Part of the prolific list of distinguished guests were Chief Secretary Durga Shankar Mishra, Energy Minister, AK Sharma ACS Energy, Mahesh Kumar Gupta, MD Avaada Vineet Mittal, Director UPNEDA, Anupam Shukla, MoS Power Dr Somendra Tomar, MD UPPCL Pankaj Kumar,Secretary, MD UPPTCL, P Guruprasad, MD NPCL, P.R. Kumar,Secretary Agriculture, UP Government Dr. Rajshekhar, Sarabjeet Dhingra, Joint Director, UPERC and a wide panel of business experts to speak on the much discussed topic given the set targets for a net zero target by the year 2070.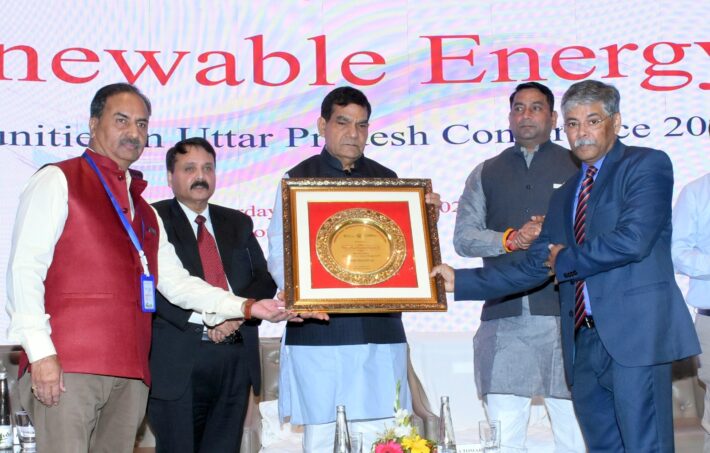 The event was witness to a signing of an MoU between UPNEDA and IIT Delhi. The Solar Samadhan Portal was also launched at the event. A number of people and organisations across the board were felicitated for joining the cause of promoting solar energy. A special award ceremony was organized where the award for Best State Run Power Utility went to organizations like KSCO, UPNEDA, an award for Innovation went to UPSLDC, the Award for Excellence went to NPCL. The others to be recognized for their good work were NTPC, Avaada and Indian Oil.
RK Sharan, President, Krishi Udyami Krishak Vikas Chamber said that it was our idea to do something on the relevant topic of renewable energy it is heartening to note that companies from Gujarat and top names like Torrent and Adani have shown their willingness to come forward and share their views. He said this conclave has paved the way for fruitful discussions on renewable energy. He said this event is important because this is the most populous state and it is also the fastest growing with a good subsidy and incentives.
Sharing his views, UPNEDA Director Anupam Shukla spoke at length of how he saw the way forward. He said the world has been witnessing transformation from the economic point of view and from the Renewble Energy perspective there is a multitude of opportunities. He said it is important to use resources and with a good landscape that should be a commitment with a target based approach.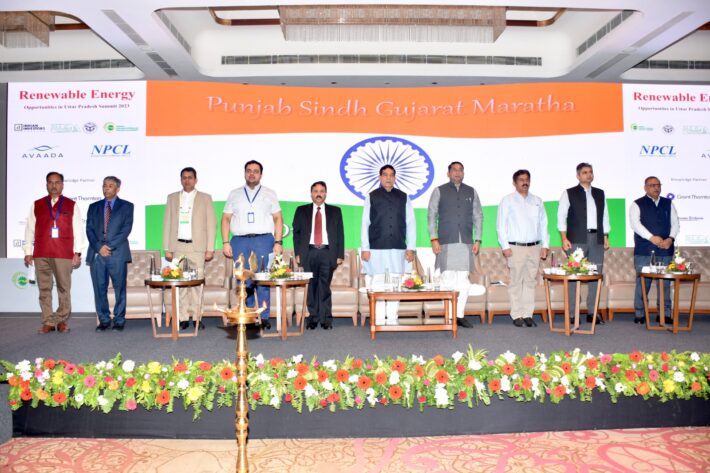 Expressing his views MD Avaada Vineet Mittal said the state of UP is doing good work and for the state to develop all sectors will have to play a proactive role. He said that the biggest strength of UP is its workforce Mittal called for channelising efforts so that new age possibilities like pump hydro solar, wind and round the clock Green Power becomes a reality. He underlined the possibilities of green corridors. The possibilities of converting sand into molecules and through biogenics being able to create a space for green molecule which in future will be a substitute of oil and gas.
MD NPCL, PR Kumar speaking at the platform said that he looked up to UPNEDA for playing an important role in helping realise the net zero targets by 2070. He said that UP can easily be called a big consumer on the national level. He said if the major goal in UP can be achieved, things in the national scenario will drastically change. He said the one trillion dollar economy target is attainable and energy will have a major role to play in that. He spoke a little bit about renewable resources rooftop under net metering, P2P Gradient Blockchain Technology and other aspects like need for better land parcels, the growing scope of EV charging and streamlining of electricity consumption.
Mahesh Kumar Gupta, ACS Power and Energy UP speaking for the department said renewable energy is an aspect which is mooted not only in India but across the world. He said PM Modi has shown the country the way forward for next generation energy consumption. He said the renewable energy commitment is good for the Global community. Listing out some of the big aspects of UP and why it is important for renewable energy, he said that Uttar Pradesh has the 4th biggest land area, he said 17% of population of India are youngsters. He said that the GDP is doing much better and the political commitment is worthy of praise. GIS has given positive results. He further enunciated with good landscape, the potential for Uttar Pradesh is very high. He said that Vindhyachal, Bundelkhand are examples of what the next stage green future of the state would look like.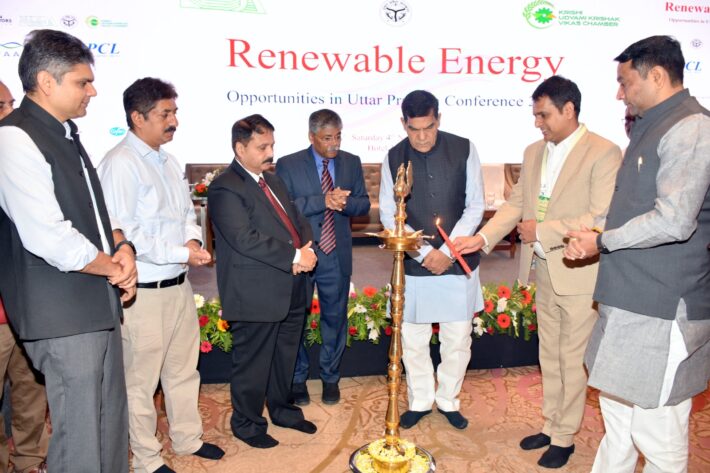 Taking the stage, Dr. Somendra Tomar said that PM Modi has prioritized the need to work on cleaner and greener energy. He said joining him in that mission has been the CM Yogi Adityanath who is playing his role in meeting the one trillion dollar economy target. He said development of the nation through energy resource development is the basic idea, He said energy related Investments in Global Investor Summit 2023 have been to the tune of 8 lakh crore. He said to turn around certain cities into solar cities are at the heart of that functioning. He was of the view that once executed it will not only ring in investment but it will also generate job opportunities
Energy Minister AK Sharma speaking at occasion said good governance and better hand holding has only streamlined processes with the business class being seen in a different light. He said for this big credit needs to be given to the Uttar Pradesh Chief Minister. He said this is a great opportunity to invest in every sector and the government is committed that it will not let the state lag behind. He said Uttar Pradesh is working towards being energy surplus and sufficient. He referred to Obra D project and RDSS scheme to prove his point. He said one can only achieve the target when there is no damage done to nature. He said the focus is about helping the coming generations. Further more on the EB front, the demand is high, he said 700 to 800 EV buses have already been inaugurated and now the same will be implemented in smallest cities. He also talked of solar boats
Secretary, Agriculture, Uttar Pradesh Government, Dr Raj Shekhar speaking elaborately on Agri Residue for Agri projects said that the subject for the day is a usually relevant topic given that stubble burning is a glaring problem. He said this with a special mention about the Delhi NCR region. He said not only has the Honorable Supreme Court taken cognitions of the seriousness of the matter, he said that today even the NGT and NHRC have expressed concern. He said – bio energy and CBG need to have a better link up. He said when it comes to raw material, one must not have short supply. He said the focus should be of how to convert farm produce to factory utility with a assured supply chain and insitu management, given the fact that 50% subsidy is available. He called for leveraging potential of aggregators and institutes given that they get a 80% subsidy. He said IOCL Gorakhpur and HPCL Dataganj Badaun are shining examples. He said good work is happening in 10 districts and there is a reliable mechanism having FPOs which have a solution with proper produce and marketing.
Commissioner Bareilly Saumya Agarwal said the stubble burning has always been a major issue. She said the highest stubble produce happens in Bareilly, but ironically when HPCL setup shop, they were unable to get sufficient supply for generating Compress Biogas. She said this became a stress area and they approached her for help. She said the plant did not have material and equipments. They had to buy bale from Punjab  and Haryana, but viability was a problem. When things did not workout,tech innovation led to the Parali Marketplace app which was a free, open, transparent market based on demand and supply.
Durga Shankar Mishra, Chief Secretary, Uttar Pradesh government speaking on the occasion said, "I thank the renewable energy department for a good effort. Two things discussed at this forum were of paramount importance that of solar power and biofuel. He said at this stage practical execution is important and how one streamlines the entire idea for sustainable development. This will be guided by the path shown by the Prime Minister and the Chief minister. He underscored, the road to the five trillion economy can only be paved if Uttar Pradesh achieves the 1 trillion dollar dream. He said this change will bring about lot of development. In the national scheme of things, be it on the manufacturing front, services sector, it will improve life style, change the way one consumes energy, and it will also better the country's future. He said that at present the peak demand is 28000 megawatts and it will better income salaries, movement of people. He said a development plan will help demands being met with quantum growth. He said there is very speedy implementation of CBG plants in the state.  The Solar issue of the main source storage of battery material from new technology storage to potential pump storage there is ample scope. He said Govardhan gas will help in the growth and sustainable development without pollution. He has called for energy efficiency in a decade adding one has to go for most energy efficient gadgets, caring for the idea will be start-ups, solar alliances and the Surya mitras. He said UP is an innovation hub with more than 1000 startups, 17 incubators and five centres of excellence and a solid ecosystem will help cut down road blocks.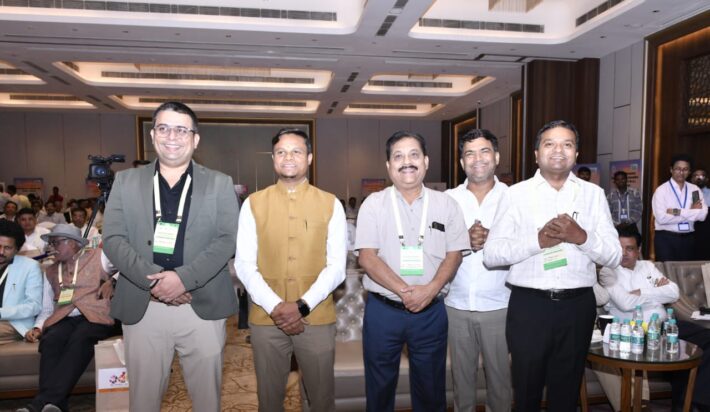 Closing the day Energy Minister, AK Sharma said that the road has been defined. One just has to act in a planned manner, so that the ball is set rolling. He said it is important to understand that there are already people who are successfully doing this work. There are trained hands, who are being deputed on the job. All this requires is a collective push, with the proper policy in place. He said today farmers of feeling the change, which subsidy solarising of pumps, proper man power and 360 degree approach are adding that natural energy with growth, progress, industrial & commercial development coupled with commitment and interest which is the only way forward for green energy to be a  huge success.
Sharing their experiences and success stories were prolific names which included Amit Singh, CEO Adani Green Energy Ltd, Shivkumar NTPC, Rohit Chandra CEO, OMC, Ashok Pal, PGCIL, Sugata Mukherjee, Tata Micro Grid, Kushagra Nandan Sun Source Energy, Jai Prakash, NISE, Dr. Annapurna Vancheswaran, The Nature Conservancy, Ramesh Yadav, RIL, Suresh Manglani, Adani Total Gas, Prof Virendra Kumar Vijay IIT Delhi, Amit Prakash, Mittal Enterprises among others.
K.P. Singh, Managing Editor, The Lucknow Tribune said, " Being part of such events helps broaden horizon about Renewable Energy with diverse perspectives and knowledge sharing happening at different levels. The role that Renewble Energy can play to reshape the contours of Uttar Pradesh is worth noticing."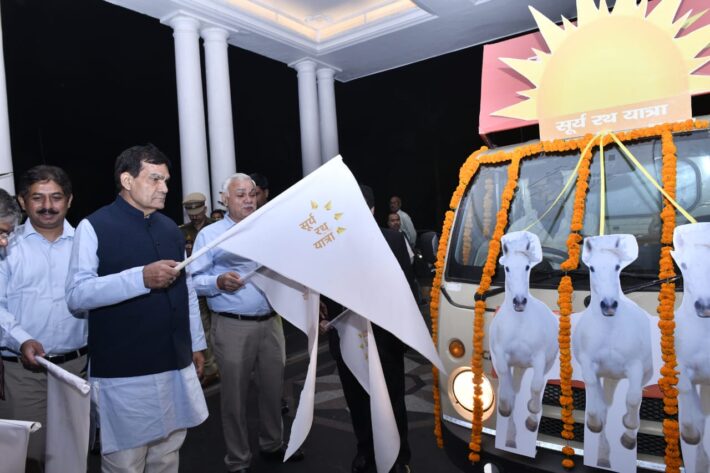 नोट:
अगर आपको यह खबर पसंद आई तो इसे शेयर करना न भूलें, देश-विदेश से जुड़ी ताजा अपडेट पाने के लिए कृपया The Lucknow Tribune के  

Facebook

 पेज को 

Like

व Twitter पर 

Follow

करना न भूलें...
-------------------------