Congress losing the Brahmin plot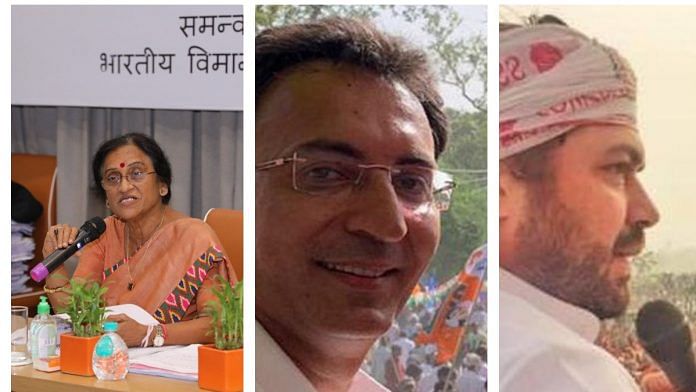 Lucknow: There was a time when big faces of Congress had a great hold among Brahmin voters. Then the Congress party was the number one choice of Brahmins, but now most of these big faces have left the Congress party. The big faces who left the Congress include Lalitesh Tripathi, Jitin Prasad, Rita Bahuguna Joshi, ND Tiwari, Pramod Tiwari, his daughter Aradhana Mishra and even Rajesh Mishra, who had a good hold in their respective areas.
In the last few years, many Brahmin faces of the UP Congress, who had a good hold among the people, left the party. The party is not giving much priority to those who are. Lalitesh Tripathi, whose family had remained with the Congress for the last 100 years, also left the Congress in September 2021. After Lalitesh Pati Tripathi left the Congress in September last year, there is not a single Brahmin face left in the UP Congress.
In the last five years, influential Brahmin faces like Jitin Prasada, Rita Bahuguna Joshi and the late ND Tiwari have left the Congress party. All of them left the party and argued that their supporters say that no one talks about them in the Congress anymore. For Jitin Prasada, leaving the Congress and joining the BJP proved to be a very profitable deal. In September 2021, Yogi Adityanath gave him the status of a cabinet minister during the cabinet expansion.
Jitin Prasada, left the Congress and joined the BJP, who was later included in Yogi Adityanath's cabinet expansion. BJP's plan was to elect him to the Legislative Council. Former Union Minister Jitin Prasada was once a very close aide of Rahul Gandhi.
His father Jitendra Prasad was a senior Congress leader, who also contested the election of party president against Sonia Gandhi in the year 2000.
In the BJP government, MP Rita Bahuguna Joshi had left the Congress party in the year 2016. She has also been the chief of UPCC from 2007 to 2012.
Rita Bahuguna's father Hemvati Nandan Bahuguna was in the valley regions of undivided Uttar Pradesh, which is today called Uttarakhand.
Political analysts say that since the Congress started focusing on OBCs, many old and veteran Brahmin leaders of the Congress party left them, political analysts say about the Brahmin faces of UP leaving the Congress in large numbers.
नोट:
अगर आपको यह खबर पसंद आई तो इसे शेयर करना न भूलें, देश-विदेश से जुड़ी ताजा अपडेट पाने के लिए कृपया The Lucknow Tribune के  

Facebook

 पेज को 

Like

व Twitter पर 

Follow

करना न भूलें...
------------------------- ----------- -------------------------------------------------------------------------------------------------------------------------------------------------