Craftsmen of Ayodhya start working on immovable Rama Idol to be setup in temple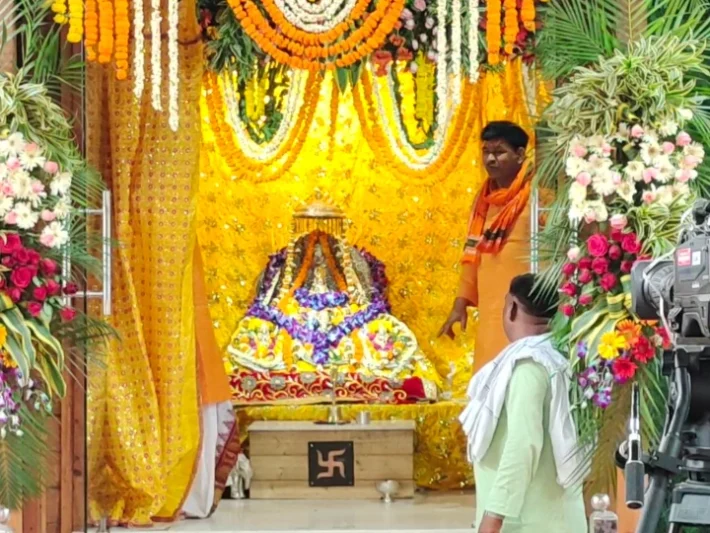 Ayodhya: The construction of the immovable idol of Ramlala has been started amidst worship and religious chants. In Ramsevakpuram, in an auspicious time, Vedic preachers worshiped the Shyam Shila of Karnataka and started the work of making the idol.
Vedic pundits worshiped the Shyam Shila  under the guidance of Pt. Indra Dev Mishra, Principal of Karsevakpuram Ved Vidyalaya.
An immovable idol of Shri Ramlala is to be established in Shri Ram Janmabhoomi. This idol will be of 52 inches. Taking the foundation, the total height of the idol will be about eight feet. The idol of the four brothers including Ramlala, currently worshiped in the temporary sanctum sanctorum, will be installed as a festival idol in the temple.
While the immovable idol of Ramlala will be consecrated. 5 artisans from Karnataka have been employed in the making of the idol. The construction work of the idol will be completed in 4 to 5 months.
Nripendra Mishra, chairman of the construction committee of the Ramjanmabhoomi Teerth Kshetra Trust, has said that the first phase of the construction of the Ram temple in Ayodhya will be completed by December 30 this year. Mishra, who was the principal secretary to Prime Minister Narendra Modi, said the temple is being constructed in three phases and devotees will be able to enter the temple after the completion of the first phase.
He had said that apart from other works on the ground floor, the construction work of five pavilions would be completed in the first phase. He said that the trust has decided that the work of the first phase of the Ram temple should be completed by December 30.
नोट:
अगर आपको यह खबर पसंद आई तो इसे शेयर करना न भूलें, देश-विदेश से जुड़ी ताजा अपडेट पाने के लिए कृपया The Lucknow Tribune के  

Facebook

 पेज को 

Like

व Twitter पर 

Follow

करना न भूलें...
-------------------------