Destitute cattle will be protected in UP in 3 months, Yogi government issued instructions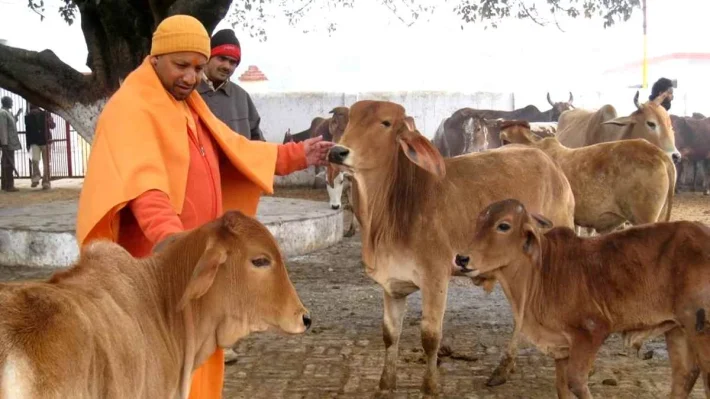 Lucknow: The Yogi Adityanath government of Uttar Pradesh has ordered the protection of destitute cattle in the state within the next three months. Taking cognizance of the recent incidents that took place in districts like Agra, Sultanpur and Pilibhit, the government has said in strong words that such incidents should not be repeated in future. It is noteworthy that in the government figures, there are still about 2.5 to 3 lakh destitute cattle. In this context, Yogi government has issued instructions for the protection of all.
Incidents should not be repeated
Chief Secretary Durga Shankar Mishra said in the meeting that destitute cattle should be protected in the next 3 months. Also, there should be no repetition of incidents. Panchayats should make arrangements for nutritious food in the protected cows in the urban areas. In Bundelkhand region, loose animals should be preserved till 15th September. In the districts Hardoi, Sitapur, Rae Bareilly, Pratapgarh, Fatehpur, Badaun etc., a large number of cattle roam on the banks of the roads and rivers. Even in the cities, cattle roam near the markets and in the colonies. The responsibility of the Municipal Commissioner and the Executive Officer should be determined. Information regarding establishment of new temporary cow shelters should be sent immediately. From the District Magistrate to the SDM, continuous monitoring and use of the portal should be ensured.
Run Cattle Catcher Operation in Rural Areas
The Chief Secretary said that thousands of cattle roam on the banks of rivers. Arrangement of tractor mounted cattle catcher and purchase of tractor should be ensured. The District Magistrate should run the operation by forming a special squad. Special teams of inter-departmental personnel should be formed on the highways. There should be team leaders, personnel, equipment and financial arrangements for the squads, while not hiding the figures and taking action.
नोट:
अगर आपको यह खबर पसंद आई तो इसे शेयर करना न भूलें, देश-विदेश से जुड़ी ताजा अपडेट पाने के लिए कृपया The Lucknow Tribune के  

Facebook

 पेज को 

Like

व Twitter पर 

Follow

करना न भूलें...
-------------------------