Digital India Pavilion key attraction at 42nd India International Trade Fair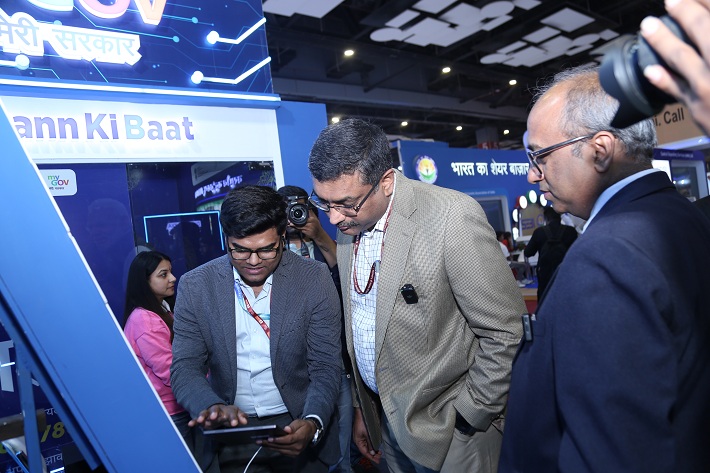 New Delhi: See the future of digital possibilities become a reality at the Digital India Pavilion in Hall No. 5, Pragati Maidan, New Delhi. One of the major attractions at the 42nd IITF 2023 which is taking place from November 14-27, 2023, the exhibit showcases pioneering initiatives: DigiLocker, UPI, e-Sanjeevani, Bhashini and Mann Ki Baat.
Set up by the Ministry of Electronics and Information Technology (MeitY), the DI Pavilion is turning more than a few interested heads offering people a remarkable opportunity to engage with cutting-edge technologies. There are interactive displays, engaging experiences for all ages and an opportunity to learn about DI initiatives directly from the experts. From curious students to discerning office goers, energetic women entrepreneurs to enthusiastic senior citizens, the pavilion showcases innovative technologies for New India that wants to be digitally savvy.
At the UPI (United Payments Interface) exhibit, visitors can reap the benefits of going cashless! Encounter a state-of-the-art UPI enabled ATM that provides visitors cash withdrawal through UPI Mode. Customers of select banks can use their UPI apps to scan a QR code generated on the machine's screen to withdraw cash. This latest payment service is based on ICCW (Interoperable Careless Cash Withdrawal) mechanism and will be soon rolled out in all ATM machines. Since no physical card is required, this mechanism prevents frauds/tampering such as skimming and card cloning.
DigiLocker pioneers a paperless era, offering citizens seamless access to an extensive array of crucial digital documents, ranging from Birth Certificates, Records of Will, Driving License, educational certificates etc. A revolutionary platform in digital document management, DigiLocker signifies a convergence of accessibility and security, all at the fingertips of 200 Million citizens now! This innovative platform not only simplifies administrative processes but also enhances efficiency, reducing bureaucratic hurdles. Taking centre stage at the Digital India pavilion, the DigiLocker exhibit showcases a larger than life phone featuring the DigiLocker App and how it is empowering citizens to access myriad documents anytime, and from anywhere.
Bhashini aims to enable all Indians easy access to the internet and digital services in their own language, and increase the content in Indian languages. The Bhashini exhibits underscore inclusivity. Visitors can download the Bhashini App to translate content in their native language. The App allows users to converse through 3 key features—TEXT, VOICE, and CONVERSE. The TEXT feature supports translation into 22 Indian languages, while the CONVERSE and SPEAK features each cover 13 languages, contributing to enhanced linguistic accessibility and understanding.
Visitors can also learn how to do 'Voice Based Payments', or experience the Bhashini Live S2S (Speech to Speech) application which enables real-time cross-language communication by instantly translating live speech; the S2S app is available in 11 Indian languages and 14 international languages.
'Bhasha Daan' is an initiative to crowd source language inputs for multiple Indian languages as part of Project BHASHINI. It calls upon citizens to help build an open repository of data to digitally enrich his/her own language. The aim is to create large datasets for Indian languages, which can be utilized to train AI models that can be further used by different stakeholders to create products or services for the betterment of society.
Furthermore, 'Yojna Sathi' harnesses the power of Large Language Models (LLMs), AI, and Automatic Speech Recognition (ASR) technologies to engage citizens and customers in personalized conversations. Its primary mission is to raise awareness about various government schemes, eligibility criteria, and application processes, while also promoting digital and financial literacy concepts. Key features of the bot include multilingual support, personalization, feedback mechanism, streamlined booking services, and more !
Revolutionizing healthcare accessibility even across rural and remote communities, eSanjeevani (National Telemedicine Service) is a groundbreaking platform that has already served around 180 million patients. Built on cloud and micro services architecture, this indigenous platform offers two variants; eSanjeevani AB-HWC operates on a Hub & Spoke model, empowering Community Health Officers in Health and Wellness Centres (HWCs) to facilitate assisted tele-consultations for rural patients, connecting them with doctors and specialists in secondary/tertiary health facilities. Secondly, eSanjeevaniOPD serves as a patient-to-provider telemedicine platform, empowering citizens to access healthcare services conveniently from their homes through smartphones or laptops. The highlight of this exhibit is that visitors can remotely consult a doctor/specialist at eSanjeevani telemedicine clinics located in various parts of the country.
As the world's largest citizen engagement platform, MyGov shares the vision of true Jan Bhagidari. At the Digital India pavilion, an excellent opportunity awaits citizens to actively participate in the renowned radio programme- 'Mann Ki Baat'. Hosted by PM Narendra Modi on the last Sunday of every month at 11 AM on All India Radio, visitors can share their inspiring stories directly with the Prime Minister by recording their messages LIVE that they would like PM Modi to discuss in upcoming Mann Ki Baat episodes. To record a message, visitors can visit the Mann Ki Baat booth, dial the toll-free number 1800-11-7800 and record their message either in Hindi or English. This initiative aims to enhances public participation and provide a platform for citizens to express their thoughts, ideas and noteworthy achievements from their communities.
Taking the entertainment quotient up, visitors can give feedback/message in a novel way through the digital slingshot. What's more ? At the Digital India Selfie Point, visitors can get a photo experience that teleports them to a new destination instantly!
The Digital India Pavilion offers visitors a unique opportunity to experience the power of technology first-hand. Each exhibit has been crafted to resonate with Digital Nagriks, ensuring meaningful engagement and empowerment of people.
नोट:
अगर आपको यह खबर पसंद आई तो इसे शेयर करना न भूलें, देश-विदेश से जुड़ी ताजा अपडेट पाने के लिए कृपया The Lucknow Tribune के  

Facebook

 पेज को 

Like

व Twitter पर 

Follow

करना न भूलें...
-------------------------