Diwali marks new wave of big business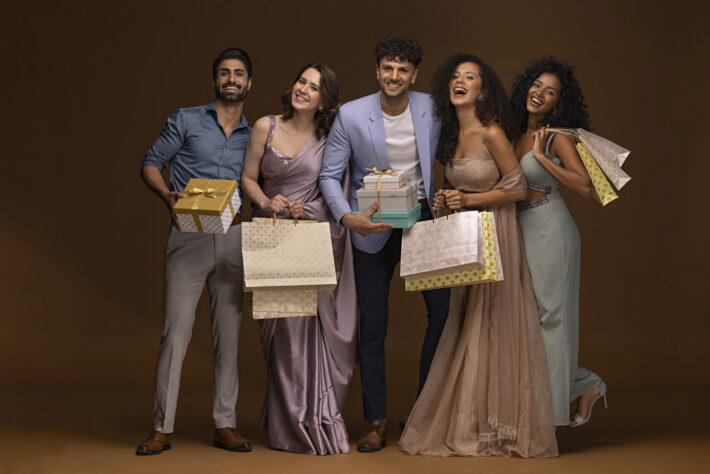 Arijit Bose
Lucknow: The festival of Diwali was celebrated with great enthusiasm throughout Uttar Pradesh including state capital, Lucknow. People offered prayers at auspicious time in their homes and establishments and then celebrated Diwali with fireworks. This time, along with the temporary firecracker markets at various places in Lucknow, firecrackers were sold in large quantities in other markets also.
Firecracker traders said  maximum number of firecrackers were sold in the last few years. The major firecracker markets of Lucknow city including Chowk, Aminabad, Nishatganj, Mahanagar, Hazratganj, Alambagh, Ashiana, Aliganj and Gomtinagar and other places remained lively. According to Akhilesh Chandra Gupta, General Secretary of Lucknow Fireworks Trade Welfare Committee, this time along with the sound crackers, crackers named TikTok, Rio 3D Fantasy Fish, Milan among others remained the first choice of the people.
This time, along with utensils, clothes and household items, people also spent a lot of money on firecrackers. Adding to this business segment there were things related to the World Cup. Sweets and other clothes related to World Cup sold like hotcakes. Reportedly firecrackers worth more than Rs 200 crore were traded in Lucknow. Food joints, pubs and lounges opened their doors for World Cup enthusiasts.
Businessman Mohd. Qadir told media the firecrackers like Sky Shot, Super Star Rocket, Anar releasing five colors, Parachute, Flower Green, Dragon etc. People also bought drone crackers. People also bought traditional Fuljhadi, Chakri, Anar and rockets. Similarly, the sale of Kheel, Laiyya, Lava, gta and Khilon gained momentum. Idols of Lakshmi, Ganesh, Lord Shankar, Kuber, Hanuman ji and Saraswati Maa also kept being sold till late in the evening for worship on Diwali.  Shopping continued in many areas including Aishbagh, Nishatganj, Jankipuram, Alambagh, Kanpur Road LDA Colony. Apart from the idol of Lakshmi Ganesh, people were also seen buying rangoli, materials and puja items in the market.
Sadar resident Pooja Bajpai said, 'We all celebrate the festival of Diwali with great pomp. This day is also very special for us. It is called the festival of lights. Because, lamps are lit everywhere on this day. Pramila, a resident of Purana Qila, said that 'Diwali is such a festival on which people are very happy because the reason for celebrating this festival is very special for us. Lord Shri Ram returned to Ayodhya after 14 years of exile, on that day Ayodhya was decorated with lamps. Cantt resident Renu Thapa said that 'The festival of Diwali is celebrated with the victory of good over evil. Diyas have special significance on this day. All this looks very good and local vendors also benefit to some extent.
Liquor worth more than Rs 1,000 crore was sold in Uttar Pradesh on the occasion of Diwali this year. The people of Lucknow alone drank liquor and beer worth Rs 50 crore. Due to Corona, the trend of giving liquor as gift decreased in the last few years and increased rapidly this year.
Special types of sweets were made in a sweet shop in Lucknow, Uttar Pradesh, which attracted a large number of customers. In a sweet shop named Chhappan Bhog, sweets were made on the theme of Cricket World Cup. The special thing is that these special sweets also include the gold World Cup trophy.  Kshitij Gupta of Chhappan Bhog has told that the gold sweet was first made in 2009, while it was named 'Exotica' because it was made from pure 24 carat gold and was sold in five different continents.
A sweet shop in Lucknow prepared themed sweets on the Cricket World Cup, which also includes a gold World Cup trophy placed on a sweet that looks like a cricket pitch. Kshitij Gupta of Chappan Bhog said that the gold sweet was first created in 2009, while it was named 'Exotica' because it was made from pure 24 carat gold and was imported from five different continents.
The entire set of sweets is priced at ₹5,600 and is currently available only in stores. But many buyers also placed orders through phone calls. The theme of this Diwali World Cup was decided because the current Cricket World Cup coincided with Diwali celebrations.
Purchasing records were broken in car, two-wheeler, real estate, bullion and electronics sectors. An average increase of 22 percent was seen in the markets compared to last year. The effect of Corona was completely over and the market seemed to be back on track.
Around 4,100 cars rolled out of showrooms during the festive season. Sales worth about Rs 3,200 crore were made in the car market alone. About 9,000 e vehicles were sold while about 8,000 diesel vehicles were sold. According to All India Jewellers and Goldsmith Federation and State Bullion Association, gold, silver and diamonds worth about Rs 5,200 crore were sold in the state.
Diwali proved to be very auspicious for real estate also. Recovering from the recession, customers invested about Rs 6,500 crore in their homes. Half of this amount was spent in booking. Apart from Noida, Greater Noida, Lucknow, Agra, Kanpur, Prayagraj, Ghaziabad, Ayodhya, Gorakhpur, Prayagraj and Meerut also rose rapidly in real estate. Mobile phones, LED TVs, microwaves, washing machines and sensor fridges also attracted 30 per cent more customers compared to last Diwali.  Praveen Khandelwal, National General Secretary of Confederation of All India Traders (CAIT), says that a record business of Rs 3.75 lakh crore has been done across the country on Diwali.
नोट:
अगर आपको यह खबर पसंद आई तो इसे शेयर करना न भूलें, देश-विदेश से जुड़ी ताजा अपडेट पाने के लिए कृपया The Lucknow Tribune के  

Facebook

 पेज को 

Like

व Twitter पर 

Follow

करना न भूलें...
-------------------------