DM Surya Pal Gangwar calls for greater caution in checking polio spread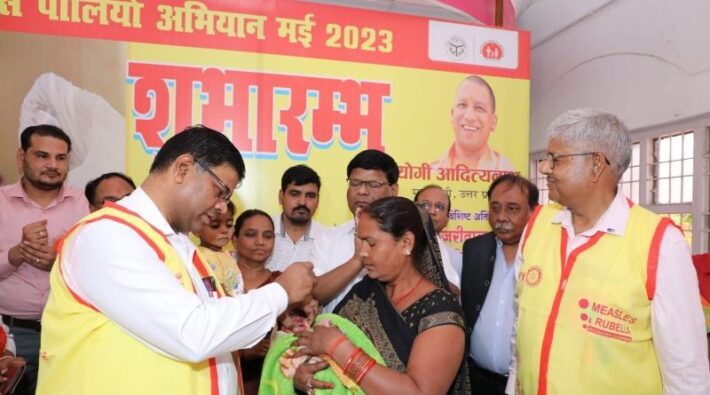 Lucknow: District Magistrate Surya Pal Gangwar inaugurated the administration of anti-polio medicine to the children of the age group of zero to five years. He started the intensive pulse polio campaign by giving two drops of Zindagi to children at Virangana Avantibai District Women's Hospital.
During this the District Magistrate said that India is polio free but there is still danger of polio virus in some neighboring countries and may return. So don't let any mistake happen in the safety of your child. Give every dose of polio protection. Contribute to maintaining the country's victory over polio.
On this occasion, Chief Medical Officer Dr. Manoj Aggarwal said that by giving polio prevention medicine, one can be saved from such a disease which makes a child disabled for life. In this six-day long campaign, a total of 7.33 lakh children are targeted to be given medicines.
District Immunization Officer Dr. MK Singh said that along with Health Department, other departments including Child Development Nutrition Department are also cooperating in this campaign. Our effort is to achieve 100 percent target. Everyone is appealed to give polio drops to their children in the age group of zero to five years. The District Immunization Officer said that from May 29 to June 2, health workers will go door-to-door to give the children who have been deprived of polio drops on Sunday.
The District Magistrate told that a total of 2,204 teams have been formed to make this campaign a success. Along with this, 131 mobile teams have been formed to give two drops of life to children in the age group of zero to five years at brick kilns, slums and under-construction sites. Apart from this, 227 transit teams will administer anti-polio medicine to children at weekly markets, fairs, railway and bus stations.
State Immunization Officer Dr. Ajay Gupta, RCH Nodal Officer Dr. RV Singh, Additional Chief Medical Officer Dr. Anoop Kumar Srivastava, Chief Medical Superintendent of Avantibai District Women's Hospital Dr. Hemlata Yadav, Chief Medical Superintendent Dr. Aruna Singh, Medical Superintendent Dr. Sarita Saxena, Pediatrician Dr. Salman, District Health Education and Information Officer Yogesh Raghuvanshi, representatives of World Health Organisation, UNICEF, UNDP, Seafor, Rotary International, and staff of the hospital were present.
नोट:
अगर आपको यह खबर पसंद आई तो इसे शेयर करना न भूलें, देश-विदेश से जुड़ी ताजा अपडेट पाने के लिए कृपया The Lucknow Tribune के  

Facebook

 पेज को 

Like

व Twitter पर 

Follow

करना न भूलें...
-------------------------