Doctors get their due at the The Lucknow Tribune's Excellence Awards 2023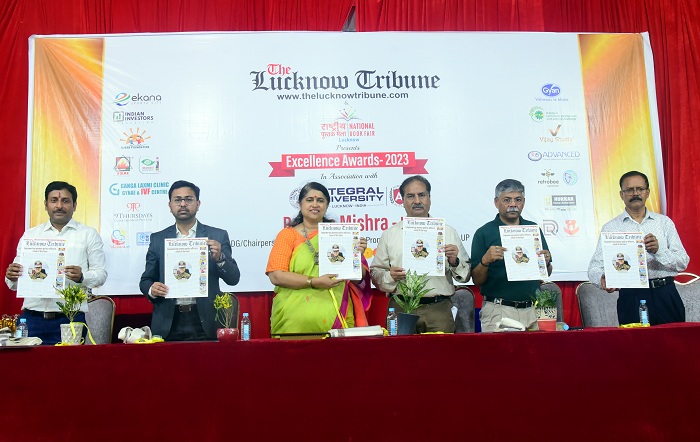 Lucknow: Doctors have a big role to play in life. Some of the topmost doctors of the city were felicitated for their good work at the Excellence Awards 2023 organized by The Lucknow Tribune, Lucknow's number 1 English weekly along with the National Book Fair.
The Lucknow Tribune, Lucknow's Number 1 English weekly in association with Integral University recognized the contribution of health and agri startups along with people of other categories who have made a mark in public life.  As part of this glittering award ceremony, The Lucknow Tribune acknowledged efforts of these startups by gifting the awardees with  a certificate and Memento. Gracing the occasion as Chief Guest was Renuka Mishra, DG / Chairperson UP Police Recruitment & Promotion Board / DG Training UP.  Special guests for the event were – Pravin Kumar Dwivedi, Additional Director, Software Technology Parks of India., RK Sharan, President, UP State Council, Krishi Udyami Krishak Vikas Chamber, Syed M Fauzan Akhtar of Integral University  and Manoj Singh Chandel, Convenor of National Book Fair.
The event has been organized in association with Integral University, Ekana Sportz City, FSAI U.P. Chapter, Meghdoot Gramodyog Sewa Sansthan, Indian Industries Federation, Kiran Foundation, 9Thursdays Entertainment Pvt. Ltd. and Krishi Udyami Krishak Vikas Chamber.
Among the awardees was Madhulika Singh Chairperson, Mayo Institute of Medical Sciences who has been carrying forward the legacy of her husband, Dr. KN Singh. Her husband returned to India after serving abroad. With COVID – 19 at its peak, Madhulika's doctor husband passed away. It is the will to serve people that Mayo Hospital came into being and continues to provide niche healthcare. All three of her children are doctors. She plays mother at home and a senior and chairperson in the hospital.  To fulfill her husband's dream, Madhulika Singh is building a 50-bed hospital in her husband's village.
Another doctor to be felicitated was Abhijit Chandra, Professor & Head, Advance GI , Laparoscopy and Colorectal surgery, King George's Medical University. Dr. Abhijit Chandra is a Professor, Surgical Gastroenterology doctor having speciality in General Medicine, and has worked for King George Medical Univerity,Lucknow, India. He is a qualified endocrinologist with over two decades of experience. He later earned an MD in general medicine. He has a number of publications in his field of expertise that he has published.
Rewarded for his distinguished service, Dr Sandeep Kapoor of Health City has shown a meticulous approach and never-say-die attitude brought him to the coveted King George's Medical University, Lucknow. It was sheer perseverance and hard work that yielded unprecedented results and Dr Sandeep Kapoor completed his graduation with Honours and a Gold Medal as the best student award. MS in Orthopedics, also from KGMU brought forth another Gold Medal. Holy Family Hospital, Delhi became the first stepping stone. He cut his teeth as a professional in top organizations like King Fahd Central Hospital, a state enterprise of the government of Saudi Arabia as Ortho Consultant and Surgeon. He returned to his home town in 1996 as the Head of the Department, Orthopedics at Vivekananda Hospitals. Under his watch the Computer Navigation Surgery for the first time was started in UP. He leads from the front at Health City.
Dr Ved Prakash, Professor & Head of the Department: Superspeciality Pulmonary and Critical Care Medicine,  King George's Medical University has been part of that deadly phase of Corona. No one in Lucknow will forget the role Dr. Ved Prakash played in helping in medical intervention when the state needed it the most.  After an audio-video of the disturbances in the Medical College in Meerut went viral, the state government had sent Dr. Ved Prakash, Professor of King George's Medical University (KGMU), Lucknow, as the Officer on Special Duty (OSD) of the Medical College. He talked to the principal and in-charges of all 24 departments to improve the systems. He inspected Covid-19 hospital. Problems were noted from patients to the entire medical staff.  At that crucial juncture he had acted as a crucial bridge between the government and the public. He has been very well received in Lucknow for his medical expertise and awareness camapaigns that he organizes to spread the word on good healthcare.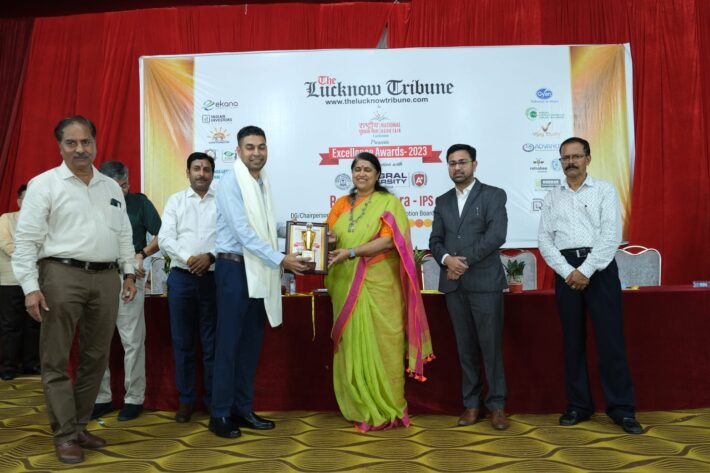 Dr. Nakul Sinha, Director of Interventional Cardiology at  Medanta Hospital has over 35 years of experience and is the Director, Interventional Cardiology at Medanta Hospital, Lucknow. He joined Sanjay Gandhi Post Graduate Institute of Medical Sciences, Lucknow in 1987 as a Professor and Head, Cardiology. Thereafter he worked for 9 years at Sahara India Medical Institute and Divine Heart & Multispecialty Hospital Lucknow as Chief Interventional Cardiologist and Senior Consultant.  Dr. Sinha has acquired Commonwealth Fellowship in Interventional Cardiology from the prestigious Walsgrave hospital, Coventry UK.
In that rich list is another doctor, Dr. BP Singh of Midland Healthcare, Department of Respiratory & Critical Care, Department of Sleep Medicine. He is a specialist in Pulmonology Respiratory Medicine with a rich experience of 38 years currently working in Midland Healthcare and Research Center. He is trained in Sleep Medicine from Medcare Amsterdam Holland and Thoracoscopy from Faculty De Medicine Marseille, France. He had been an observer in critical care in Munroe OCALA, Florida. Over the years, he has been involved in interventional pulmonary procedures such as bronchoscopy, thoracoscopy, sleep medicine, and pulmonary rehabilitation. He was the first to introduce the Pulmonary Rehabilitation Centre in Uttar Pradesh.
Dr Gaurav Bharadwaj, Consultant, Institute of Digestive and Hepatobiliary Sciences, Medanta Hospital has an experience of more than 300 complex GI surgeries with excellent results. He has more than 10 years of surgical expertise with more than 3 years in Surgical gastroenterology. He passed his MS in general surgery in 2013. After which he trained at Dr Ram Manohar Lohia Institute of Medical Sciences , under Dr Shakeel Masood where he managed several GI malignancy cases including liver resections. He was awarded fellowship in minimal access surgery by AMASI and also went on to obtain fellowship by IAGES. He also teaches undergraduate students.
Dr. Upsham Goel, currently the MD of TC Eye Centre, has a demonstrated track record in Patient Examination, Diagnosis & Surgery spanning a timeframe of 22 years. He has personally performed over Thirty thousand surgeries, including Cataracts (Phaco), Glaucoma, Vitreo-Retinal, Squint, Pediatric Surgeries, etc., and continues to do about thousand such surgeries every year.
He has the distinction of being the first in the World to perform High Resolution 3D angiography.  Lastly but not the least among the doctors has been Dr. Anamika Shukla of Anupriya Clinic, Dr Ruchika Singh,  MBBS, Mayo Institute of Medical Sciences and Dr. Siddharth Singh MD, BMC Medicity.
The event was single handedly hosted by host Anjali Gupta.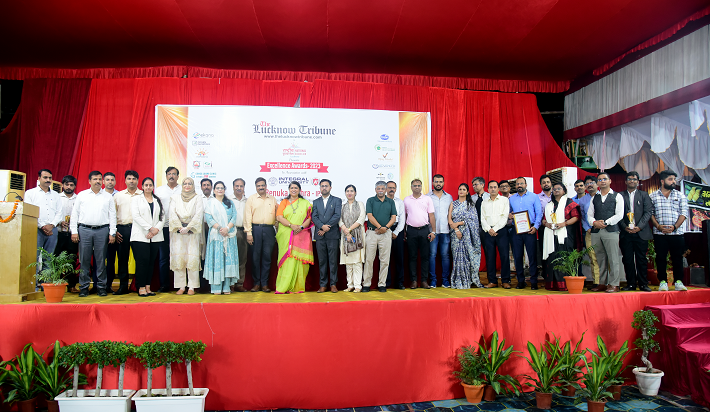 नोट:
अगर आपको यह खबर पसंद आई तो इसे शेयर करना न भूलें, देश-विदेश से जुड़ी ताजा अपडेट पाने के लिए कृपया The Lucknow Tribune के  

Facebook

 पेज को 

Like

व Twitter पर 

Follow

करना न भूलें...
-------------------------