EC all set to announce dates for U.P., four other states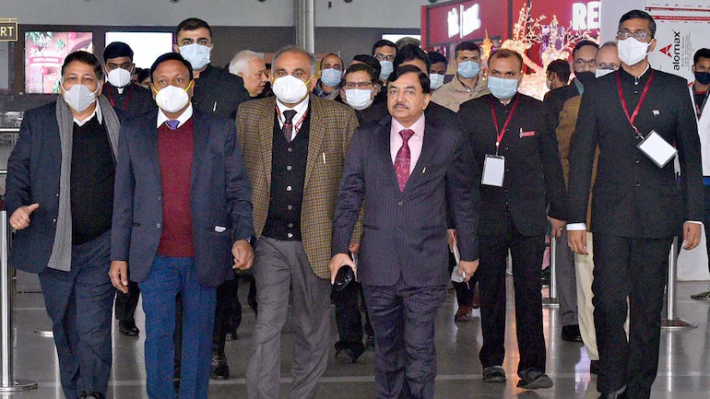 New Delhi: After days of waiting for the dates of assembly elections, the time has finally arrived when the official announcements for the state elections in five states will be made. The Elelection Commission in a high priority meeting will announce dates for Assembly polls in Uttar Pradesh, Punjab, Goa, Manipur, and Uttarakhand at 3:30 pm, a statement from the top polling body has said.
The dates are being announced a day after the Commission was briefed by the government on the Covid situation, and particularly the threat posed by the fast-spreading Omicron strain. The country has reported over 1.41 lakh new cases – up 21 per cent.
There is major concern over the virus spreading further after political parties held mega rallies in poll-bound states. These rallies are attended by thousands (many without face masks) and social distancing is entirely absent for such events, which are understandably difficult to control.
Top officials from the Election Commission and the Health Ministry met in Delhi to discuss polling and the Covid situation, news agency PTI reported.
Officials recently huddled to discuss  measures, including extending voting times by an hour and setting up extra polling booths in UP – India's most populous state – to ensure social distancing.
These and other measures were to be enforced ahead of (and during) elections in Bengal, Assam, Tamil Nadu, and other states in polls held last year, but Covid cases in these states spiked anyway.
Only recently Allahabad High Court in UP asked  Election Commission and Prime Minister Narendra Modi to defer polls by a couple of months in light of the Omicron threat.
The central government, however, seemed to avoid that responsibility, with Covid task force chief Dr VK Paul saying the poll body had to ensure Covid rules are followed at rallies.
नोट:
अगर आपको यह खबर पसंद आई तो इसे शेयर करना न भूलें, देश-विदेश से जुड़ी ताजा अपडेट पाने के लिए कृपया The Lucknow Tribune के  

Facebook

 पेज को 

Like

व Twitter पर 

Follow

करना न भूलें...
------------------------- ----------- -------------------------------------------------------------------------------------------------------------------------------------------------