Edin Terzic, Borussia Dortmund one step away from winning German title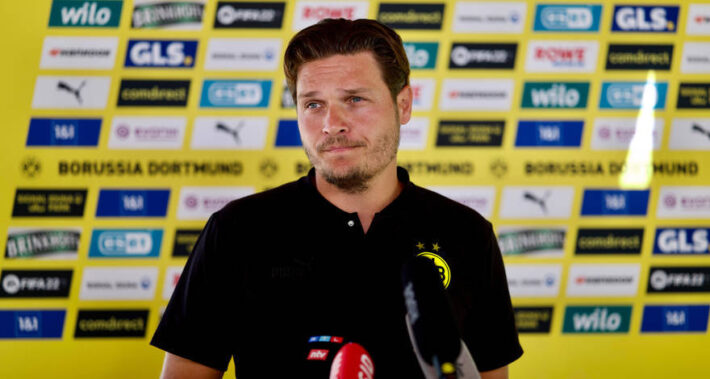 BERLIN: Borussia Dortmund coach Edin Terzic believes a roller-coaster season can end on a massive high coming Saturday with a first Bundesliga title since 2012 if his side keep smiling.
The sensation of spiritual unity may have been stronger than ever on this Sunday evening. With a 3-0 victory over Augsburg, Terzic led the young Dortmund team to reclaim the top spot in the German national league.
Dortmund's victory over title rival Bayern Munich in the 2022-2023 Bundesliga season's last round of games has placed them tantalisingly near to their first national championship since 2012.
Terzic made the most of Bayern's misstep against Leipzig by concentrating on encouraging a positive outlook among his players and the team.
The Borussia coach acknowledged the external pressure he and his players had to deal with, saying, "The focus was on what we could gain, rather than what we could lose."
Terzic thinks it's vital to keep regular routines since the club is just one victory away from experiencing its greatest achievement in more than a decade. Fans once more watched his salute to the sky, which is a customary element of his calming pre- and post-match ritual.
Dortmund appears poised to clinch the league's top spot going into this Saturday's home finale against Mainz after a number of wasted opportunities to do so. Bayern will also play a challenging road game against Cologne, needing to pull back from a two-point disadvantage.
Terzic described the season's difficulties as "crazy," but the Dortmund coach emphasised the value of maintaining composure. He repositioned errant wingers like Donyell Malen and Karim Adeyemi with success, strengthening a previously fragile defence with potent midfield play.
Sebastien Haller's dramatic comeback after being diagnosed with testicular cancer last summer gave the team new motivation. This has given them the motivation to contend with Bayern's ten-year monopoly on the title.
Terzic maintained his composure as Dortmund fans began to celebrate in the Augsburg arena and at home. "We're only short of realising our aspirations by one step. But we also need the city and the broader region's emotional support. We must keep maintaining a positive outlook because victory is imminent, Terzic emphasised.
Terzic, who is pleased with the team's 70 points, maintains that celebrations must wait. We need to maintain our focus for another week before putting on a victorious, conclusive performance, he said. The Dortmund coach reiterates his dedication to preserving emotional stability and makes a vow to not altering their routines throughout the upcoming vital week.
नोट:
अगर आपको यह खबर पसंद आई तो इसे शेयर करना न भूलें, देश-विदेश से जुड़ी ताजा अपडेट पाने के लिए कृपया The Lucknow Tribune के  

Facebook

 पेज को 

Like

व Twitter पर 

Follow

करना न भूलें...
-------------------------