Enthusiasm seen in Moradabad people as festival of lights brings joy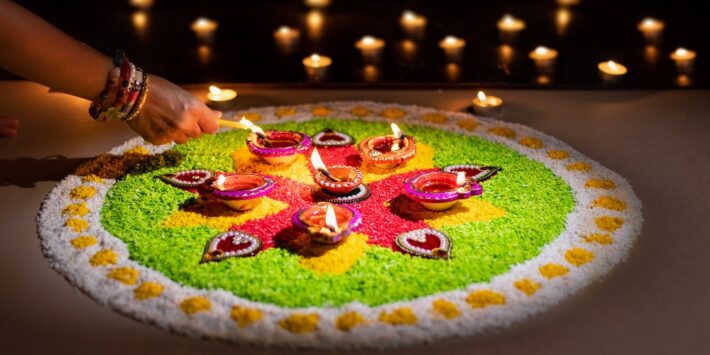 Moradabad: The festival of lights was filled with joy of the arrival of Shri Ram. Moradabad continued to shine with lamps and electric lights on Diwali. People prayed for happiness and prosperity by worshiping Lakshmi-Ganesha and books. In happiness, there was a sight of colorful fireworks like rainbow in the sky. The sound of firecrackers remained filled with the happiness of Diwali till late night. People expressed happiness by giving sweets and gifts to each other.
This time on the festival of lights, Diwali, people's enthusiasm was palpable. He had already started preparations for Dhanteras. From homes to markets and establishments were decorated with lights, flowers and lamps. Some kept waiting for the auspicious moment while others started worshiping as soon as the evening came. After puja at establishments, puja was also done at homes.
Mother Lakshmi and Lord Ganesha were worshipped. Kheel, Laiyya, Laava, Gatta, sugar sweets etc. were offered to the Lord.
Merchants also worshiped ledgers. By worshiping Lakshmi-Ganesh, wishes for happiness and prosperity were made. With this the process of congratulating each other started. Everyone from children to adults enhanced the celebration by bursting fireworks. This sequence continued till late night.
Gift packs with sweets were sold throughout the day.
Fireworks started on Diwali in the evening on Sunday. This time, after getting complete exemption, people's enthusiasm seemed to increase even more. Despite the cost, he used fireworks extensively. According to an estimate, fireworks worth crores of rupees will be set off in the district.
MDA resident fireworks seller Akshay said that despite the market being held at only five places, more than three hundred shops were decorated. There were more than ten wholesalers to supply them. Some people also brought firecrackers from outside. It is estimated that this year on Diwali, people expressed their happiness by setting off fireworks worth more than Rs 50 crore.
Gift packs with sweets were sold throughout the day.
This Diwali, the craze for sweets as a greeting also seems to be increasing. However, gift packs like dry fruits and children's chocolates also remained prominent. On the first occasion, packets of clothes were also given as gift packs. This sequence started from morning on the day of Diwali and continued till late night. Congratulations were also given with packs of hot cases, cookers and other utensils. People showed great enthusiasm in giving it and delivering it to the homes of their acquaintances.
नोट:
अगर आपको यह खबर पसंद आई तो इसे शेयर करना न भूलें, देश-विदेश से जुड़ी ताजा अपडेट पाने के लिए कृपया The Lucknow Tribune के  

Facebook

 पेज को 

Like

व Twitter पर 

Follow

करना न भूलें...
-------------------------