Experts brainstorm the future scope of clinical trials in workshop

– A workshop on Good Clinical Practice (GCP) and NDCT organized by Index Medical College
– Workshop in collaboration with Malvanchal University and Association of Microbiologists of India
Indore: A workshop was organized at Index Medical College, Malvanchal University Indore in collaboration with Association of Microbiologists of India. In this, information was given by various experts on Good Clinical Practice (GCP) and NDCT (New Drugs and Clinical Trials) training through the workshop. This workshop was organized to train the participants about the ethics, rules, regulations, roles and responsibilities of various stakeholders in drug development and study as per the standards of Indian Council of Medical Research.
Index Group Chairman Suresh Singh Bhadauria and Vice Chairman Mayankraj Singh Bhadauria appreciated the workshop.
Dr. GS Patel, Dean of Index Medical College, said that the clinical trials are conducted in a planned manner. In this, keeping various rules and standards in mind is its first priority. Vice Dean Dr. P. Nyathi said that there is a lot of potential in the field of biomedical health research. Clinical trials in India also face many challenges. If you look for the right hospital, better standards and facilities, you can get better results.
Dr. Aarti Sahastrabuddhe of Index Medical College said that the development of clinical trials has its own process. In this, we have also got the opportunity to learn a lot from various accidents that have occurred in the field of medical science. In any clinical trial, along with reporting, data verification and confidentiality should also be taken care of. Through this, the creation and amendment of rules has also helped a lot. Dr. Suraj Tripathi, Professor and Head Pharmacology, Zydus Medical College and Hospital, Dahod, Gujarat explained the safety considerations in CR and compensation for SAEs. Dr. Sachin Kuchaya, Professor and Head Pharmacology, NSCB Medical College and COE, MPMSU, Jabalpur emphasized on the NDCT Rules 2019 and amendments.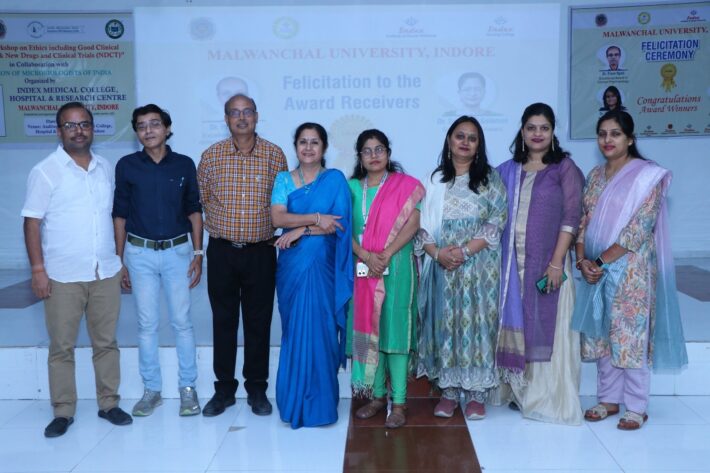 He provided information about new drugs, regulations and modifications to advance to clinical trials. Deepshikha Vinayak, Assistant Registrar, Research from Malvanchal University explained about documentation, data handling and record keeping, monitoring, audit and inspection in clinical trials. On this occasion Dr. Lily Ganju (Director Research, Malvanchal University), Dr. Neha Jaiswal (Scientific Officer), Dr. Akash Vishwe (Associate Professor, Pharmacology) and Preeti Pardeshi (Assistant) (Professor, Pharmacology) were present.
Apart from Index Medical College, doctors and scientists from various colleges including Mahatma Gandhi Memorial Medical College, Amaltas Medical College, Raja Ramanna Center for Advanced Technology were present for training in this workshop. 224 received training in this workshop.
नोट:
अगर आपको यह खबर पसंद आई तो इसे शेयर करना न भूलें, देश-विदेश से जुड़ी ताजा अपडेट पाने के लिए कृपया The Lucknow Tribune के  

Facebook

 पेज को 

Like

व Twitter पर 

Follow

करना न भूलें...
-------------------------