Experts discuss the burden of Sepsis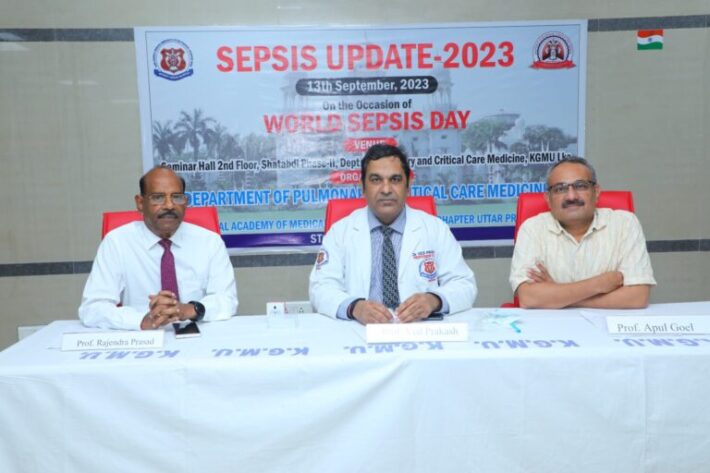 Lucknow: A steady increase of septicemia i.e. blood infection and the consequent use of antibiotics is a major cause of concern. In India, about 1 crore 15 lakh people suffer from sepsis every year and about 30 lakh people die from it. Affecting people of all ages, children are the most affected by this disease, every year 40 percent of children under five years of age fall prey to it. There is a fear of organ failure in this disease which becomes serious very soon, which is why half of the patients admitted in ICU suffer from septicemia, in which 45 percent of the cases are due to multi-drug resistant bacteria, which are resistant to antibiotics. It is caused due to unnecessary consumption.
To delve deeper into the issue, Sepsis Update 2023 was organized by the Department of Pulmonary and Critical Care, KGMU on World Septicemia Day.  Head of the Department, Prof. Ved Prakash, former Chairman of the Department of Pulmonary Medicine, Prof. Rajendra Prasad and Dr. Apul Goyal of Urology gave detailed information about septicemia. Dr. Ved Prakash said septicemia means infection in the blood. Infection in the blood causes damage to various organs of the body, which can lead to low blood pressure and organ dysfunction (multi-organ failure). If it is not identified and treated at the right time, it can also lead to death.
The main causes of sepsis are pneumonia, urinary tract infection, surgical site infection etc. He said that the risk of sepsis is highest in people suffering from diseases that lower the immune system like cancer, diabetes etc. Dr. Rajendra Prasad said that if we talk about the treatment of sepsis, if it is identified early, it can be controlled by giving accurate treatment and in time, the life of the patient can be saved. Dr Apul Goyal said that it is important to make the right and prompt selection of antibiotics and how they are to be used with the help of experts.
नोट:
अगर आपको यह खबर पसंद आई तो इसे शेयर करना न भूलें, देश-विदेश से जुड़ी ताजा अपडेट पाने के लिए कृपया The Lucknow Tribune के  

Facebook

 पेज को 

Like

व Twitter पर 

Follow

करना न भूलें...
-------------------------