Fearing Terrorist Attack, national capital on high alert ahead of Republic Day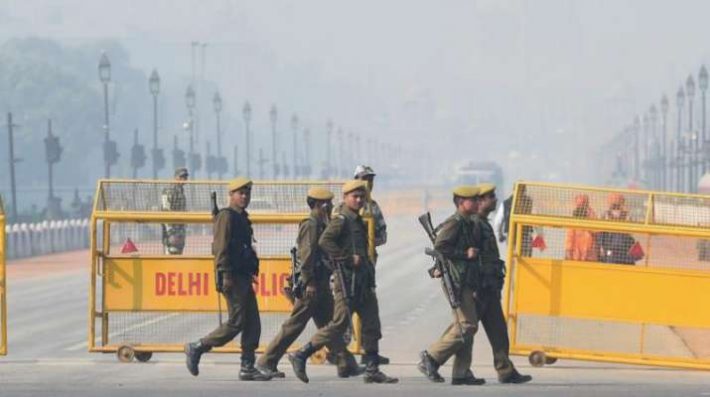 New Delhi: Issuing a big alert, the Intelligence Bureau has expressed the possibility of a major terrorist attack on 26 January Republic Day. IB has asked Delhi Police to remain alert regarding this. However, along with the information of the intelligence agency, Delhi Police is fully prepared to deal with any terrorist conspiracy.
Unmanned aerial vehicles have been banned in the capital from January 20 to February 15. Delhi Police Commissioner Rakesh Asthana said that the use of para-gliders, para-motors, unmanned aircraft systems, remotely piloted aircraft, small-sized aircraft, quadcopters, para-jumping etc. will be banned during this period.
According to inputs received from IB, Khalistan Liberation Force is planning to target top leaders of India, VVIP at the behest of Pakistan intelligence agency ISI.
Not only this, Khalistan Liberation Force has also formed a new alliance with Islamic terrorists and all this has been done by ISI. According to the alert, terrorists can sabotage, attack in crowded places.
According to Delhi Police Commissioner Rakesh Asthana, terrorists can pose a threat to the security of the general public, dignitaries and important places with the use of Unmanned Aerial Vehicles (UAVs). In such a situation, they have been completely banned.
Keeping in mind the Republic Day, these orders have been issued for the next 27 days i.e. till 15 February. In order to comply with this order, all the DCPs, ACPs of Delhi Police and all the municipal corporations have been asked to ensure that no aerial activity of any kind takes place in their areas.
On 26 January, prominent leaders of 5 Central Asian countries Kazakhstan, Kyrgyzstan, Tajikistan, Turkmenistan, Uzbekistan are expected to be chief guests in the program.
At the same time, in the IB Alert sent by the Ministry of Home Affairs, a total of 32 points have been spoken of with regards to SOPS, retaliatory measures and terrorist organizations active in India.
In fact, due to the discovery of IED in Ghazipur Phool Mandi, Delhi's agencies are alert regarding the security of the Republic Day parade. At the same time, Delhi Police also has a big responsibility.
नोट:
अगर आपको यह खबर पसंद आई तो इसे शेयर करना न भूलें, देश-विदेश से जुड़ी ताजा अपडेट पाने के लिए कृपया The Lucknow Tribune के  

Facebook

 पेज को 

Like

व Twitter पर 

Follow

करना न भूलें...
------------------------- --------------------------------------------------- -------------------------------------------------------------------------------------------------------------------------------------------------