Fisheries Department working to expand scope of Fish cultivation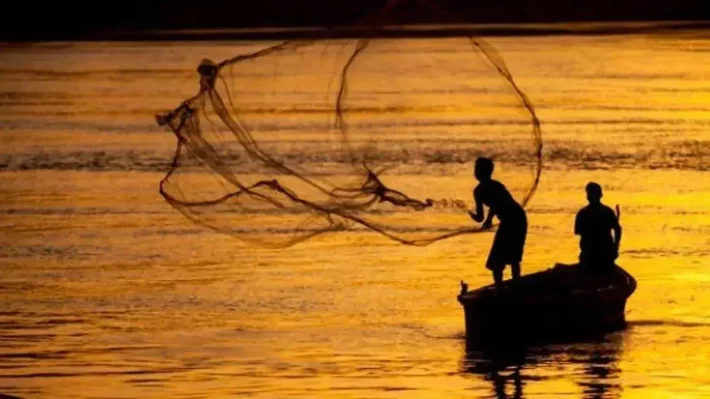 Lucknow: Cabinet Minister of Fisheries Development Department of Uttar Pradesh, Dr. Sanjay Kumar Nishad held a Departmental meeting for the year 2023-24 in the work order organized by the Directorate of Fisheries.
Inauguration of portal to receive applications from general public for schemes was done. Pradhan Mantri Matsya Sampada Yojana, Nishadraj Boat Subsidy Scheme on the portal, Group accident insurance or scheme and fishermen's welfare under the scheme or scheme online application for various projects departmental website were received. Inauguration of video conferencing room equipped with modern facilities in Lucknow is to be done.
On this occasion, Fisheries Minister Dr. Sanjay Kumar Nishad spoke about fisheries development. Giving information about the programmes, the press representatives told that the Prime Minister's Fisheries Construction of pond on private land under scheme, construction of fish seed hatchery, biofloc Pond, Rearing Pond Construction, Recirculation Aquaculture System, Insulated Vehicles, Motor Cycle With Icebox, Three-Wheeler With Icebox, Cycle With Icebox, Live Fish Selling Centre, Fish Feed Plant, Fish Feed Mill, Cage Culture, Pen Cultivation, Ornamental Fish Rearing Unit, Kiosk Construction, Cold Storage Construction, Recreation Fisheries, including Diagnostic Mobile Lab, Fisheries Service Center and Group Accident Insurance Online application for total 30 schemes from May 30 to June 15, 2023 will be invited.
Nishad told that under the Prime Minister's fisheries scheme, state-of-the-art ultra modern fish market with facilities is being established. The ultra modern fish market is under construction in district Chandauli. Like Gorakhpur, produced in other districts of the state to promote fish import export in Moradabad. Reasonable price of fish available to fish farmers/businessmen, social and economic upliftment, increasing the income of fish farmers, employment generation, fisheries sector to promote, availability of marine fish products, investment related to fish and others.
It is proposed to be made in view of the availability of materials whose cost per unit 60.00 crores. In making Uttar Pradesh's 01 trillion economy by building mandi will be an important contribution.
Dr. Nishad said that the fisheries sector under the Pradhan Mantri Matsya Sampada Yojana under the centrally sponsored project for the organized development of the district- Gorakhpur and there is a provision for a project to build an integrated aquapark in Mathura, the cost of which is 100.00 crore per unit. District for the financial year 2023-24 – Gorakhpur and State level monitoring and proposal for establishment of Integrated Aquapark in Mathura has been approved by the approval committee.
It will make a significant contribution to the economy. 18951 from the beginning of the scheme till now, 20 lakh grants have been distributed to the beneficiaries.
(Area 1386.12 Ha) ponds on private land, 59 (Area 73.21 Ha) brackish land, On Ponds, 176 (Area 165.632 Ha) Rearing Unit, 661 Biofloc, 32 Fish, Seed production hatchery, 660 recirculated aquaculture systems, 19 insulated vehicles and Mobile Lab, 143 Motorcycles with Icebox, 50 Three-Wheelers with Icebox, 1379 Cycle with Icebox, 34 Live Fish Selling Center, 45 Fish Feed Mill, 29 Total 6904 including Kiosk, 01 Backyard Ornamental Fish Rearing Unit, 85 Cages. Projects were completed whose total project cost is Rs.33173.0425 lakh.
The work of 11513 projects is in progress, whose total project cost is Rs.32050.517. It's a million. Fisheries Development Minister said that under the program of River Ranching, fish in the rivers is 188.15 lakh large size fish seeds (fish fingers) for conservation Ganga river system flown in, on which an amount of Rs 488.90 lakh was spent.
Action plan of Rs 107015.42 lakh for 2023-24 under Pradhan Mantri Matsya Sampada Yojana. Getting the approval from the State Level Approval and Monitoring Committee, the above India sending the approval of the action plan to the National Fisheries Development Board. Government was requested to release the central share of Rs. 44260.63 lakh.
So far 102840 fishermen/ fish farmers have been covered under the Group Accident Insurance Scheme has been covered. Fisheries conservation to increase fish production and productivity in rivers
For this, fish finger stocking will be done under the river hatching work order, the benefit of which will be given to fishermen.
Dr. Nishad told that Chief Minister Matsya Sampada or investment for fish farming in the ponds allotted on lease and establishment of fish seed bank Facility is being provided for 40 at the unit cost of the project Rs.4.00 lakh 1.60 lakh per cent grant is being given. Chief Minister of Matsya Sampada or Jejna under this, Rs 849.78 lakh grant has been provided to 648 beneficiaries so far.
Due to which grant facility for investment for fisheries in 612.50 hectare water areas has been made available. In the financial year 2023-24, under the plan, 10.00 crore budget provision has been made, under which fish farming can be done in 625 hectare water areas.
Establishment of Investment and Fish Seed Bank about 700 beneficiaries have been benefitted. Dr. Nishad told that Nishadraj Baat Subsidy or fish under boats, nets, life jackets for fishing and sailing to the farmers / fishermen. Applications invited for providing facility to purchase icebox etc.
They will get unit cost of the scheme Rs.67,000/- at 40 percent Rs.26,800/- Budget provision of Rs.5.00 crore in the financial year 2023-24. Under which 1865 fishermen have been benefited for the purchase of boats, nets etc.
The Fisheries Minister said that under the vision of Uttar Pradesh Fisheries Welfare, Fish for economic/social upliftment and self-employment of farmers/fishermen creation of infrastructural facilities in the villages dominated by fishermen/fishermen, natural calamities financial assistance, medical assistance, fishermen housing construction assistance, total six schemes including training of fish farmers and fishermen, women empowerment are being operated. Budget of Rs 25.00 crore in the financial year 2023-24 in the plan provision has been made. Construction of community building, fisherman's housing under the scheme.
Medical aid, training and empowerment of women in construction, natural calamities. Fish farmers and fishermen will be benefited through this. On this occasion Dr. Rajneesh Dubey, Additional Chief Secretary, Fisheries Development Department told that under the guidance of the Minister, the fisheries development department
Schemes providing all facilities to the persons engaged in fisheries activities the benefit is being given. Farmers' credit card facility provided through banks under which bank loan up to Rs. 1.60 lakh is being given without any security are being given. Till now 13788 fish farmers have been provided credit cards of farmers.
In the course of work, Prashant Sharma, Special Secretary and Director of Fisheries Development Department gave a presentation regarding the achievements and future plans of the fisheries department. On the occasion, he said that fish farmers and people associated with fisheries activities. The department did everything possible to provide benefits of the schemes run by the department.
नोट:
अगर आपको यह खबर पसंद आई तो इसे शेयर करना न भूलें, देश-विदेश से जुड़ी ताजा अपडेट पाने के लिए कृपया The Lucknow Tribune के  

Facebook

 पेज को 

Like

व Twitter पर 

Follow

करना न भूलें...
-------------------------