Fissures get deeper in I.N.D.I.A alliance with Nitish Kumar's averments on women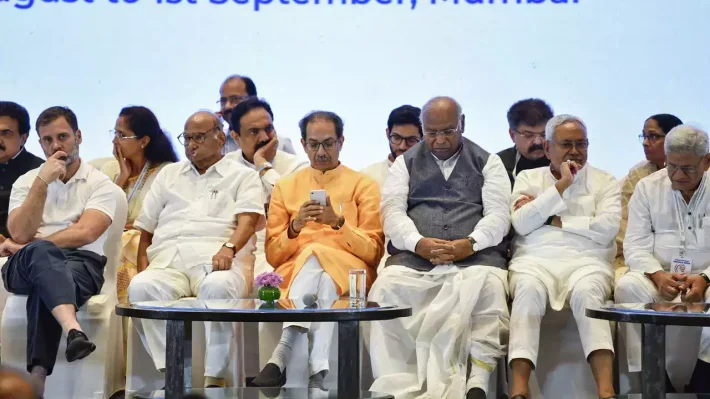 Bhopal: Impacting the current scheme of things in the Opposition alliance I.N.D.I.A.  Nitish Kumar, who united India, is under attack in Bihar for his controversial statements. Outside Bihar, he has created problems for Congress. BJP has planned to highlight Nitish's statement in four states. There are preparations to raise the issue of Nitish's sexual innuendos and Dalit leader Jitan Ram Manjhi in the Assembly in all the election states including Rajasthan, Bihar, Chhattisgarh.
Congress is forced to neither openly oppose nor support Nitish Kumar. Prime Minister Narendra Modi referring to Nitish's statement in Damoh and Guna rally of Madhya Pradesh  raised questions on the alliance.
PM Modi had also criticized Congress and the opposition alliance for not reacting against the anti-women statement. After this, one or two leaders of opposition parties tried to justify Nitish's statement, but senior Congress leaders are still silent on this issue.
Smriti Irani questions the silence of Gandhi family
Voting will be held in Madhya Pradesh on 17th November and in Rajasthan on 23rd November. Nitish Kumar has given a weapon to BJP with his statements just 7 days before the elections. Although Nitish Kumar has apologized in the Assembly for his sex knowledge, this controversy has not stopped yet. Narmadapuram, Madhya Pradesh: Now Union Minister Smriti Irani has cornered Congress on the pretext of Nitish. Smriti Irani said that Nitish Kumar's statement was against I.N.D.I.A. Shows the shamelessness of.
He also raised questions on the silence of Congress and also targeted the Gandhi family. There are 2 crore 72 lakh or 49 percent women voters in Madhya Pradesh. Women's safety has already become a big issue in this election in Rajasthan. There are 2 crore 51 lakh women voters in this state. The controversy has not stopped yet that Nitish Kumar insulted Bihar's Dalit leader Jitan Ram Manjhi.
Congress did not react to this either. Now these questions will be repeated again and again by BJP in the election states. Congress is forced to not openly criticize Nitish. The resentment of women and Dalit voters before the elections may prove costly for the Congress. Nitish Kumar has nothing to lose in election states.
Congress in mood to take advantage of Nitish's deteriorating image
Recently Nitish Kumar  led I.N.D.I.A had also expressed his displeasure regarding the alliance. Taking on the Congress from the public platform, he had said that the Congress, which is busy in the assembly elections, should not get help from I.N.D.I.A. There is no time for alliance. No work is being done in I.N.D.I.A. alliance. Earlier, Akhilesh Yadav had also openly expressed his displeasure against Congress on the issue of ticket distribution in Madhya Pradesh.
It is believed that Congress can use Nitish's slip of the tongue to increase its influence in the alliance. The biggest challenge to the leadership of Congress in the alliance was coming from Nitish Kumar. Due to his 18 years of administrative experience, JD(U) leaders were calling him PM material. But due to sexual knowledge and abusive words spoken towards Jitan Ram Manjhi, questions are being raised on Nitish's leadership.
Now he himself may get isolated in the opposition alliance. At present, the challenge for Congress is from the planning of BJP, which is trying to put Congress in the dock through Nitish Kumar in the assembly elections.
नोट:
अगर आपको यह खबर पसंद आई तो इसे शेयर करना न भूलें, देश-विदेश से जुड़ी ताजा अपडेट पाने के लिए कृपया The Lucknow Tribune के  

Facebook

 पेज को 

Like

व Twitter पर 

Follow

करना न भूलें...
-------------------------