Full quality and transparency needed in functioning – AK Sharma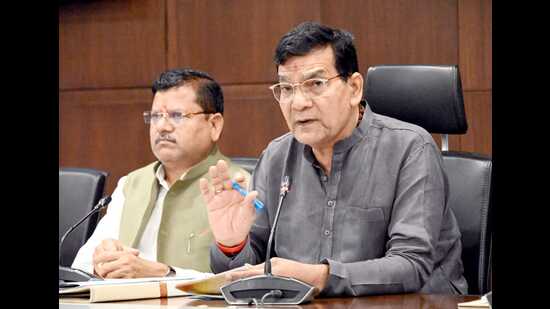 Prayagraj: State's Urban Development and Energy Minister  AK Sharma has directed that the ongoing development works in the cities should be completed on time with full quality and transparency. He said make an annual action plan for this financial year soon and get its approval. He said that the cities are being cleaned. Nevertheless, there is a need to pay constant attention to its better management, beautification, cleanliness and hygiene. Manpower should be increased wherever necessary to speed up the works. Make maximum use of machines. People should also be made aware to maintain the system. The cleaning of all drains and drains should be completed from now itself, so that there is no problem of water-logging in the rainy season.
Urban Development Minister  AK Sharma held a meeting with the departmental officers at Jal Nigam's Field Hostel 'Sangam'  and reviewed the progress of the schemes and discussed the work of making cities of global standard and increasing civic amenities. He added that under Smart Cities, make any one road in the city as per global standard.
Setting targets for the development of infrastructure in the newly created/newly expanded bodies under the Mukhyamantri Nagar Srijan Yojana, asked to speed up the works and an action plan should also be made to put the upcoming schemes on the ground. He said that door-to-door garbage collection should be made more effective and attention should also be paid to garbage disposal. Efforts should be made to increase the income of the local bodies. Tax assessment of properties and its mutation should be made more effective and transparent.
Sharma said that better arrangement of sewerage in cities, good roads, construction of drains and drains for drainage, supply of pure drinking water, street lighting, street signage, model crossroads, adequate greenery and cleanliness, good transport and parking It is very important to identify a city. He said that a lot of good work has been done in the last one year, it is necessary to improve further, wherever the garbage sites have been cleaned, bending zones should be made according to the need, parking should be made, parks for children and seating areas for the elderly.
A place can be made for Under Pradhan Mantri Awas Yojana Urban, houses should be allotted soon by selecting the eligible in the newly created/newly expanded bodies. He also asked Director Suda to conduct its on-site survey. Attention should also be paid to the development of slums in the cities. There should not be any kind of problem there. Kanha asked to make proper arrangements for straw and fodder in the cowsheds and also to work on the option of increasing the income of the cowsheds.
The Urban Development Minister said that due to the hard work and good work of civic officials/employees and sweepers, the state government has got a historic victory in the civic body elections this time. For this he thanked everyone. Principal Secretary Mr. Amrit Abhijat, Secretary Ranjan Kumar, Managing Director Waterworks  Anil Kumar Dhingra, Director Body  Neha Sharma, Special Secretaries  Rajendra Pensia and D.P. Singh, Additional Director  Ritu Suhas, and other officers were present in the meeting.
नोट:
अगर आपको यह खबर पसंद आई तो इसे शेयर करना न भूलें, देश-विदेश से जुड़ी ताजा अपडेट पाने के लिए कृपया The Lucknow Tribune के  

Facebook

 पेज को 

Like

व Twitter पर 

Follow

करना न भूलें...
-------------------------