GEM-2023 Ceremony at NTPC Singrauli Grand Inauguration of Girl Empowerment Mission-2023 Workshop at Station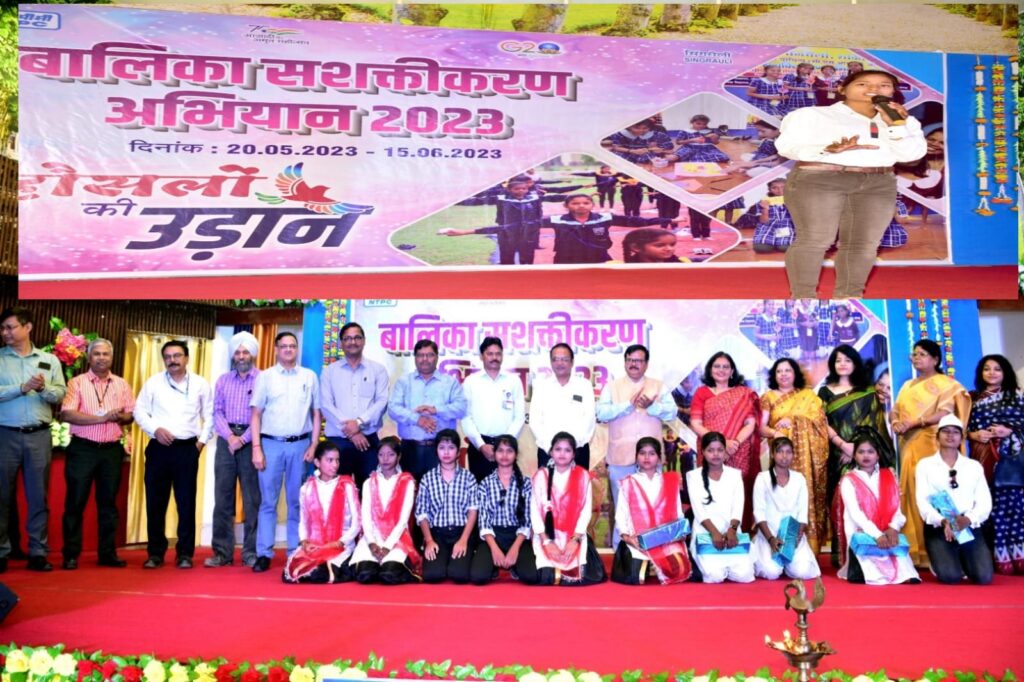 Sonebhadra, Same as last years, Girl Empowerment Mission (GEM) workshop is being organized from May 20 to June 15, 2023 under CSR at NTPC Singrauli, Shaktinagar. The grand ceremony of Girl Empowerment Mission Workshop was inaugurated with the lighting of lamp by Chief Guest Shri Suvash Chandra Naik, Project Head, NTPC Vindhyachal, Smt. Srotswani Naik, President (Suhasini Sangh), Shri Rajeev Akotkar, Project Head, NTPC Singrauli, Smt. Piusha Akotkar, President-Vanita Samaj, General Managers, senior members of Vanita Samaj, Union and Association representatives and other dignitaries, and followed by NTPC geet.
On the auspicious occasion of inaugural ceremony of the Girl Empowerment Mission and the birthday of the GEM girls, cake cutting ceremony was also organized.
Shri Rajeev Akotkar in his address advised all the girls to drive maximum benefit of the Girl Empowerment Mission and bring laurels to their family, society and NTPC by developing their overall personality. He also requested all the teachers and Gem coordinators to instill enough courage and confidence in all the girls and prepare them for the future.
Shri Suvash Chandra Naik, Project Head, NTPC Vindhyachal, in his speech, while emphasizing on the importance of girl empowerment lauded this girl empowerment Mission organized by NTPC Singrauli for the all round development of rural girls under CSR initiative,. He said that development of women is very important for a developed society and he is proud that such welfare measures are being taken in this direction by NTPC Singrauli.
On this occasion, the girls studying in Vivekananda Vidyalaya, selected under the Girl Empowerment Mission presented a cultural program and shared their experiences of Gem workshop.
In this program, Meritorious GEM students of Class-10 Vivekananda Vidyalaya were also honored by all the esteemed dignitaries.
Under the Girl Empowerment Mission, various types of practical training are being provided to 120 girls studying in class VI in Kota, Tarapur, Ranhor, Lojhra, Chilkadand, Kohraul nearby villages of NTPC Singrauli for all round development. Under this workshop, NTPC Singrauli is providing practical classes, personality development training, sports training, self-defense training, art-skill development training and medical facilities along with residential facilities for overall personality development of girls.
On this occasion Shri Amrik Singh Bhogal, General Manager (Maintenance), Shri Debabrata Kar, General Manager (Technical Services), Shri Joseph Bastian, General Manager (Ash Dyke Management), Smt. Ranju Kumari Singh, Senior Member, Vanita Samaj, Smt. Aarti Behera, (Child Building In charge), Smt. Soumaya Kar (In charge of Tiny Tots), members of Vanita Samaj, senior officers of NTPC, honorary representatives of Unions and Associations, school Principals, Journalists, Gem coordinators from E-Solutions Agency, Gem-2023 girls etc. were present.
Ravindra Kesari Sonebhadra
नोट:
अगर आपको यह खबर पसंद आई तो इसे शेयर करना न भूलें, देश-विदेश से जुड़ी ताजा अपडेट पाने के लिए कृपया The Lucknow Tribune के  

Facebook

 पेज को 

Like

व Twitter पर 

Follow

करना न भूलें...
-------------------------